On Monday morning, U.S. Army and Korean War veteran Sam Forest Jr., 87, was laid to rest by his family at Mount Hope Cemetery in Cook County, Illinois. The grief was palpable, but nothing could prepare the family for the knock at the door on Monday evening when men in military uniforms bearing ranks and war ribbons stood outside with life-altering news.
Specialist Michael Isaiah Nance, 24, of Chicago, Illinois, who is the great-grandson of Sam Forest Jr., had been killed alongside Private First Class Brandon Jay Kreischer, 20, of Stryker, Ohio.
The two young men—one not even old enough to buy a beer legally—were gunned down in Afghanistan in an apparent insider attack perpetrated by an Afghan National Army soldier who opened fire on the two paratroopers from a guard tower while they were inspecting a new base of operations in the Shah Wali Kot district in southern Kandahar Province. It was their second week in country.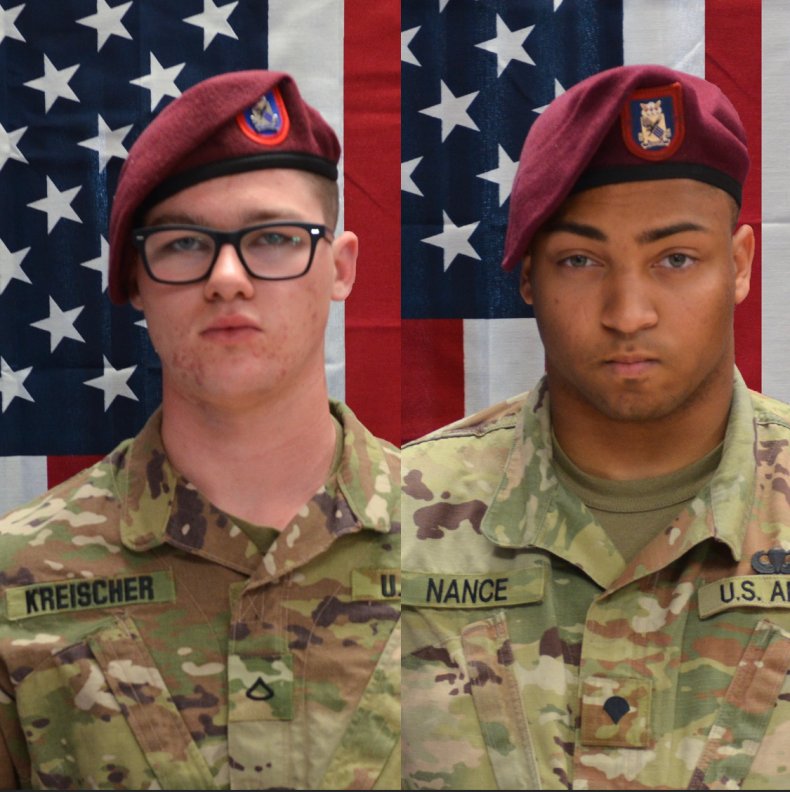 The U.S. Army soldiers were members of Company B, 1st Battalion, 505th Parachute Infantry Regiment, 3rd Brigade Combat Team, 82nd Airborne Division, an outfit that traces its roots back to World War II. The paratroopers' unit was apart of Train Advise Assist Command - South (TAAC-South) led by U.S. Army Brigadier General Miles Brown.
A Defense Department source, who spoke to Newsweek on condition of anonymity, said besides the two Americans killed, no other injuries occurred on Monday in Afghanistan.
The gunman was wounded during the attack and arrested by authorities in the second known insider attack to occur in the past two weeks. Newsweek has learned of more details involving another Afghan service member opening fire on comrades and amid U.S. military personnel on July 17.
The insider attack from earlier this month occurred moments after a regional security meeting in the central Afghanistan province of Ghazni had concluded. An Afghan soldier opened fire with a Russian-made PK machine gun and killed Afghan Colonel Mateen Mujtaba, the commander of 3rd Brigade, 205th Corps of the Afghan National Army.
Amanullah Kamrani, a member of the Ghazni provincial council, told Agence France-Presse, Colonel Mujtaba was boarding a helicopter after a meeting with U.S. advisors when he was attacked.
Officials with Resolute Support in Afghanistan confirmed to Newsweek on Tuesday, Brigadier General Kevin D. Admiral, the commander of Task Force Southeast, attended the security meeting but had already boarded his helicopter and lifted off when the attack commenced.
While other American troops were present when the attack began, no U.S. personnel were killed or wounded despite assertions made by the Taliban U.S. soldiers had been killed during the gunfire. The Taliban are historically known to make exaggerated battlefield claims.
"With the aggressor opening up with a PKM [machine gun] killing the Afghan officer. It was miraculous that no one else was injured because there were many U.S. service members present," a U.S. Army source with knowledge of the incident told Newsweek under the condition of anonymity, due to Pentagon media regulations.
The soldiers identified late Tuesday afternoon raise the Pentagon's death toll in America's longest war to a total of fifteen this year amid repetitive violence, volatile peace talks between governments and the Taliban and a desire for a significant reduction of American forces ahead of the 2020 presidential election.
Hours after the insider attack on Monday, Secretary of State Mike Pompeo, the former CIA director, said President Donald Trump has directed his staff to rapidly withdraw troops from the country before the 2020 presidential election.
"He's been unambiguous: End the endless wars," Pompeo said speaking before The Economic Club Of Washington. "Draw down. Reduce. It won't just be us. We hope that overall the need for combat forces in the region is reduced."
When asked by Economic Club President David M. Rubenstein about the timing the withdrawal of U.S. Forces to the 2020 presidential election, Pompeo laughed, and said: "It's not only my expectation, it would be job enhancing."
The comments from Pompeo on Monday seem to conflict with the phone conversation the Secretary of State had with Afghan President Ashraf Ghani last week. State Department officials said the two men agreed in a telephone call to "accelerate efforts" to end the war, and that the United States remained committed to a "conditions-based" drawdown of troops rather than a drawdown of troops tied to the 2020 presidential election.
More than 2,400 U.S. service members have died in Afghanistan since the U.S.-led coalition invaded in October 2001 to oust the Taliban and dismantle al-Qaeda following the 9/11 attacks on the United States. Last year, thirteen American service members were killed in combat operations in Afghanistan, up from eleven in 2017.
"These young men were true All Americans and embodied the qualities of selfless service and courage as they answered our nation's call to deploy to Afghanistan," said U.S. Army Colonel Arthur Sellers, commander of the 3rd Brigade Combat Team in a statement to Newsweek on Tuesday. "Our focus is now providing their loved ones with every available resource to help them in this most difficult time."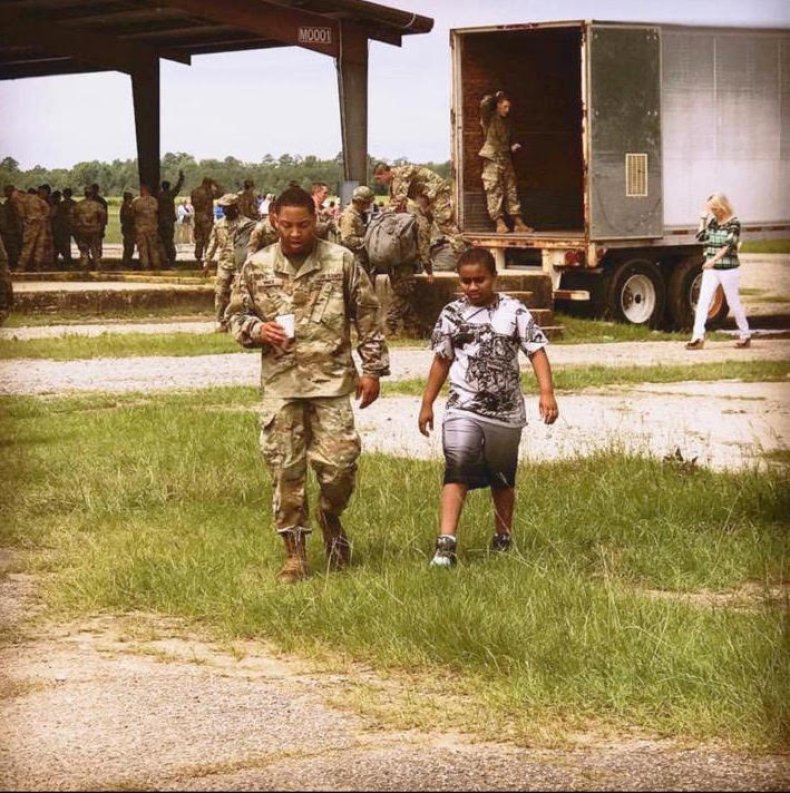 Specialist Nance joined the Army in January 2017 and completed Basic Combat Training, Advanced Individual Training and Airborne School at Fort Benning, Georgia, before being assigned to 1st Battalion, 505th Parachute Infantry Regiment as an automatic rifleman, according to the U.S. Army statement provided to Newsweek.
Growing up on the southside of Chicago, Nance "never met a stranger," Kenon Forest, Nance's great uncle told Newsweek by phone on Tuesday.
"He loved the Chicago White Sox," Forest said while laughing at the divide of the family, and of Chicagoans in general. The Chicago Cubs of the North versus the White Sox of the South.
"If you want to make good with someone in Chicago, stick to the Bears, don't say which baseball team until you know which one they're with for sure," said Trevor Harris, Nance's cousin.
The laughter subsided as reality set back in Tuesday night. Harris said Nance went into the military because of his desire to serve. Because of his step-father, who is a police officer with the Chicago Police Department. Because of other family members in law enforcement. Because of his great grandfather, Sam Forest Jr., the U.S. Army and Korean War veteran buried on the same day as his death.
"I think to see that played a heavy role and influenced him to want to go into a service role," Harris told Newsweek.
Nance's relatives described him as a "Mama's boy" with an infectious personality. A big smile to go along with his love of both video games and anime cartoons. Last month, just before his deployment to Afghanistan, Nance and his mother traveled through Europe—the young soldier loved sampling the foods of other cultures.
Similar to Nance's military career, Private First Class Kreischer joined the Army in June 2018 and completed Basic Combat Training, Advanced Individual Training, and Airborne School before being assigned to 1st Battalion, 505th Parachute Infantry Regiment as a rifleman.
Kreischer leaves behind a wife of Fayetteville, North Carolina, according to the 82nd Airborne Division's public affairs office.
Kreischer and Nance were both posthumously awarded the Bronze Star and Purple Heart.
"It hasn't sunk in yet," Kenon Forest told Newsweek. "We're doing as well as can be expected, an awful lot of prayer"