Pentagon on Inspiration for New Album 'Invite U', Hui's Absence and Writing 'Feelin' Like'
Pentagon's new album "In:vite U" represents a "new chapter" in the group's life, they have told Newsweek.
Wooseok, Kino, Hongseok and Yuto, four of the group's nine members, spoke at length about how heavily involved the band was in the making of their 12th mini album, especially their title track "Feelin' Like."
Alongside the members who spoke to Newsweek, the K-Pop band is comprised of Hui, who is currently doing his military enlistment, Yeo One, who was recently involved in a car accident and has taken a break to recover, Yan An, who is currently visiting his family in China, and Jinho and Shinwon, who tested positive for COVID-19 and were unable to attend the chat.
Even so, Wooseok, Kino, Hongseok and Yuto made up for their other members' absence with their positive energy and thoughtful comments.
Why 'Feelin' Like' Represents a "New Chapter" for Pentagon
"Feelin' Like" is the band's title track from their new album and it combines a catchy tune with lyrics that present a more "mature" side to the group, so they said during their official showcase.
For Kino the song has marked a "new chapter" in the band's career, as he told Newsweek: "If our previous albums were our first chapter, and if it showed how Pentagon was like before, this is the next chapter to the team, and "Feelin' Like" is a song which shows the direction of Pentagon's image, how we will be like from now on, and that's why we think it's a song that represents us."
Yuto added: "Our past albums were mainly [comprised of] songs that we felt suited us but "Feelin' Like" is different, because we discussed with our company about the kinds of songs fans overseas would like, so that's how we ended up with this."
The lyrics for "Feelin' Like" were written by Wooseok, Kino, and Jinho, which made for an interesting collaboration given they tend to write their songs individually, the former said.
"Before writing the lyrics, Kino explained to all of us about the overall concept of the song and that's when I started writing the lyrics," Wooseok remarked. "I had fun with it, I enjoyed writing it. But, I feel like I could have added in more elements to the song.
"But, the good thing about writing together was that there were a lot of ideas shared amongst us, and it was also the first time [we were] working together so I enjoyed that process."
Making the Choreography for 'Feelin' Like'
As well as working on the lyrics Kino, who is the group's lead dancer, helped to choreograph the number, and took particular pride in the dance move in each chorus that sees the members push their chins in a swift motion.
"Making the choreography for this song, there was a lot of brainstorming that went on with the members and we really wanted to find choreography that was very eye-catching to our K-Pop fandom," Kino explained.
"In the beginning we looked up a lot of videos with references to shuffle dance [and] house dance, which led us to Michael Jackson. We first made a reference video, and [then] we took it to our choreographer and explained the kind of performance that we wanted to show.
"The choreographer made the initial choreography, and then it was revised after [we] talked about [it]. We kept that going a few times before it was completed."
Kino then added cheerfully that he wanted to "brag" about the special dance move he made for the song, his pride shining through as he declared that move was "made by me."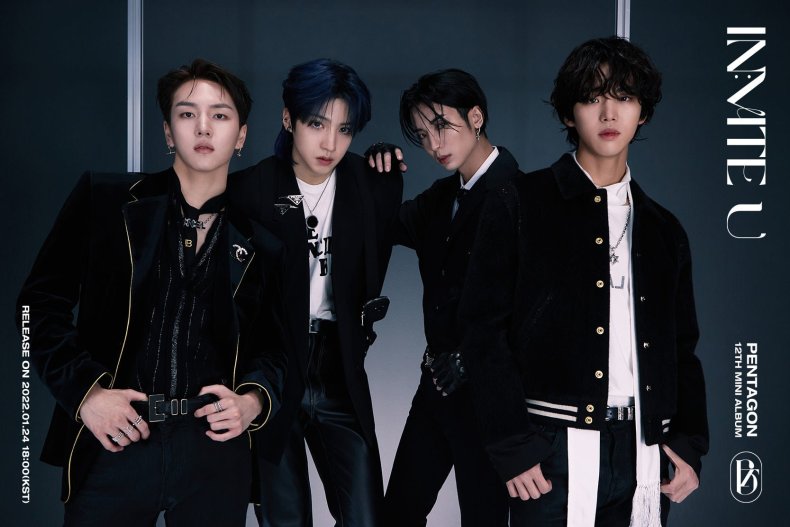 On the Experience of Writing and Composing 'In:vite U' Together and Hui's Absence
"In:vite U" features six tracks in total, including the aforementioned single, and Wooseok worked on the lyrics for every one, with Kino also helping with "Sparkling Night" and "Call My Name", and Shinwon assisting with "One Shot".
"Although I am involved in all of the songs, more than I put in my own songs I tend to put in more effort towards Kino's songs like "Call My Name" and "Sparkling Night" because Kino has expectations and I wants to live up to that," Wooseok said. "So for my own songs I just write it how I wants to write it, but I think that I try even harder for Kino's songs."
Kino went on: "There are both pros and cons to producing and making music that brings us the results. First, I would say the pros are being able to make what we want to express, and by doing that we will be able to understand as a member and a composer more than anybody else would.
"But along with that comes the cons, which is the responsibility for the success of the album. Although it doesn't mean we have sole responsibility of the [album's] success it still is more than if they weren't to be so involved in the making of the album."
Luckily for the band their hard work paid off, as they received their first number one album in South Korea with "In:vite U."
Of their success, Wooseok gushed: "Coming in first place in cable and terrestrial is different, a lot of other groups will also think the same. It's very difficult to come in first place in a terrestrial TV show and it just seems like such a big hill to overcome.
"We weren't expecting it at all, even though it was our goal for a long time. We were just thinking: 'Okay, there will be some day when we will able to be able to achieve it.'
"But we weren't expecting it, and I want to share my thanks to Universe [the band's fandom] for giving us such a marvellous present. We take it as meaning we should do better for our next album and to keep growing."
"In:vite U" also marks the first Korean album that band leader Hui, who enlisted in February 2021, was unable to participate in, either as a composer, songwriter, or singer.
Yuto explained that while he did have concerns about Hui's absence from the group during this period, he was proud of his fellow members for taking charge.
"Initially I was worried about not having Hui with us as he was the one who led Pentagon," he said. "But, I think that it ended up being fine with Kino, Wooseok and Hongseok [who] were all in charge of different parts. So that handled the situation [well]."
How the COVID-19 Pandemic has Impacted Them and Their Promise to their Fanbase, Universe
One thing the band have had to contend with, as indeed many musicians have done since 2020, was the impact of the COVID-19 pandemic, and how it has changed the way in which they can tour and promote their music.
Hongseok reflected on the frustrations Pentagon has experienced during this period, reassuring Universe fandom that they still plan to keep their promise of doing a world tour.
"We can't open any concerts so we can't have any fans in front of us, that's the worst thing I think," he said. "And we can't go abroad to see our foreign Universe, there are a lot of Universe waiting for us [around] the world, we promised to go see them but we were not actually able to go there to every city so, yeah, that bothers us very much.
"But we [have] hope every year. We hope this year would be better than last year, maybe this year might be a little bit difficult [to tour abroad] but we still have next year, so we keep telling our Universe to wait for us because we didn't forget the promise we made.
"Our last concert in our last World Tour was right before COVID-19 happened. So, yeah, I think they're waiting, but we've got to keep our promise."
Agreeing with his bandmate, Kino went on: "Like Hongseok said, we think the promise that we made to Universe about going back to the different cities is the biggest thing that I'm thinking about, and I feel really bad about it but we are planning on returning as soon as possible.
"We also want Universe to know that we miss them deeply and we are thinking about them."
Kino also reflected on the growing popularity of K-Pop around the world, saying the band feels a lot more pressure now they're at the "forefront" of the Hallyu wave.
"A while ago I recently met up with my friend from elementary school and he asked me the question, 'how does it feel being on the forefront of K-Pop?' And when he asked me that question my heart dropped, I was surprised to hear such a question.
"Before I just liked being in K-Pop and doing what I do, but I hadn't really felt the responsibility of it, of being so on the forefront of K-Pop. And from that question I thought about how we represent [ourselves] as an artist through a song to the world.
"When we went on tour to a country on the total opposite side of Korea it surprised me and made him think there's 2000 to 3000 people who don't speak our language and are listening to a song in a language that they're totally unaware of. And that made me really thankful for the love that we have received. So I am feeling a lot of responsibility now."
Sharing their hopes for the future, Hongseok shared a special message with their fanbase saying: "We want to show Universe how healthy we are. I mean, because to remaining healthy means that we are to see you guys so we want to show them that we are healthy.
"We're ready to see you and we are always ready to go find you, too. So I want Universe to not go anywhere and wait for us. Because we've been busy doing our individual schedules and we've been busy preparing for Pentagon's [new music] and... all of our members have been busy.
"But the reason why we are busy is because we want to show Universe what we are doing while we're not promoting our album... all we want to do is to stand in front of you, stand in front of the Universe, on stage, so we just hope that everything gets better with this circumstance [so we can]."
Pentagon's album In:Vite U is out now.

Correction 03.02.2022 3:36 a.m. EST: This article was corrected to confirm that Yan An is visiting his family in China, and does not have Covid-19.