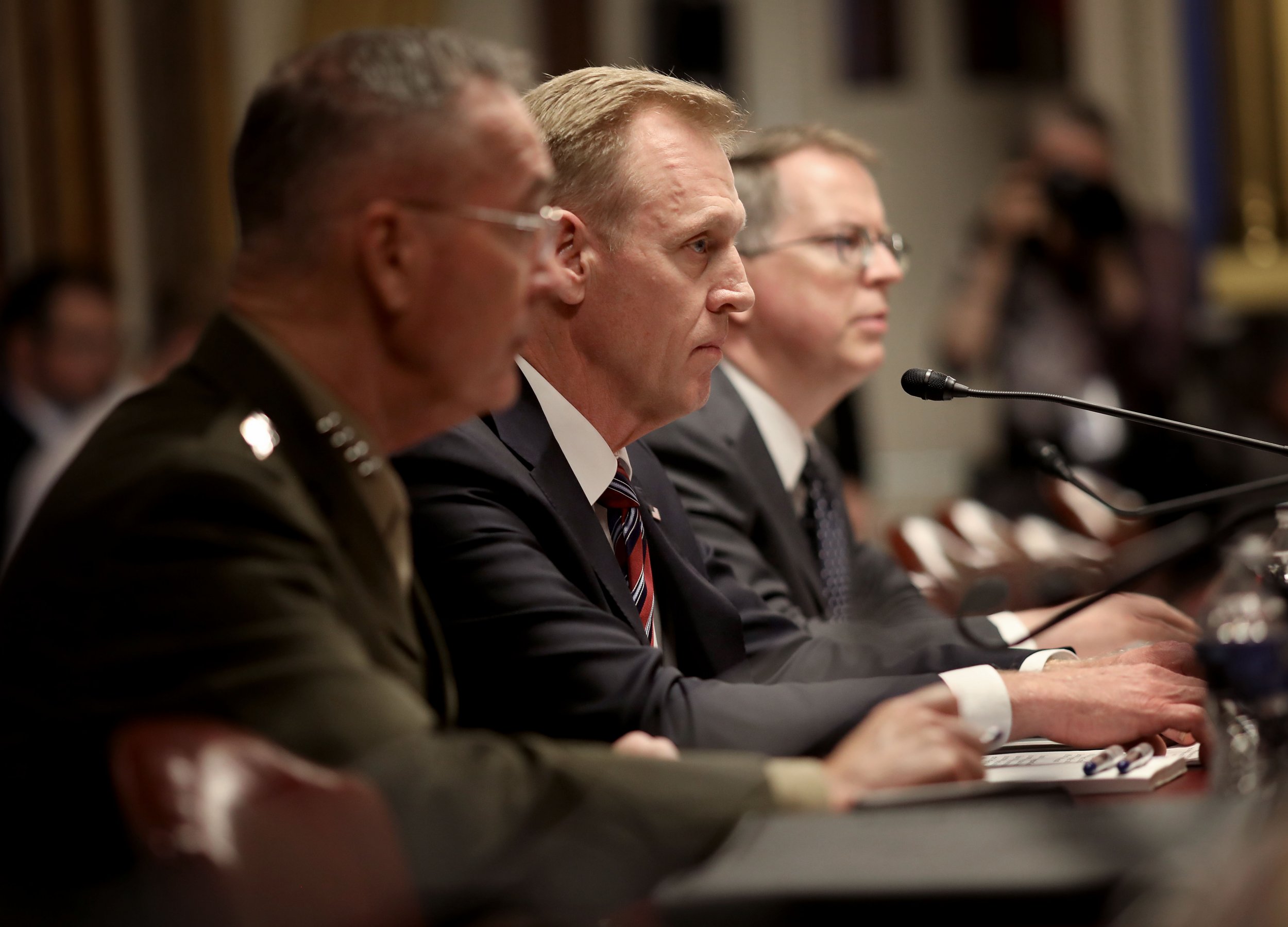 Acting Defense Secretary Patrick Shanahan has restricted senior Pentagon officials from traveling to Afghanistan until the end of the fiscal year, and has asked lawmakers to adhere to the policy within their official duties, according to a two-page internal document obtained by Newsweek.
In what has become an almost yearly request from the Defense Department, the memorandum cites the volatile period for U.S. and coalition partners and comes amid violent Taliban attacks last week in Kabul and throughout the greater Afghanistan region.
While not uncommon, the request comes at a moment of high tension in Washington as Democrats have grown increasingly frustrated by what they view as the Trump administration's obstruction of their oversight responsibilities. Some House Democrats told Newsweek that the restrictions on travel to Afghanistan had grown tighter under the current administration and were yet another hindrance to congressional oversight.
The latest round of Afghanistan peace talks closed out on Thursday in Doha, Qatar, with Suhail Shaheen, the Taliban's political spokesman, saying on Twitter that the discussions were "positive and constructive," with both sides agreeing to meet again after internal consultations.
"There is some progress on the two main issues but still needs discussions to be finalized," Shaheen said Thursday. In February, Shaheen told Vice News that a residual U.S. force left in Afghanistan would be a "red line," as it would be "residual from occupation." Taliban militants attacked the compound of an American-run contractor on Wednesday, reported The New York Times. At least nine people were killed and 20 others wounded.
Back in Washington, President Donald Trump announced his intention to nominate Shanahan for secretary of defense after he was recently cleared by the Pentagon's watchdog of showing favoritism to his former long-time employer, Boeing while simultaneously disparaging Boeing's competitors in bids for U.S. military contracts.
Shanahan's letter barring travel to America's longest war does not affect the routine deployment rotations of American units to and from Afghanistan, where about 14,000 U.S. forces currently serve. But the memo does ask congressional delegations to honor the travel restriction imposed on senior Defense Department leaders.
The request is not likely to sit well with some Democratic lawmakers and could set up a new round of infighting between the Pentagon and House Democrats, especially after Defense officials said Friday they would shift $1.5 billion from its 2019 fiscal budget to fund President Donald Trump's border wall—more than half of the funds were originally allocated to support Afghan security forces and the U.S. military retirement system.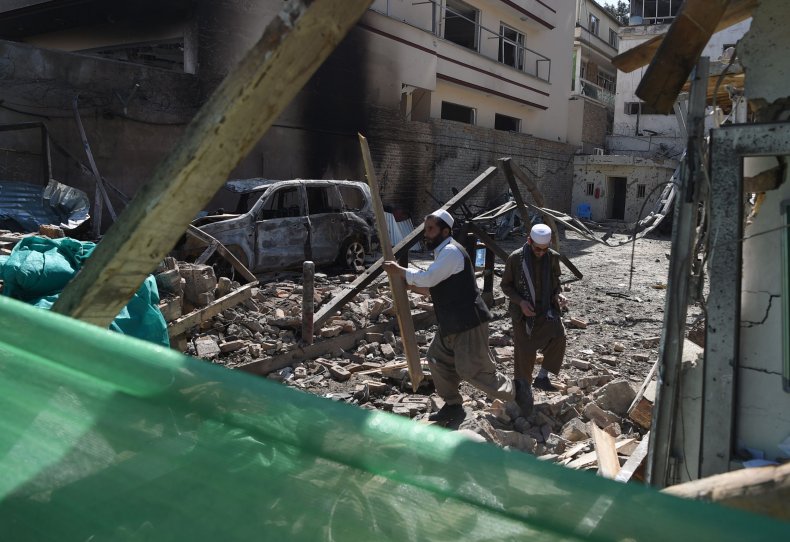 Senator Bob Menendez of New Jersey, the top Democrat on the Senate Foreign Relations Committee, told a Newsweek reporter on Thursday he was not aware the Pentagon had issued any new restriction policy.
Contacted by Newsweek, U.S. Forces-Afghanistan spokesman Colonel Dave Butler said, "Resolute Support and U.S. Forces Afghanistan request a reduction in visitors nearly every year. Our request to reduce visitors is standard protocol during the time of year when operations are high, and military resources will be fully employed toward setting conditions for a political settlement which safeguard our national interests."
Butler's statement was supported by the Democratic-controlled House Armed Services Committee, which said the Pentagon routinely issued a restriction on temporary travel to the Middle East "during time periods that pose a particularly high threat."
But some Democratic members of the House Armed Services Committee, such as first-term Representative Elaine Luria of Virginia, a 20-year veteran naval officer, disagree with the restriction.
"Congress has an obligation to see with our own eyes and ears what our troops are confronting in war zones. Oversight visits to places like Afghanistan allow Congress to better support our military's mission," Luria told Newsweek in an email on Thursday. "As a Navy veteran and a member of the House Armed Services Committee, I find it obstructive and inappropriate that the Pentagon is interfering with our clearly defined constitutional duties."
The Defense Department has urged lawmakers in the past to cut down on delegation travel to America's longest war, as the arrival of spring historically ushers in the Taliban's "fighting season," which runs throughout the summer as weather conditions improve and the annual poppy cultivation harvest ends.
This year's request, however, comes at a particularly tumultuous time in Washington when the Trump administration is under scrutiny by Democrats in Congress. Some lawmakers, such as Representative Stephen Lynch, a Massachusetts Democrat, suggest the travel restriction erodes transparency.
"While I certainly respect that mission requirements oftentimes restrict the availability of DOD resources, Congress still has a constitutional responsibility to provide civilian oversight of military operations on behalf of the American people," Lynch told Newsweek on Saturday.
"Moreover, based on recent conversations with the Special Inspector General for Afghanistan Reconstruction and reviewing his status reports, there is compelling need for direct congressional oversight in light of the deteriorating security conditions in Afghanistan," Lynch added. "Congressional travel to war zones, including to Afghanistan, is vital to our ability to ensure that our sons and daughters in uniform are well-equipped, that there is a coherent strategy and their deployment remains consistent with congressional authorization and in the national security interests of the United States."
Last year, Al-Monitor revealed growing tensions between the Trump administration and House Democrats over congressional travel to parts of the Middle East and South Asia. The Pentagon felt visits by lawmakers would hinder a commander's ability to complete mission tasks.
As a member of the House Committee on Oversight and Reform, Lynch has made multiple trips to both Iraq and Afghanistan. Lynch said members of Congress had "far greater access" under Presidents Barack Obama and George W. Bush and that "since the Trump administration came in, we have seen a gradual increase in limitations on [congressional delegations], especially Iraq and Afghanistan and understandably Syria," according to Al-Monitor.
Lynch unsuccessfully tried to add a provision to the 2019 National Defense Authorization Act that would require the defense secretary to facilitate access and assist in the travel of congressional delegations to restricted countries.
Ryan Scoville, an associate professor at Marquette University Law School and former attorney for the Defense Department, wrote an analysis for Lawfare on the constitutionality of the Pentagon restricting congressional members from traveling overseas for investigative purposes.
Scoville assessed that Congress' power to travel abroad to achieve its congressional mandate of oversight of the U.S. military takes precedence over the Pentagon's restriction policy, but given the limited information available on the guideline itself, it is difficult to evaluate the full scope of the Defense Department directive.
"As a legal matter, the issue is unlikely to be settled anytime soon because the president via the Defense Department and Congress have competing institutional prerogatives and each side seems unwilling simply to give in to the other," Scoville told Newsweek on Thursday. "The president can potentially restrict travel on the basis of his power as commander-in-chief, but Congress can seek to travel on the basis of its broad power of investigation."
Trump postponed House Speaker Nancy Pelosi's delegation trip to Brussels and Afghanistan in January by denying her access to use U.S. military aircraft. Trump wanted her and Senate Minority Leader Chuck Schumer to stay and negotiate the end of the longest U.S. federal government shutdown.
"This requested limitation is necessary to support operational needs while balancing important oversight responsibilities," said Butler, the spokesman for U.S. Forces-Afghanistan.
Newsweek's congressional correspondent Ramsey Touchberry contributed reporting from Washington, D.C.