The Pentagon has postponed President Donald Trump's military parade scheduled for Veterans Day until at least next year.
In a statement, Colonel Rob Manning, a Pentagon spokesman, said that the White House and Department of Defense had both agreed to put off the parade.
"The Department of Defense and White House have been planning a parade to honor America's military veterans and commemorate the centennial of World War I. We originally targeted November 10, 2018, for this event but have now agreed to explore opportunities in 2019," Manning said.
The move came just hours after the Department of Defense released a new estimate projecting that the parade would cost $92 million, $80 million more than the original $12 million the Pentagon had estimated last month.
A Department of Defense official told CNBC that the department would provide $50 million and a variety of other agencies—such as the Department of Homeland Security—would make up the remaining $42 million.
The parade's cost has long been scrutinized by both Democrats and Republicans, especially after the Pentagon scrapped a high-profile military exercise with South Korea planned for August. After Trump's summit with North Korean leader Kim Jong Un, the president said the drills were provocative and that canceling them would save "a tremendous amount of money." Later, the Department of Defense said that the drills were estimated to cost $14 million.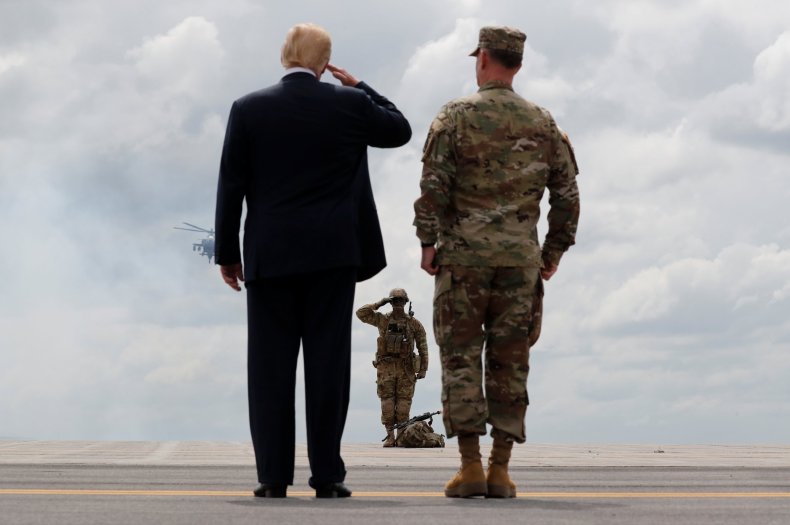 A survey taken in February—before the original cost estimates were announced—found that 61 percent of voters were opposed to the parade—while 26 percent supported the plans.
That same month, Trump told Fox News that the parade would only go ahead if the cost could be contained. "We'll see if we can do it at a reasonable cost. And if we can't, we won't do it," Trump said. "I think it's great for spirit, [and] the military loves the idea.… We have a great country, and we should be celebrating it."
On Thursday, Denise Rohan, the national commander of the American Legion, a veterans' group, spoke out against Trump's parade. "The American Legion appreciates that our president wants to show in a dramatic fashion our nation's support for our troops," she said.
"However, until such time as we can celebrate victory in the war on terrorism and bring our military home, we think the parade money would be better spent fully funding the Department of Veterans Affairs and giving our troops and their families the best care possible."
The White House did not immediately respond to a request for comment.