Pentagon Says Taliban Taking Afghanistan Is 'Not Inevitable,' U.S. Will Help Financially
As U.S. troops prepare to completely pull out of Afghanistan by the end of the summer, the Pentagon said a Taliban takeover of the country is "not inevitable" and that Afghan troops will be able to fight back with the financial help of the U.S.
"It's not a forgone conclusion and nobody should think it's a forgone conclusion, that the Taliban is just going to swiftly take over the country," Pentagon spokesman John Kirby told CNN's New Day on Friday. "It doesn't have to be that way and it's not like the Afghans are going to be doing this without our help."
"That help will transition. It won't be on the ground as you said, it won't be face-to-face necessarily, but we're going to continue to support them financially, help them with salaries for their soldiers. We're also going to help maintain their aircrafts outside the country, so we're still going to be a presence there to help them do this, but it really is going to be up to them to do this," Kirby continued. "And it's not inevitable that the Taliban's just going to swiftly take over the country and cobble. The Afghan forces, they're fighters."
Kirby's comments came as the Biden administration forcefully defends its decision to end America's 20-year war in Afghanistan and as the Taliban continues to make territorial gains there.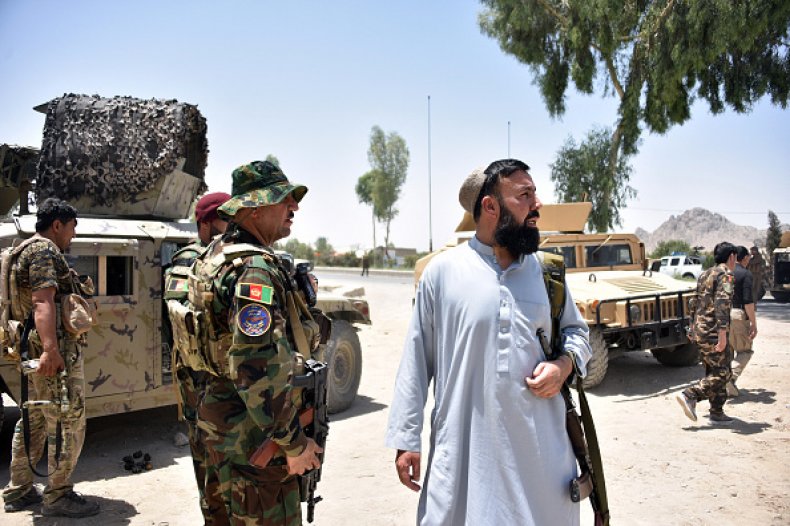 A day earlier, the Taliban captured two strategic border crossings—Torghundi and Islam Qala, the latter of which is a key gateway into Iran and where 15 percent of Afghanistan's imports come through.
On Friday, Taliban spokesperson Shahabudding Delawar said that the Islamist group controls roughly 85 percent of Afghanistan.
Despite the Taliban's growing territorial control, the Biden administration has continued to maintain that Afghan troops will be able to fight against a Taliban takeover with the financial help of the U.S., although many have pointed out that the country's forces have not acted independently since the U.S. invaded Afghanistan in the wake of 9/11.
President Joe Biden has insisted that the U.S. will not abandon the thousands of Afghans who assisted the American military, promising them that there is "a home for you in the United States, if you so choose."
"We know, here in the Pentagon, that we have an obligation, a sacred obligation to help those who have helped us," Kirby said. "I can say with certainty that we, the Department of Defense, we're going to do everything we can inside the U.S. government's efforts to get those who are qualified through this SIV program out of the country if that's what they want to do."
The SIV program, which stands for Special Immigration Visas, are issued to Afghan and Iraqi translators and interpreters working for the U.S. military.
On Friday, Kirby said there needs to be congressional relief in order for the federal government to expand and accelerate the program. He said that those seeking visas are currently being placed in temporary overseas locations while working through the process but cannot currently relocate to the U.S. while their cases are pending.