Thousands of U.S. troops are on "prepare to deploy" orders so if called upon, they can participate in the NATO Response Force, a multinational force that the Alliance can deploy quickly wherever needed.
In response to Russia's invasion of Ukraine, the NATO Response Force (NRF) was activated to provide assistance to NATO ally nations. The U.S. has already committed 12,000 stateside troops to be stationed in NATO partner nations along Russia's western border.
"The department has placed a range of multi-mission units in the United States and Europe on a heightened preparedness to deploy, which increases our readiness to provide for the U.S. contributions to the NRF on a shorter tether than what we could do before," said Pentagon Press Secretary John Kirby. "We stand ready if called upon by NATO to support the NRF in the defense of the alliance, and will absolutely do that."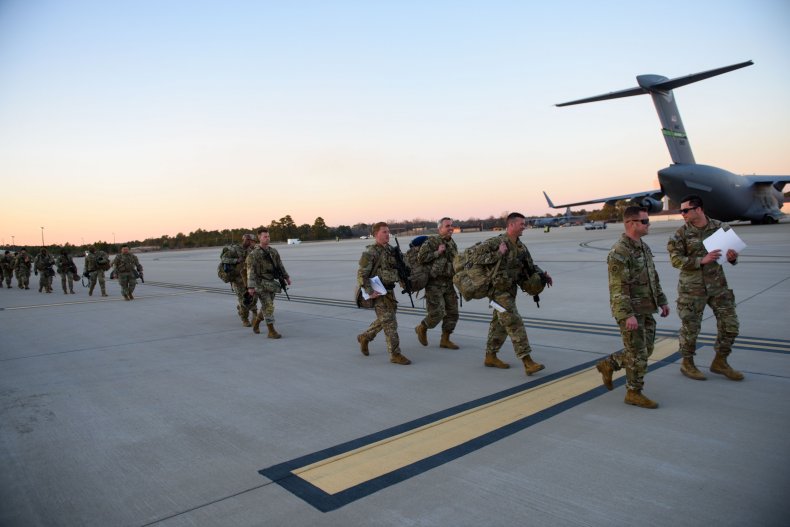 While the number of U.S. troops to deploy for the NRF has not yet been announced, Europe already has thousands of troops stationed. This is the first time since its creation that the NRF has been activated. There are nearly 80,000 permanently stationed forces in Europe, 12,000 stateside troops have been committed, and 2,000 are based in Germany, Italy and Greece, according to Military Times.
"In response to Russia's unprovoked and unjustified invasion of Ukraine in February 2022, NATO activated elements of the NRF for the first time in a deterrence and defense role," NATO said in a statement. "Allies have placed thousands of additional troops – along with armoured vehicles, artillery units, ships and aircraft – at high readiness earmarked for the NRF."
Although President Joe Biden has said U.S. troops will not enter Ukraine to participate directly in the fight against Russia, U.S. forces may eventually be called upon to participate in NRF missions, the U.S. Department said.
"We're going to do everything that we need to do to defend our country, and as the President has said, we're going to do what we need to do to defend every inch of NATO territory — and we take those obligations seriously," Kirby said.
The U.S. has also been looking for other ways to provide both lethal and nonlethal assistance to Ukraine. On Friday, Biden authorized an additional $350 million of military assistance from the Department of Defense.
Inventory including anti-armor, small arms and various munitions, body armor and related equipment were authorized to support Ukraine's front-line troops.
Kirby said Biden's additional support brings the total security assistance for Ukraine to $1 billion over the past year. It is the third time Biden has expedited emergency security assistance recently using the Presidential Drawdown Authority.
Newsweek has reached out to the Department of Defense for further comment.