Pentagon Says WikiLeaks Is Fibbing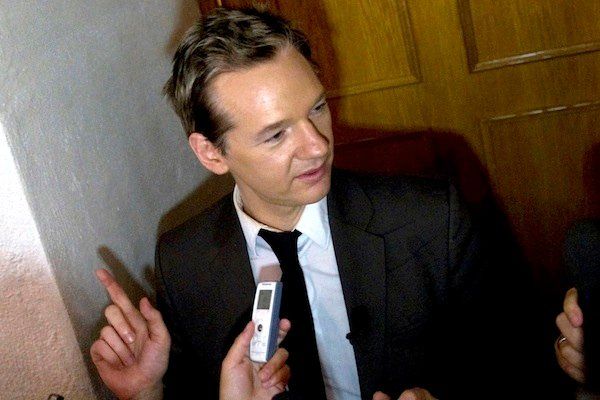 Pentagon spokesmen are emphatically rejecting WikiLeaks founder Julian Assange's latest claims about alleged attempts he has made to establish some kind of working relationship, or at least cordial contact, with U.S. defense authorities. In an interview on Wednesday with an Associated Press reporter based in Sweden, Assange is quoted as saying that the Pentagon has expressed a willingness to discuss with the whistle-blowing Web site its request for official guidance so that it can delete information that might jeopardize the safety of civilians from a cache of about 15,000 U.S. reports on the Afghan war that the Web site claims it possesses, but has not yet made public. In the interview, Assange claimed that WikiLeaks had been contacted, via its lawyers, by lawyers for the U.S. Army who were interested in discussing the issue. Subsequently, however, according to AP, Assange claimed that the contact had been with the office of the Defense Department's chief legal counsel.
The wire service quotes the mercurial WikiLeaks frontman saying that "contact has been established" between Web-site operatives and the Pentagon, but it was not clear whether or if U.S. authorities were interested in cooperating with WikiLeaks. However, spokesmen for both the U.S. Army and the Office of the Secretary of Defense denied that any such contacts had occurred. The office of the Army's general counsel, the military service's chief lawyer, has had "no contact with Julian Assange or any representative of WikiLeaks," said Col. Thomas Collins, an Army spokeman.
Bryan Whitman, a spokesman for Defense Secretary Robert Gates, likewise denied any dealings between Pentagon higher-ups—including the Defense Department's general counsel, the Pentagon's highest-ranking lawyer—and any known WikiLeaks representative. "We have not had any direct contact with WikiLeaks," Whitman told Declassified in an e-mail. "Our position on this has been consistent and clear. These classified documents are property of the US government and should be returned immediately. The public release threatens the lives of US and coalition forces as well as Afghan civilians. We are not interested in negotiating some minimized or sanitized version of these classified documents. All the documents should be returned immediately and removed from the Web site."
A Pentagon official, who asked for anonymity when discussing sensitive information, maintained that whatever "contacts" WikiLeaks had attempted to establish with American defense officials were via the media. Those attempts were made both through public comments by Assange and through statements by journalists covering the Pentagon who have told officials that WikiLeaks has expressed an interest in working with the Pentagon in censoring potentially sensitive material, But the official denies that any U.S. official, at any level, has expressed a willingness, directly or indirectly, to engage with WikiLeaks in such an endeavor.
Assange did not respond immediately to a request from Declassified for comment on the Pentagon's denials of his latest public claims. Last month WikiLeaks posted on its Web site a sheaf of about 76,0000 out of 92,000 classified U.S. military reports on the Afghan war to which it had earlier given three prominent media organizations—The New York Times, The Guardian of London and Der Spiegel of Germany—advance access. After human-rights groups criticized WikiLeaks for posting documents that might put in jeopardy the lives of Afghan locals who had been in contact with U.S. and allied forces in Afghanistan, the Web site said it planned to review the 15,000 Afghan war documents that it had not yet posted on its own Web site and try to delete such sensitive information before making the documents public.
In his latest AP interview, Assange is quoted saying that this process is still expected to take two weeks to a month. Last week New York Times executive editor Bill Keller confirmed to Declassified that his paper had already gone through all of the 92,000 Afghan war documents that WikiLeaks gave them access to, and indicated that the paper was not "holding back" additional articles based on this material. People familiar with WikiLeaks's activities have said that in addition to the Afghan war documents, the Web site is also sitting on a pile of Pentagon reports on the Iraq War that may be three times larger than the Afghan document cache, as well as 150,000 or more classified State Department cables.
Update: Reached for comment Wednesday evening, Assange replied to the Pentagon's denials by saying, "We are correct; the Pentagon lies or misleads, as per usual."