Pentagon Shifts Blame, Says U.S. Didn't Plan for Afghan Forces 'Capitulating' Without Fight
Pentagon Press Secretary John F. Kirby said Monday that the United States military "did not anticipate" the degree to which Afghan forces would succumb to a Taliban takeover.
Speaking at a press conference at the Pentagon Monday, Kirby told reporters the U.S. military had gone through multiple planning exercises looking at possible scenarios surrounding U.S. withdrawal from Afghanistan, saying "plans are terrific, and we take them seriously, but they are not and never have been perfectly predictive."
Asked by a reporter if one of the scenarios was a complete Taliban takeover of the capital city of Kabul, Kirby answered, "It would certainly be wrong to conclude that the United States military did not view as a distinct possibility that the Taliban could overrun the country, including Kabul."
"Many times it happened very fast," Kirby continued. "And one of the things that we couldn't anticipate and didn't anticipate was the degree to which Afghan forces capitulated, sometimes without a fight." Kirby's comment appeared to point blame toward the Afghan forces and his impression of their quick surrender.
"The President said that he did not see that happening," Kirby continued.
Kirby's comments came soon after President Joe Biden made remarks earlier Monday at the White House, saying, "The truth is this did unfold more quickly than we had anticipated."
In the same speech, Biden asserted the Afghan forces' quick capitulation might be even more reason why it was a good idea for U.S. troops to withdraw, saying "American troops cannot and should not be fighting the war, and dying in a war that Afghan forces are not willing to fight for themselves."
Some say the Afghan military's quick collapse was evidence that the U.S. failed in its efforts to build it up into an independent power.
In addition to pointing out the Afghani military's quick defeat, both Biden and former President Donald Trump have been quick to try to shift blame to one another.
"Afghanistan is the most embarrassing military outcome in the history of the United States. It didn't have to be that way!" Trump said in a Monday statement.
While Biden pointed out that it was Trump who brokered the "peace agreement" deal with the Taliban last year in Doha, Qatar, with provisions for the U.S. military to leave the area in 2021. In fact, Trump publicly pushed for an earlier pullout.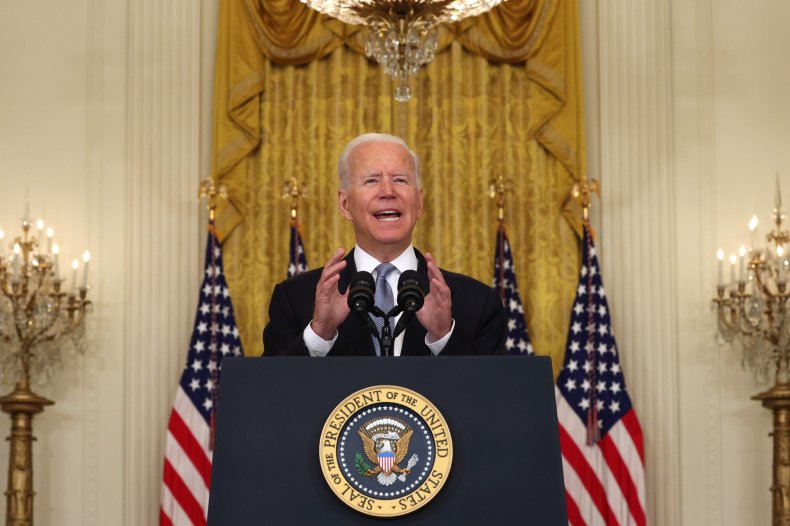 Newsweek reached out to the Pentagon for further comment but did not hear back before press time.