Pentagon Outlines Strategy to Counter China After Beijing Aerial Aggression
A new U.S. strategy for countering Chinese aggression in the Pacific region has been outlined by a top official in President Joe Biden's administration.
Chinese warplanes have repeatedly violated Taiwan's air defense identification zone (ADIZ) in recent months, with Beijing considering the island a breakaway province.
Tension is also sky high in the South China Sea where Beijing's territorial claims overlap with those of no fewer than six of its neighbors, resulting in regular confrontations.
Ely Ratner, U.S. assistant secretary of defense for Indo-Pacific security affairs, discussed the situation in a speech this week to the Center for Strategic and International Studies think tank in Washington D.C.
He outlined increased Chinese belligerence in the South China Sea, with Australian aircraft on legal operations targeted with lasers and chaff.
In a separate incident, Chinese warplanes "unsafely" intercepted a group of Canadian aircraft, which were acting on behalf of the U.N. Security Council.
Ratner explained: "These are not isolated incidents.
"Over the last five years, the number of unsafe PLA [Chinese People's Liberation Army] intercepts, including U.S. allies and partners operating lawfully in international airspace in the South China Sea, has increased dramatically with dozens of dangerous events in the first half of this year alone.
"In my view, this aggressive and irresponsible behavior represents one of the most significant threats to peace and stability in the region today, including in the South China Sea."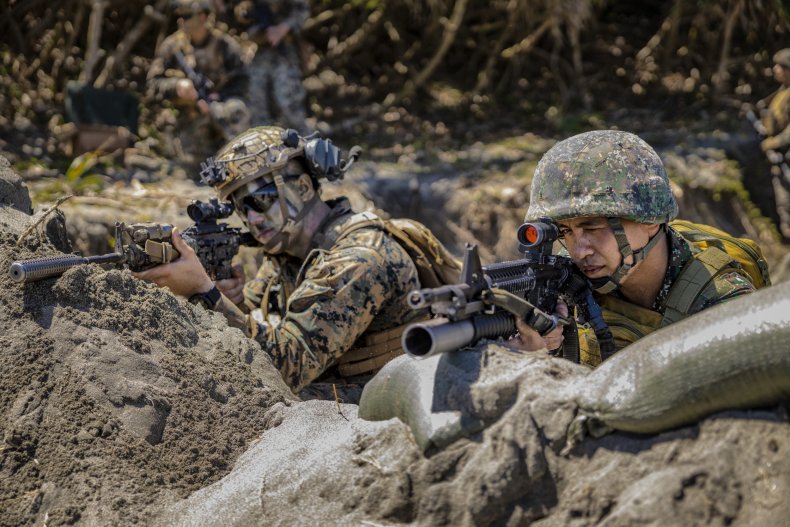 Ratner went on to outline the U.S. plan to respond, based on close cooperation with regional allies and enhanced intelligence capabilities.
Tensions between China and the U.S. are running high. Beijing is furious at reports that House Speaker Nancy Pelosi plans to visit Taiwan, with Chinese President Xi Jinping warning Biden against "playing with fire" during a two-hour call on Thursday.
Over the past few years, the U.S. has been working increasingly with the Quad grouping, which also contains India, Japan and Australia, in a bid to contain what it calls Chinese aggression.
Beijing, meanwhile, has accused the United States of provocative behavior.
"It is clear to us all who exactly poses the biggest threat to peace and stability in the South China Sea and the Asia-Pacific," Chinese foreign ministry spokesperson Zhao Lijian told a news conference on Thursday when asked about the presence of a U.S. carrier in the South China Sea.
During his address, Ratner noted the Ukraine war shows the capabilities small U.S. allies can have against much larger hostile states.
He said: "Without question, bolstering our partners' self-defense capabilities in the South China Sea, and across the region, is a task of foremost importance for the Defense Department.
"Department of Defense is taking an increasingly proactive approach in looking at new options to support these efforts.
"We've seen reminders in Ukraine that smaller nations can outmaneuver larger aggressors through smart investments in self-defense technologies, anti-aircraft weapons and other anti-access/denial capabilities."
A key part of the U.S. strategy involves closer intelligence-sharing with American allies.
Ratner commented: "We're doubling down on our efforts to build a common operating picture with our partners that will allow them to better detect and counter illicit activities in their territorial waters.
"Our new Indo-Pacific Partnership for Maritime Domain Awareness…which we launched at the Quad Leaders Summit in May, is just one way that we're doing so."
As an example of the U.S. working with allies in the region, Ratner noted that last fall two U.S. carrier groups combined with a British carrier strike group, and a Japanese destroyer, to conduct joint exercises in the Philippine Sea.
The USS Theodore Roosevelt carrier strike group recently trained with the Indian navy and air force whilst transiting the Indian Ocean.
Ratner explains the U.S. policy is based on maintaining peace through strength.
He said: "We do not seek confrontation or conflict. We say that publicly, we say that privately.
"Our primary interest is in upholding the order that has for decades sustained the region's peace.
"And while we will always stand ready to prevail in conflict, it is the primary responsibility of the Department of Defense to prevent it and deterrence is the cornerstone of our strategy."
Update 7/29/22, 11:45 a.m. ET: This article was updated with Chinese foreign ministry spokesperson