The Pentagon's New Transgender Ban: They Are Pushing Us 'to Extinction'
When Staff Sergeant Patricia King first learned in 2016 that the Pentagon would be making a major policy change officially allowing transgender service members to serve openly for the first time, she felt a sense of triumph, knowing that she had played a part in history in the making.
Just the year before, King, now 38, had already made history, becoming the first openly transgender infantry soldier in the United States and the first female-enlisted soldier to serve her country.
"When I first came out, there was no open policy for transgender service members," King told Newsweek. "In 2015, I just finally got to a point where I couldn't ignore who I was anymore. I came out and started my transition in January that year."
"I risked being removed from the military because I came to a point where I decided I couldn't pretend to be somebody who I wasn't anymore. For me, authenticity became the most important thing. I decided I wanted to be part of the change in the military. I wanted to be part of the opportunity to make people see that open transgender service is good for our country…. So, I became one of the kind of cogs in the wheel working toward effecting change."
"We Have Proven That We Belong Here"
And for a while, it looked like that change was well underway—until the Trump administration took office. Now, King says under President Donald Trump's leadership, a new Pentagon policy that could come effect as early as April 12 threatens to undo the progress that she and other advocates within the military have made, with the new rule effectively barring transgender troops from being able to transition to another sex.
A memo outlining the policy change, which came to light earlier this month, dictated that as of April 12, the Pentagon would be refusing to allow any applicants currently taking hormones or who have transitioned to another gender to enlist, as well as demanding that any currently serving troops diagnosed with gender dysphoria after that date serve in their birth gender, barring service members from taking any hormones or undergoing transition surgery.
On Tuesday, a federal judge said the Trump administration could not yet move forward with enforcing the rule, asserting that an injunction she had previously ordered still stands, barring the policy from coming into effect.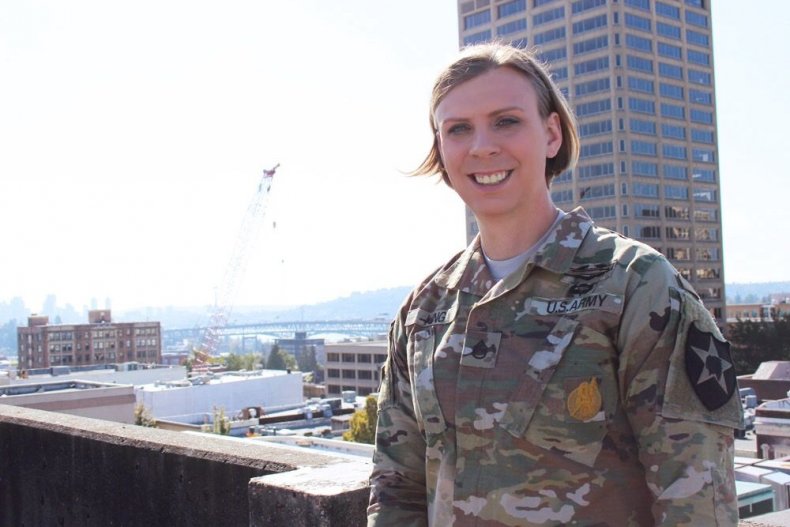 In a three-page order, Judge Colleen Kollar-Kotelly of the U.S. District Court for the District of Columbia, asserted that "defendants were incorrect in claiming that there was no longer an impediment to the military's implementation of the [policy] in this case."
The memo outlining the policy, which was signed by Acting Deputy Defense Secretary David Norquist, had come out around one week after a federal court ruled to lift a final injunction blocking the Trump administration policy from coming into effect, with the court asserting that it had no choice but to lift the injunction after the Supreme Court ruled to lift two others.
However, Kollar-Kotelly asserted that her injunction should stand until plaintiffs against the policy have decided whether they want to ask for a rehearing in front of the appeals court's full bench. Given that they still have until March 29 to do so, the judge asserted that the D.C. Circuit Court's decision could not be considered final until it has been able to issue a mandate after the deadline passes.
While it is unclear whether the delay will prevent the Trump administration's policy from coming into effect on April 12, King said that she feels anger and grief knowing that the rule could be weeks away from being forced upon the military's transgender community.
"My initial feelings when I found out that there was an actual date for this policy were anger…and grief," King said. "This is something that we have worked so hard on in the transgender military community, to show and to prove that we belong here. And we have done that. Transgender people have been serving in the military as long as we have had a military, whether it was closeted or open."
Noting that studies have found that the percentage of transgender people to serve in the military is twice the percentage of the general U.S. population that has served, King said: "We have proven that we belong here. To have them come and tell us that we don't shows, quite frankly, that the new policy just doesn't take into account so many things. It made me angry."
"Brink of Extinction"
King said that she hopes Americans realize that while the Pentagon has not called the new policy change a ban outright, that is "absolutely what it is."
"First and foremost, this policy is a ban. I have heard claims that it is not a ban, but this seeks to prohibit a group of people from serving in the military and that is the definition of a ban, so yes, it absolutely is a ban," King said.
For openly transgender service members, King said that if the ban does come into place next month, "as of April 12, we become an endangered species."
"Unless things change, there will never be another openly transgender service member. When one retires, there becomes one less, until essentially, there are none of us here," she said.
Active duty Lieutenant Commander Blake Dremann, who has served with the Navy for more than 13 years and is also an openly transgender service member, agrees, telling Newsweek that the Pentagon's policy change will put openly transgender service members "on the brink of extinction."
Like King, Dremann, now 37, started transitioning in November 2013, well before plans to allow transgender troops to serve openly were announced.
"I transitioned well before we were talking about policy change publicly," he said. "At the time, I was one of the first women to serve on submarines. That would have been my 10th deployment at the time. I needed to start moving for my own mental health, and so that's what I did, and I did that for a year and a half onboard the submarine."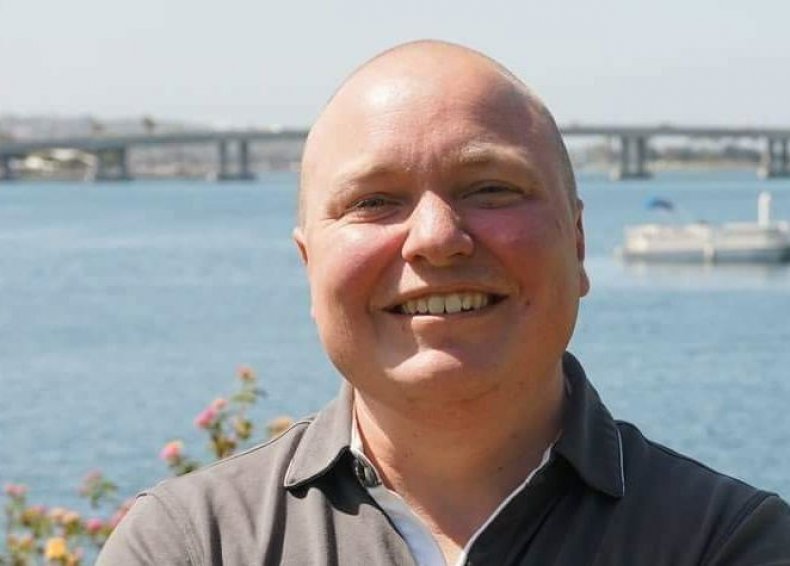 In 2015, Dremann moved to working within the Pentagon "and that's when I came out publicly. Not in the sense that I gathered all of the senior officers to say, 'Hey, this is what's going on.' It was more of a slow roll of changing my name and people gradually realizing what the situation was."
Then Dremann said he began talking to senior leaders within the Pentagon "to get them to see that we are service members, not activists. We're advocates. We're service members just trying to be the best that we can be. We're not trying to destroy the military."
To Laugh or to Cry
The Lieutenant Commander also sought to shut down any misconceptions Americans might have around why transgender service members join the military. "First of all, none of us joined the military to get free surgeries or any of those other accusations," Dremann said.
The suggestion was so baffling to King that she had to laugh about it. "When people say, 'Transgender people are going to join the military so they can get their transition paid for.'… If I really wanted to do that, I would get myself a job at a place like Walgreen's or Starbucks, where my insurance provider would cover my insurance for me.
"I wouldn't have to leave my family, risk deployment, injury or death. I wouldn't have to deal with the scrutiny that comes with being a transgender person in the military. If a person really wants to get their surgery taken care of, there are so many easier ways to do it than joining the military," King said.
"It just doesn't pass the common-sense test. Not only that, but also the bureaucracy involved with getting the transition process going. Most are looking at years before they have the surgery. It's ludicrous. I would much rather get free coffee at Starbucks and just work there for six months."
Both King and Dremann also pointed out the hypocrisy in critics railing against the costs and time lost due to the transitioning process, when they have little to say about male service members getting coverage for vasectomies and treatment for vasectomies or expectant parents being extended months of leave.
"People love to harp on about the cost. When we say that since 2016, the Department of Defense has spent 8-or-so million dollars on transgender healthcare, it sounds like a huge, astronomical amount," King said. "But, in the same time we've spent $8.6 million in transgender care, we have spent $240 million on erectile dysfunction treatment."
King said, "One in eight of men in the Department of Defense receives a vasectomy. Those vasectomies take you out of the ability to deploy for 30 days or longer. We're talking about thousands and thousands of days of undeployability over vasectomies, which cost $1,000 or more in the military. So, $10 million a year in just vasectomies alone."
But, King said, "That is what we do. Because it's the right thing to do, to take care of our service members. I am not at all suggesting that people shouldn't have the opportunity to get vasectomies or access to erectile dysfunction drugs. By all means, have both." The point, she said, "is that that's what we do to take care of service members."
Despite the Pentagon's planned policy change, both King and Dremann said they have no plans to end their service—and if they ever do part ways with the Pentagon, they will not go quietly.
Both service members were part of a delegation that testified on Capitol Hill last month about the Trump administration's stance on transgender service, with the group becoming the first active duty transgender service members to testify before Congress.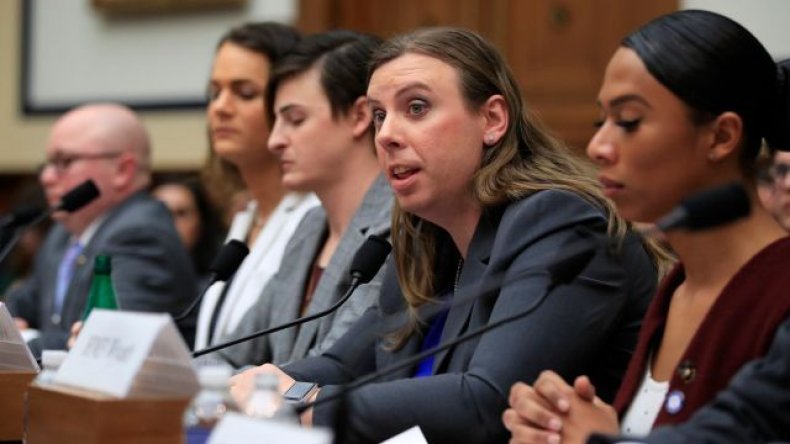 Their testimonies before the House Armed Services Subcommittee on Military Personnel came a month after the Supreme Court granted the Trump administration permission to begin enforcing its new rule.
Dremann told Newsweek, "My philosophy is that you can't change the military from the outside, so if you leave, then you are basically leaving the problem for someone else. And that is not really how we do things," Dremann said.
He said that while he feels disappointed by the Pentagon's planned rule, for him, "it is time to buckle down. Because you have a responsibility, because we go back to doing what we were doing and that is being assets to the military and valued to the military. So, when we talk to senior members of the Pentagon, we can put our best foot forward."
Both Dremann and King said that after the Defense Department's policy change came to light, they received an outpouring of support from their fellow service members.
"For the most part, everyone has come forward and said, 'I'm so sorry you're having to deal with this,'" Dremann said. "We're not experiencing a bunch of people who are going to put their careers on the line to fight it, but we're not seeing negative reactions either. It's not their fight either. They'll continue to support us, but the military is a funny bug. It's hard to speak out against something without knowing what the stakes are."
King said she believes that while the immediate future seems bleak for transgender service members in the military, change is bound to come. For her, the Trump administration's planned policy change is only another setback.
"We will see this policy corrected. We will see things turned right. I don't know when and I don't know what it's going to take, but we will," King said. "We have every aspiration to continue to serve."
Time will always be on the side of those facing discrimination, King said. In the military, she said groups including people of color and women have historically faced discrimination. But, she said, "If a group wants to serve and is qualified to serve, they are going to be able to continue to want to. You simply cannot erase a group of people from history."