Pentagon Vows Military Will 'Learn' From Chaotic Afghanistan Withdrawal
Top leaders at the Pentagon vowed a thorough review of how America's longest war came to its chaotic end this week, leaving possibly hundreds of Americans stranded in Taliban-controlled Afghanistan.
"We're gonna learn from this experience as a military," Joint Chiefs of Staff Chairman General Mark Milley told reporters Wednesday. "How we got to this moment in Afghanistan will be analyzed and studied for years to come."
The last U.S. servicemen left Afghanistan on Monday, just one minute before a Tuesday deadline to draw down troops nearly two decades after the September 11 terrorist attacks that sent military forces there in the first place.
"There's never been a single operation that I've been involved in where we didn't discover that there's something that we could have done better or more efficiently or more effectively," Defense Secretary Lloyd Austin told reporters while standing at Milley's side. "No operation is perfect."
It was the first time both publicly addressed the criticism they've faced over the decision to leave Afghanistan, even though some Americans who want to come home had not been able to make it to the airport in Kabul, where 13 U.S. service members were killed last week in an attack launched by the Islamic State militant group's Khorasan branch (ISIS-K).
"Thirteen of our very best paid the ultimate price—and many of them were too young to personally remember the 9/11 attacks," Austin said of their deaths.
"They literally gave their tomorrows for people they never knew," Milley added.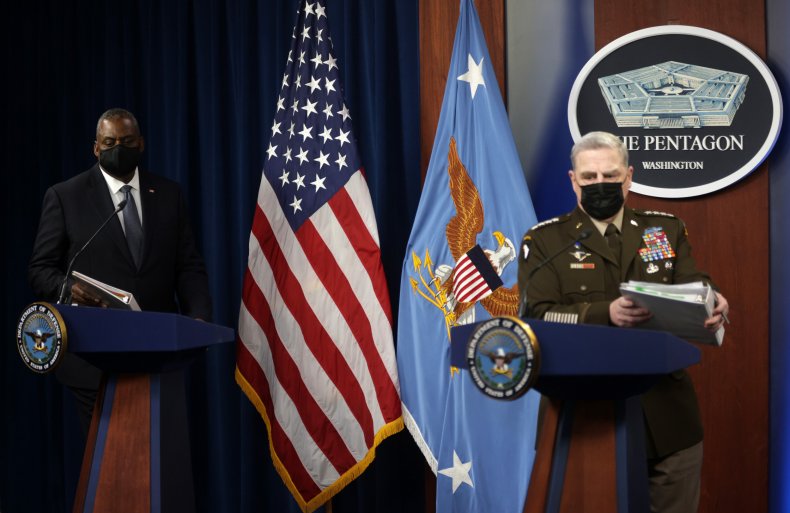 The U.S. had agreed to leave Afghanistan after training Afghan military forces, but the Taliban remained a threat and moved in, toppling the government even before American forces had exited and thousands of Americans and Afghan allies had yet to be evacuated.
President Joe Biden has defended the decision to remove troops from Afghanistan, most recently in a fiery speech on Tuesday, arguing that the U.S. had been in the country too long and there was no other option but to leave.
"I was not going to extend this forever war, and I was not going to extend a forever exit," Biden said in an address from the White House, without taking questions from reporters. "We succeeded in what we set out to do in Afghanistan over a decade ago. It was time to end this war."
Biden, who has long called for the end to the continued military presence in Afghanistan, and his top military officers have faced backlash as tense scenes unfolded at the Kabul airport in the weeks after the Taliban's takeover.
Members of the House Freedom Caucus, a group generally representing the chamber's most conservative Republicans, held a news conference at the U.S. Capitol on Tuesday, during which they called on both Austin and Milley, as well as Biden, to resign over what they called a "disastrous" evacuation operation.
House GOP leadership and Republicans who have served in the military have also called on Congress to investigate what happened in Afghanistan.
Representative Adam Smith, a Washington Democrat who chairs the House Armed Services Chair, said during a hearing Wednesday that he thinks the entire 20-year war should be reviewed.
"The idea that the only thing that went wrong in Afghanistan is what President Biden has done in the last six or seven months is not correct," he said. "We were presented with a very difficult situation. When President Biden came into office, the Taliban were rolling across Afghanistan, picking up even more towns on a day in and day out basis."
Austin and Milley both alluded to the concerns of the impact that leaving a war without clear victory can have on people in the military and their families, as well as on the general public.
"We are all conflicted with feelings of pain and anger, sorrow and sadness, combined with pride and resilience," Milley, who served in Afghanistan, said. "There are no words that I or the secretary or the president or anyone else will ever have to bring the dead back, but we can always honor them."