Pentecostal Leaders Disavow Christian Nationalism in Stark Statement
Stung by recent media coverage linking Pentecostal and charismatic Christianity to Christian nationalism, a group of Christian leaders has thrown down the gauntlet.
They've created a new website, www.narandchristiannationalism.com, that went live Wednesday - a mini-declaration of war.
It contains a 1,544-word statement that condemns Christian nationalism, which is the belief that America is a Christian nation and that its government must support Christianity as the nation's defining and original religion. The statement aims to separate the bulk of the nation's roughly 73 million Pentecostals and charismatics from what these leaders say is a fringe element that espouses "a dangerous and unhealthy form of 'Christian nationalism.' "
The leaders said they "deny any affiliation" with a movement "that speaks of a potential Christian uprising against the government or hints at the use of force to advance God's kingdom." They also said they "reject all ideologies and movements claiming ethnic or racial superiority."
The statement mentions no specific groups - such as the conspiracy-oriented QAnon - or names.
"I think they are genuinely worried," said Matthew Taylor, a scholar with the Institute for Islamic-Christian-Jewish Studies. He is working on a book about the New Apostolic Reformation (NAR), a controversial movement that believes that churches should be directed by networks of apostles and prophets similar to what existed in biblical times.
"The apostolic world is veering precipitously toward Christian nationalism," he said. "The radicalism in the movement had strong connections with the Capitol riot."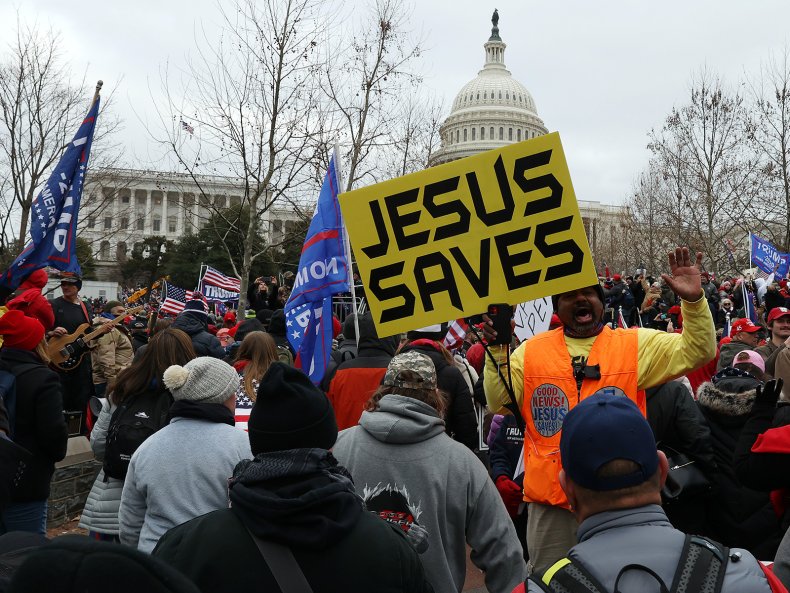 His reference was to the demonstrations on Jan. 6, 2021, at the U.S. Capitol that were believed to be heavily populated by Christians who believed that America was under spiritual attack, judging by the number of people bearing religious signs and symbols and those who attended rallies in the days before. He said multiple independent charismatic leaders were either present in Washington in early January or gave their support from afar.
"There were nationally recognized apostles and prophets there in the crowd making apostolic decrees over the Capitol," he said. "A bunch of upstart prophets were there...They were actually doing spiritual warfare – that is what all the shofar blowing was about," referring to a ceremonial ram's horn traditionally used in synagogues but appropriated by Christians in recent decades as a way of calling down God's power.
The statement has 64 signatures so far - although none from the bigger names in the apostolic/prophetic movement such as Cindy Jacobs, head of the prayer network Generals International, California pastor and revivalist Che Ahn, and Texas evangelists Lance Wallnau and Dutch Sheets. Therein lies the difficulty these leaders face: What some believe are the more extreme elements have larger numbers of adherents. Ahn has 52,000 followers on Facebook, 25,000 followers on Twitter and a network spanning 25,000 affiliates in 65 countries. Sheets has 188,000 Facebook followers and 48,000 Twitter followers.
Tennessee evangelist Johnny Enlow - known for his pro-Trump rhetoric - has 97,000 followers on his Facebook page; Wallnau 929,000. Jacobs has 87,000 Twitter followers.
Although highlighted in the document, the term 'NAR' is a fluid one. Proponents say it is a system founded by the late Fuller Theological Seminary professor C. Peter Wagner that allows Christians to effectively evangelize the world. Detractors say the NAR is code for a theocracy of apostolic leaders who'd control vast networks of churches with the stipulation of obedience to them and a coterie of prophets. The end game would be dominion of key sectors of American society.
Pentecostals and charismatics already number one in five Americans or 23 percent of the population, according to the Pew Research Center. Pentecostal theology is known for its emphasis on "spiritual gifts" such as prophecy, speaking in tongues and healing. In 2020, numerous Pentecostal/charismatic leaders – dubbed the "Trump prophets" by some – got into hot water by falsely predicting victory for President Donald Trump.
Large segments of the movement continue to support the 45th president, sometimes veering off into near-worship, such as a vision of Trump seated on a throne with a golden crown and holding a golden scepter, posted by Enlow on Facebook in April 2021.
Doug Mastriano, the Republican candidate for governor in Pennsylvania, has attracted several would-be prophets, including Wallnau, who is known for hawking $45 coins back in 2019 bearing the images of Trump along with the biblical King Cyrus.
Moderates in the movement say they've had enough.
"We're not saying everyone who is conservative or voting with Donald Trump is doing that [Christian nationalism] but there are some extremes," said Bishop Joseph Mattera, a Brooklyn pastor who co-drafted the NAR/Christian nationalism statement.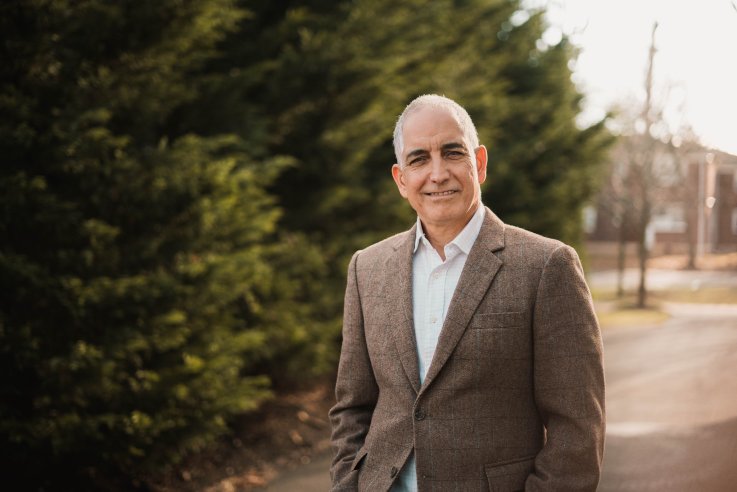 Bishop Joseph Mattera, who heads up the U.S. Coalition of Apostolic Leaders, co-drafted a statement condemning rising Christian nationalism among Pentecostals.
Joseph Mattera
Mattera, who heads up the US Coalition of Apostolic Leaders, worked alongside the Rev. Michael Brown, president of AskDrBrown Ministries, an evangelistic radio ministry, and the FIRE School of Ministry near Charlotte, N.C., a Christian leadership training center.
"I have been getting very concerned that -- as 2024 looms -- if Donald Trump runs for president again, those unhealthy prophetic voices might get louder again," Mattera said. "The secular and evangelical press are starting to lump people like me and Michael together with all these extreme elements.
"I told Michael I am not going to be a sitting duck. I am not going to let other people define us, so we need a statement."
The statement includes a list of "spiritually dangerous" practices that seem aimed at Trump followers, such as to "wrap the gospel in the American flag;" to "compromise our ethics to keep our party (or leader) in power," to "equate our country with the kingdom of God;" to "become as vulgar and rude as the candidates we follow;" to "make a human being into a political savior" and more.
"We denounce the triumphalist, top-down, take-over of society as part of a so called "dominion mandate," the statement said, adding, "We do not know of any major Christian movement that espouses such a top-down, take-over mentality."
However, there has been a slew of coverage suggesting otherwise, including one prominent magazine, claiming in August that NAR leaders "have one clear goal in mind — ruling over the United States and, eventually, the world." Earlier this month, NBC News ran a column linking NAR to Christian nationalism.
In response, the drafters wrote: "We deny any affiliation with what is presently characterized as "NAR"... We also believe that reports of an alleged conspiratorial, worldwide, dangerous "NAR" movement are highly exaggerated and misleading."
The writers may have bitten off too big a piece in dealing with both the NAR and Christian nationalism, Taylor said.
"It may well muddy the waters more than clarify things," he said. "It does signal the movement's deep entanglement in right-wing politics, and how some leaders are trying to pull it back from the brink – but they may be shouting into the whirlwind."
Plus, the Pentecostal/charismatic world is so honeycombed with alliances, networks and personal friendships, it renders disciplining or breaking all ties with the more extreme leaders implausible, he added.
And if they break ranks, reaction is swift. One of the signatories includes Jeremiah Johnson, a charismatic leader who closed down his ministry after falsely prophesying a Trump victory in 2020. In an appearance last April on Daystar TV, he said he got death threats and lost $40,000 worth of monthly financial support in less than a week after he apologized for prophesying wrongly and castigated others in the movement.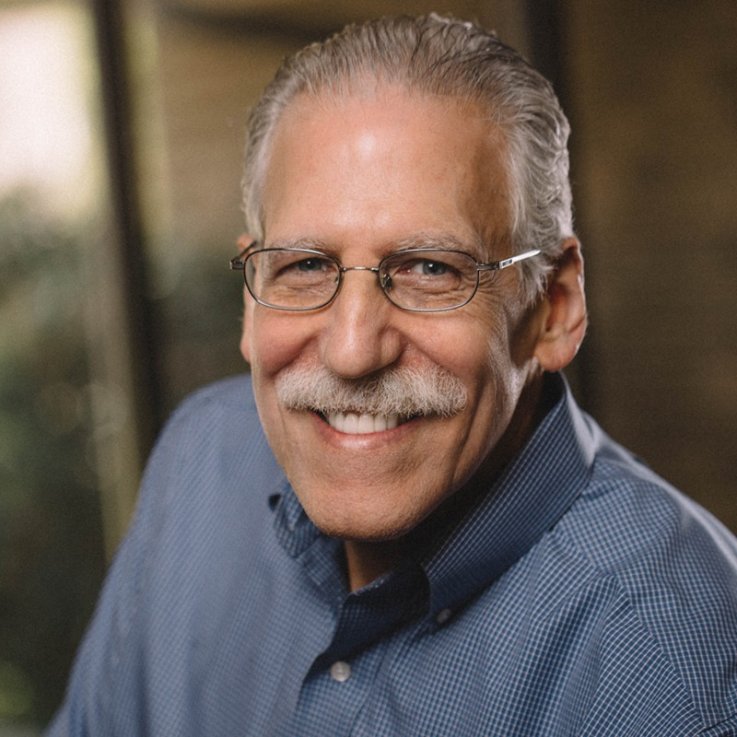 Dr. Michael Brown, a Charlotte, N.C.-based radio host and long-time veteran of the Pentecostal movement, co-authored a statement criticizing rising involvement of Pentecostals and charismatics in Christian nationalism.
Ask Dr. Brown Ministries
Philip Gorski, a religious studies and sociology professor at Yale University and author of "The Flag and the Cross: White Christian Nationalism and the Threat to American Democracy," said the document hit all the right points.
"I thought it was a good statement," he said. "Good on them for coming out with it. It was clear to me that they are explicitly repudiating Christian national and white Christian nationalism and provided theological reasons for doing so."
Alaska author and blogger Holly Pivec and Biola University professor Douglas Geivett, authors of a new book on the NAR being released next month, say the new web site and statement is "damage control efforts" and that "we believe that Mattera continues to promote NAR tenets, as he clearly has in the past."
Many NAR leaders "have removed language from their websites where they once described themselves as being part of the New Apostolic Reformation," they wrote this past week. "And they've produced videos ... and issued statements ... downplaying their extreme teachings and claiming they are not part of the New Apostolic Reformation. They've also accused critics of NAR of being conspiracy theorists who have either made up or exaggerated the size and dangers of this movement, despite well-documented evidence to the contrary."
As a result, "Mattera and Brown's statement is gloss and spin, and does nothing to diminish the real and serious concerns that have been raised by the critics of NAR," they said. "If anything, it raises concerns about the tactics that have been increasingly deployed to defend NAR leaders and to deflect attention away from their teachings about authoritative apostles and prophets giving new revelation."
Mattera responded by saying he still believes there is a place for apostles and prophets to oversee churches and movements they've founded, but their control shouldn't be heavy-handed.
"When necessary, I have pushed back on some extreme elements of what some classify as Christian nationalism," he said, "and on some people who I think crossed the line with their prophetic errors and rhetoric."