Meet the Sponsors Behind the People Already in Line for iPhone 6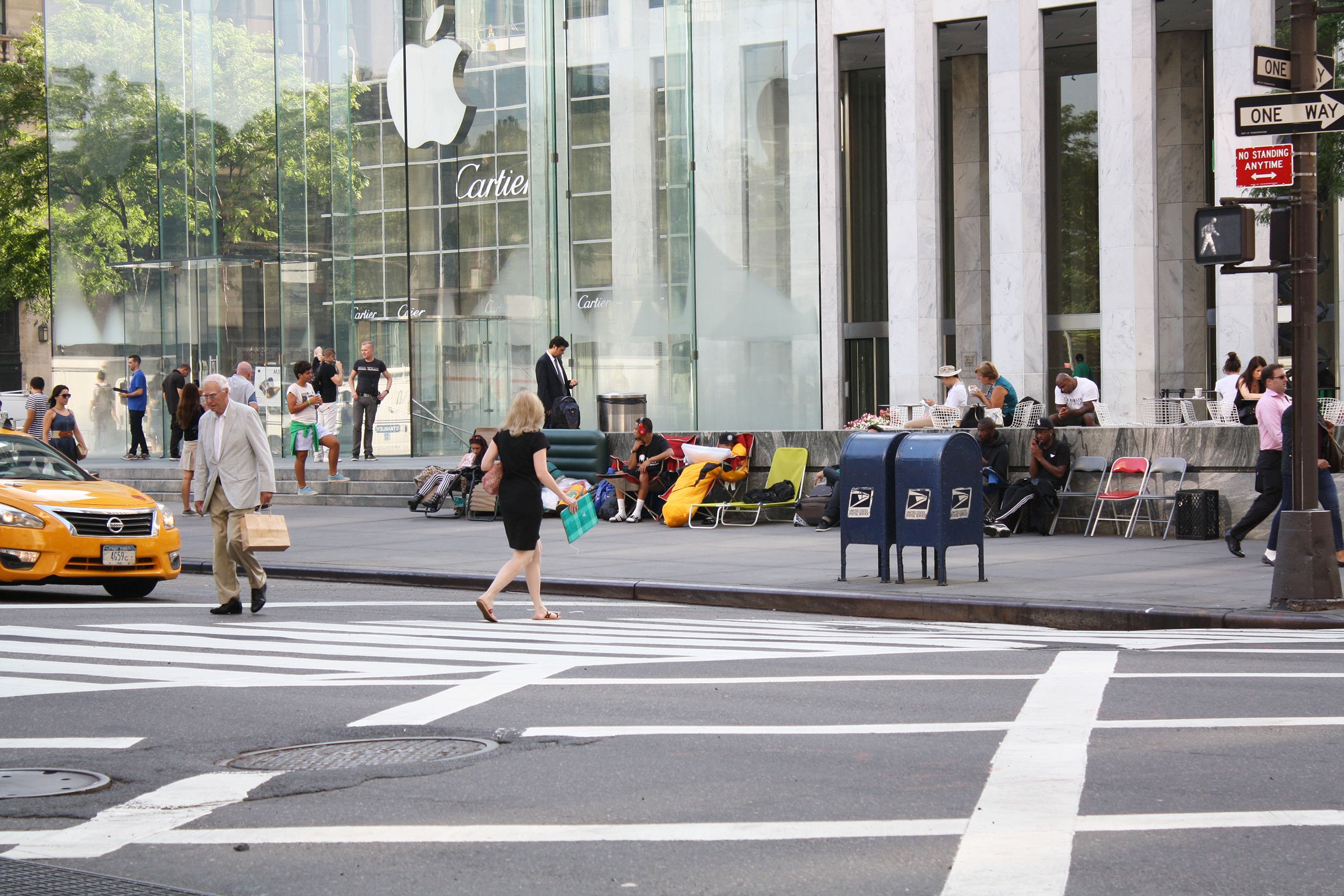 The iPhone 6 hasn't even been announced yet but people are already lined up outside Apple's subterranean flagship store on Manhattan's Fifth Avenue. On the surface it would appear these are diehard fans willing to camp out on New York City streets for weeks just to claim first dibs on Apple's newest gadget—but that isn't the case.
First to arrive on the scene were Joseph Cruz and his cousin Brian Ceballo. These two have been lining up for Apple iPhone releases for five years, starting with the iPhone 3 in 2009. Though Cruz says they are excited for the new phone, they have a few other motivations for being in this line. "We're trying to beat friends from last year," he tells Newsweek, "They waited 17 days, and we did 15." This year, they are going for 20 days.
The cousins are being sponsored by Buybackworld.com—a platform for buying old electronics. They also made fast cash when the next people arrived on line, Jason and Moon Ray from Jackson, Mississippi. The couple wrote the cousins a check for $2,500 to switch spots. Why? "It's key for PR," Moon told us.
The Rays wanted first place in order to better publicize their sponsor, VideoMedicine—a telemedicine app that will be available on iOS and Android around the same time the iPhone 6 launches. Not only does Moon not own an iPhone, but she has no intention of keeping the iPhone 6 she's going to buy in a couple of weeks. She plans to resell it, explaining, "I don't even have cable."
In the third place position are Edward Campos and Jonah Wong, co-workers from Hong Kong. Edward says, "My iPhone 4 was stolen two weeks ago. I was going to buy an iPhone 5s but my boss said, 'How'd you like to go to New York?'" He and Wong work for Ravpower, a company that makes portable chargers for handhelds. Though the two are being paid to be in line and will receive free iPhones, they still have to work…on Hong Kong time. They work through the night on their work-issued Dell laptops and try to sleep during the afternoon, which, if you've ever been to midtown at 5 p.m., you'll know is not an easy feat.
Campos, who seems to be the most enthusiastic Apple fan of the bunch, shared that he has been less than thrilled with Apple since Steve Jobs died. "They've been running a little short," he says, adding that he keeps hoping the company will release "the next generation," but instead just keeps rolling out incremental changes. He says he will be very disappointed if the rumor about the iPhone 6 being able to wirelessly charge the iWatch isn't true.
Last in line, for now, is Jean Anacreon—who runs a business of selling products ranging from electronics to shoes. Holding his Samsung Galaxy 03 Anacreon says he has had people stand in line with him at releases of many products, like the Xbox One, in order to grab as many as possible to resell. He hopes he can recruit enough people to buy 24 phones—none of which he will keep unless the rumor is true about Apple making the new iPhone screen bigger.
Though the tedium of standing on line for several weeks is wearing on the group, they all agree the struggle is worth it. "These are, like, gold spots right here," Cruz says, with Anacreon adding, "It gives us better opportunities."
The group predicts the line will really start to grow four or five days before the release. If Apple's release history holds true, the phone will be available in stores on September 19, two Fridays after the product unveiling on the September 9. Until then, they are praying for no rain.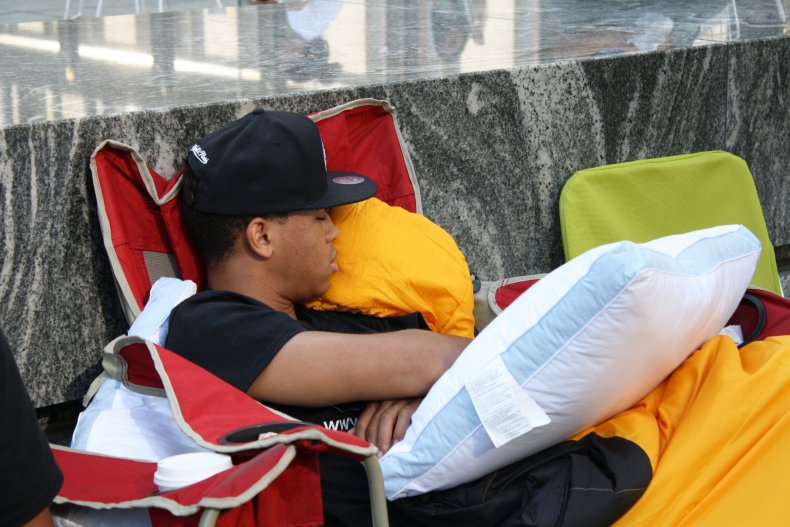 Correction: An earlier version of this spelled Edward Campos' name incorrectly. His name is Edward Campos, not Edward Cambos.