People Are Giving Too Much Blood After the Las Vegas Shooting, Medical Officials Say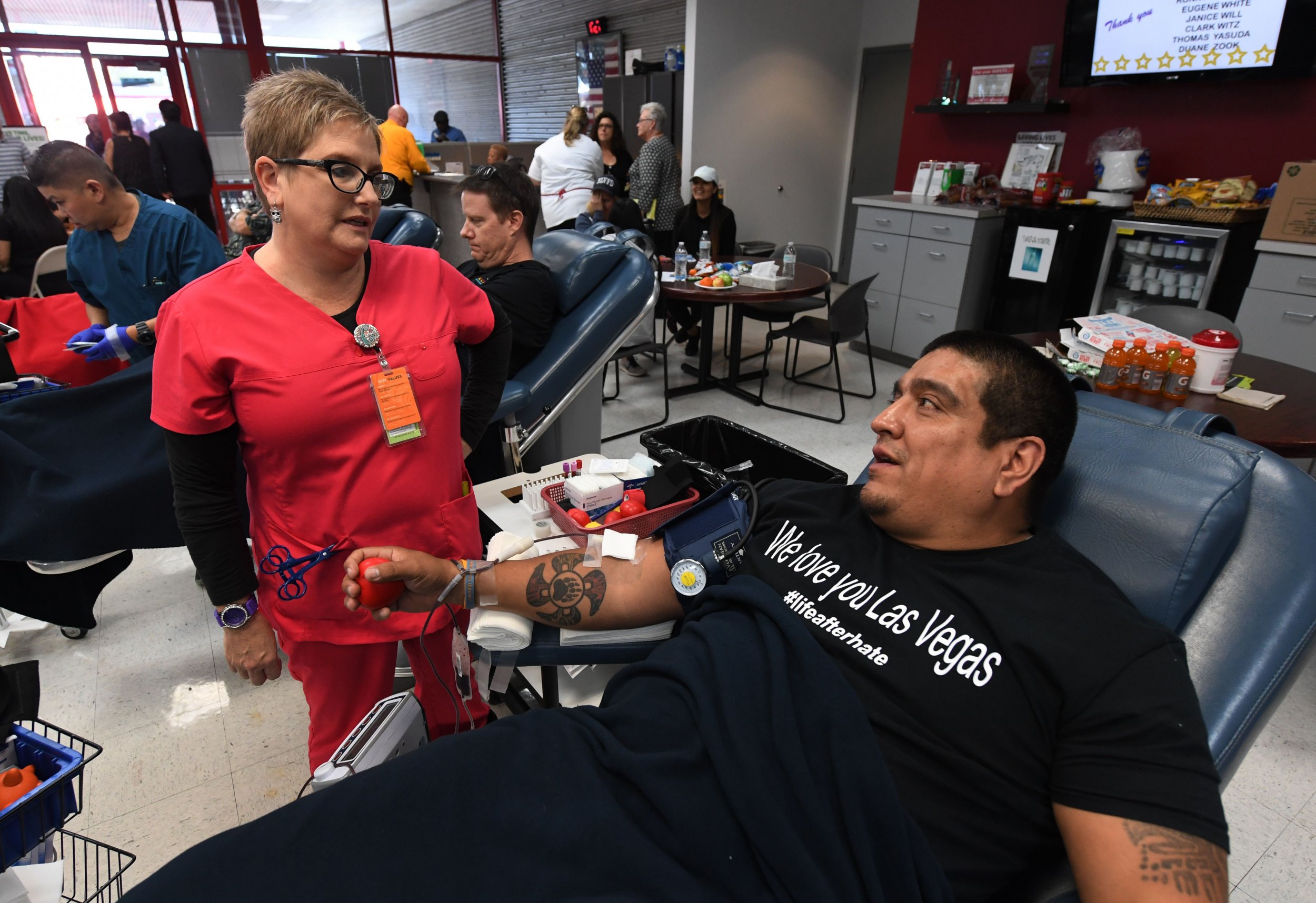 Generous donations of all kinds have been high these past few weeks. Last week, Hurricane Maria catapulted many Puerto Ricans into a state of desperate need. As that tragedy raged, the shooting in Las Vegas left nearly 60 people dead and hundreds injured. Both have elicited an outpouring of response from average citizens wishing to help. In Las Vegas, lines of people wanting to donate blood stretched for blocks. And that's a problem.
Giving blood makes people feel useful in times of tragedy and hardship. "It's their way of being able to do something instead of sitting around helplessly," said Dennis Todd, chair of The AABB Interorganizational Task Force on Domestic Disasters and Acts of Terrorism. We know people will need blood and donating is, for many people, the only action that can be taken
It's true that victims of the Mandalay Bay violence did need blood, and the supply on hand was enough to treat the victims. "It's the blood that's on the shelf that's being used at the time of an emergency," said Todd.
But sidewalks overflowing with people wanting to donate is a sore sight for Todd. Long lines of hundreds of people donating at once can't be effectively accommodated. There's not enough staff, time, and space to collect from every Good Samaritan. Furthermore, blood banks have no use for thousands of gallons of blood that they can't store. So donation gluts often mean throwing perfectly good blood in the garbage.
After the 9/11 terrorist attacks, over-eager Americans donated 500,000 units of blood—200,000 of those units were thrown away. Once this waste was made public, regular donations began to dwindle, according to an article published in the Canadian Medical Association Journal.
In other words, the outpouring of willingness to donate blood following disastrous events was not sustained throughout the year, leading to expired blood that had to be discarded and an unmet need for blood when the emotional pull to give was not so obvious.
To break this cycle, The AABB, formerly known as the American Association of Blood Banks, started the aforementioned Task Force in 2002. Members of the task force focus on making sure that cities and regions have the blood that they need on-hand in the case of disasters and attacks, without too much excess (but it's not uncommon for blood to be over-stocked and discarded anyway.)
After the Las Vegas shootings, blood services in the area weren't worried about running down their supply. "Their inventory was in pretty good shape," said Todd. Only a couple of centers requested a "minimal amount of product," he added.
However, it is important to see some increase in donations in the wake of disaster. After more than 500 people were injured, blood banks needed more donations to refill their stocks. "The good part of people coming out to donate is that they're helping to replenish the inventories at UBS [United Blood Services,]" said Todd. It's important to restock stores in the case of another emergency, as well as for normal hospital functions and injuries.
But the high level of donations is unlikely to be maintained, which is problematic where ongoing needs are concerned. Blood donation takes a day or two to be tested and prepared for transfusions. Blood's shelf-life is about six weeks, so blood banks need regular donors to keep their stocks fresh. Regular donors who had given in weeks prior saved lives. If donors all decide to donate after tragedy and then think they've done their good deed for the year, they may not see the need to be a regular donor, as the Canadian Medical Association Journal noted as happening after September 11.
While the spirit of lining up in front of blood centers five hours before they open is admirable, the Task Force prefers donors to set up appointments and come in regularly. There's a mass shooting nearly every day in the US, so there's always a reason to help fill the shelves.
SaveSave