People Are Mad at Astros' Alex Bregman For Apologizing For Carrying His Bat After Home Run
Many people across social media are not happy that Houston Astros third baseman Alex Bregman apologized for carrying his bat after hitting a home run in Game 6 of the World Series.
Bregman's solo home run off came in the first inning against Washington Nationals pitcher Stephen Strausburg. While watching his homerun travel to the left-field stands, he carried his bat all the way to the first base.
Bregman's celebration goes against many of baseball's conservative customs and traditions.
"Bregman ... dude taking the bat all the way to first....that's asking to get someone hurt on your team ... next year" former MLB outfielder Michael Morse wrote on Twitter. "Right now focuses on winning #WorldSeries."
Speaking to the media after the game, Bregman apologized for celebrating his home run by carrying his bat.
"I just let my emotions get the best of me," Bregman said. "It's not how I was raised to play the game, and I'm sorry for doing that."
Bregman's apology led many fans to take to social media and express their views on the topic.
"No need to apologize here. Go out and have fun, man," said one Twitter user.
"It's an unwritten rule to not show up the pitcher," another Twitter user said, explaining why Bregman issued his apology.
"I love baseball, but the whole home run etiquette conversation is just the stupidest thing. What he did was fine," said Twitter user emtob85.
During the fifth inning, Nationals outfielder Juan Soto hit a solo home run off of Justin Verlander to give his team a 3-2 lead. Soto then copied Bregman by carrying his bat to first base.
"Love him giving it right back to the Astros just like Bregman did to the Nats. Keep the game fun for sure," Nationals' fan Bryan Schulle said on Twitter.
"Seems he's pissing a lot of "traditionalists" off," another Twitter user said.
Although their celebrations were nearly the same, Soto did not choose to issue an apology like Bregman.
"I saw that, what Bregman did in the first inning, I was like 'that was pretty cool, I wanna do that'," Soto said to media following the Nationals' victory.
Both team's coaches may be a part of baseball's more conservative fan base as they both stated their disapproval for the bat deliveries.
"He shouldn't carry the bat past first base," Astros head coach AJ Hinch said. "Soto shouldn't carry it to first base either."
"We didn't like it," Nationals head coach Dave Martinez said. "And the fact that Soto did it, to be quite honest with you, I didn't like it when he did it as well."
The two teams are set to face off in a winner-take-all Game 7. The game will be played in Houston at Minute Maid Park where the winner will be crowned World Series champs.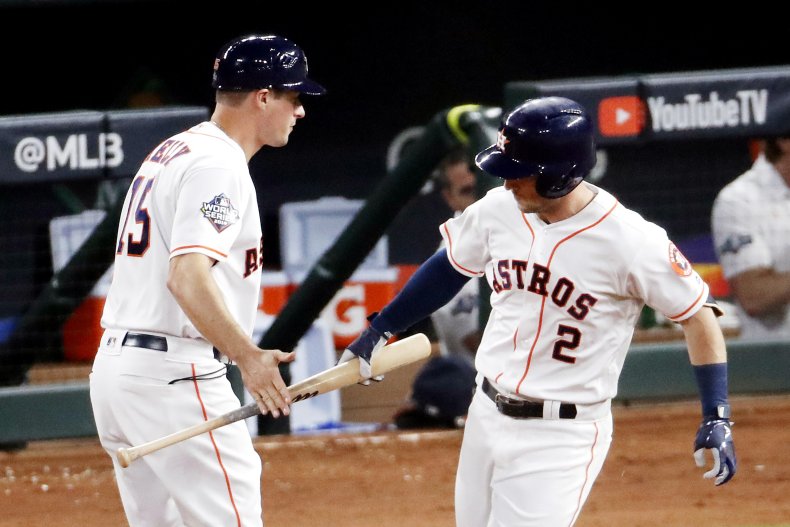 People Are Mad at Astros' Alex Bregman For Apologizing For Carrying His Bat After Home Run | Sports