People Are Obsessed With This Cat 'Living His Best Life' Riding a Vacuum
A cat pictured enjoying playtime on top of a robot vacuum cleaner has delighted the internet.
Shared on Thursday by TikTok user delilahanddecklyn, the video shows ragdoll cat Decklyn on top of his much-loved vacuum cleaner.
The pet owner first shared footage in August, when the cat and the robot received more than 5 million views, but they have been creating video updates as well.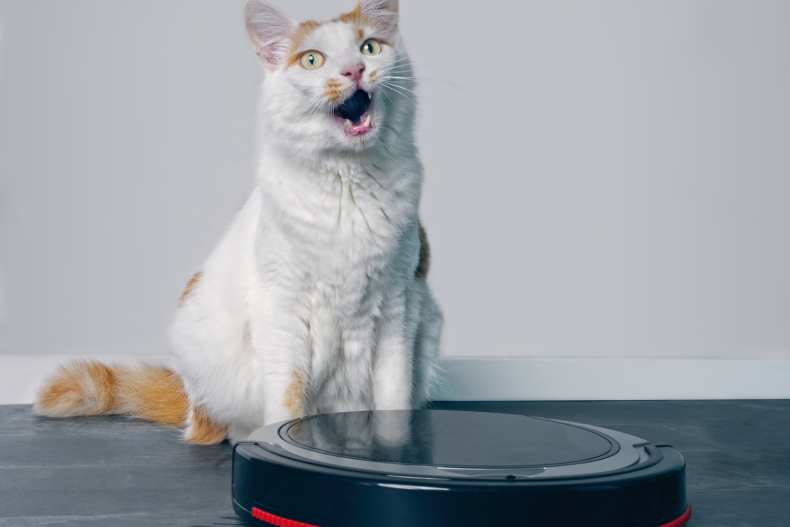 The ragdoll cat breed was developed in the 1960s. With a distinct fluffy coat and blue eyes, they are known for being gentle, calm, and sociable.
With a trusting nature, the breed tend to be very interested in other cats and dogs, which is one of the reasons many ragdoll owners choose to keep their pets inside to avoid issues with less-friendly animals.
Designed to decrease time spent on household chores, the robotic vacuum cleaner has boomed in popularity in recent years, and the market is forecast to reach $4.98 billion dollars by 2025.
With the caption "living his best life," the cat video has delighted viewers who headed to the comments to react.
"If reincarnation is real, I wanna be a spoiled cat in my next life," said one commenter, while another wrote: "That's hilarious." And a third posted: "That's so stinking cute."
But cat-behaviour consultant Alice Chau-Ginguene warned that there could be some issues with allowing cats to play around household machines. She told Newsweek: "The cat in the video does seem to be enjoying it.
"However, I would want to point out two things as words of caution. Especially since this is a long-hair cat, I would be worried the fur got stuck in all the moving parts of the machine. So I wouldn't encourage it."
Chau-Ginguene also warned that animals should never be forced to spend time sitting on a vacuum like this: "I would be worried people seeing this video and thought it's fun and make the cats do this for laughs," she said.
Despite these concerns, Decklyn seems to be having a great time and staying safe as he is supervised. The video has also brought some much-needed joy to viewers.
"I had a bad day and this video made it better," said one comment, while another viewer wrote: "I need this level of unbothered."
In June 2022, another cat gained viral attention after he was caught furiously attacking the robot vacuum cleaner in his house. "He's teaching it a lesson. Don't move or nobody gets hurt," wrote one commenter on the viral video.
Newsweek has reached out to delilahanddecklyn for comment.
Do you have funny and adorable videos or pictures of your pet you want to share? Send them to life@newsweek.com with some details about your best friend and they could appear in our Pet of the Week lineup.