People Are Sewing Their Own Face Masks to Protect Against Coronavirus, but CDC Says It's Not Safe
Americans have been turning to social media for tutorial videos on how to make homemade face masks from cloth and fabric, both for their own use and for hospitals that are experiencing shortages.
According to the San Francisco Division of Public Health, face masks are one of the tools used to prevent the spread of disease—some people might refer to them as dental, isolation, laser, medical, procedure or surgical masks. The masks are loose-fitting and cover the nose and mouth, which limits the release of tiny droplets from coughs or sneezes into the air, and need to be approved by the U.S. Food and Drug Administration (FDA) for use in a professional and medical setting.
However, these masks are reported to be in short supply in hospitals across the U.S. According to the FDA website, the supply chain for personal protective equipment (PPE) will experience stress during times when demand exceeds supplies and has confirmed that it has been contacted by health care organizations regarding shortages.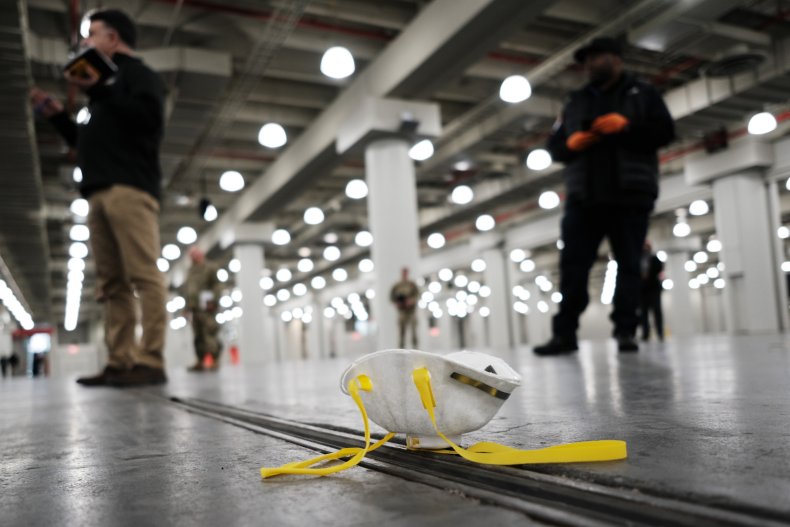 "The FDA recommends conservation strategies for use by healthcare organizations and personnel—categorized for a range of clinical needs and supply levels—intended to assist healthcare organizations in determining conservation procedures during this time period," the FDA website says. "To identify FDA-cleared products, search the 510(k) Premarket Notification database using the product codes for gowns and surgical masks."
To help hospitals in their communities who are suffering shortages, people are turning their hands to crafts and creativity and are making face masks from cloth and fabric. According to one tutorial on YouTube, all that is needed to make one mask is two pieces of cotton fabric (6 x 9 inches), one piece of cotton flannel or interfacing (6 x 9 inches) and two elastic strips.
But are these face masks safe for hospital staff to use and are they effective against the coronavirus (COVID-19)?
According to the Centers for Disease Control and Prevention (CDC), homemade masks are not considered PPE as their "capability to protect healthcare practitioners is unknown." The organization cautions people against using them instead of FDA approved masks. This being said, CDC does say that in settings where face masks are not available healthcare professionals could use homemade masks—such as a bandana or a scarf—for the care of patients with COVID-19 as a last resort. It also says that homemade masks should ideally be used in combination with a face shield that covers the entire front (that extends to the chin or below) and sides of the face.
As of 2:02 p.m. EDT, March 26, 2020, 69,210 cases of COVID-19 have been confirmed, according to Johns Hopkins University. Of these cases, 1,046 have resulted in death, with New York having the highest number of confirmed cases, as the graphic provided by Statista shows below. To date, there have been 619 cases that have recovered from the virus.
The U.S. has the third highest number of confirmed COVID-19 cases globally behind China and Italy respectively.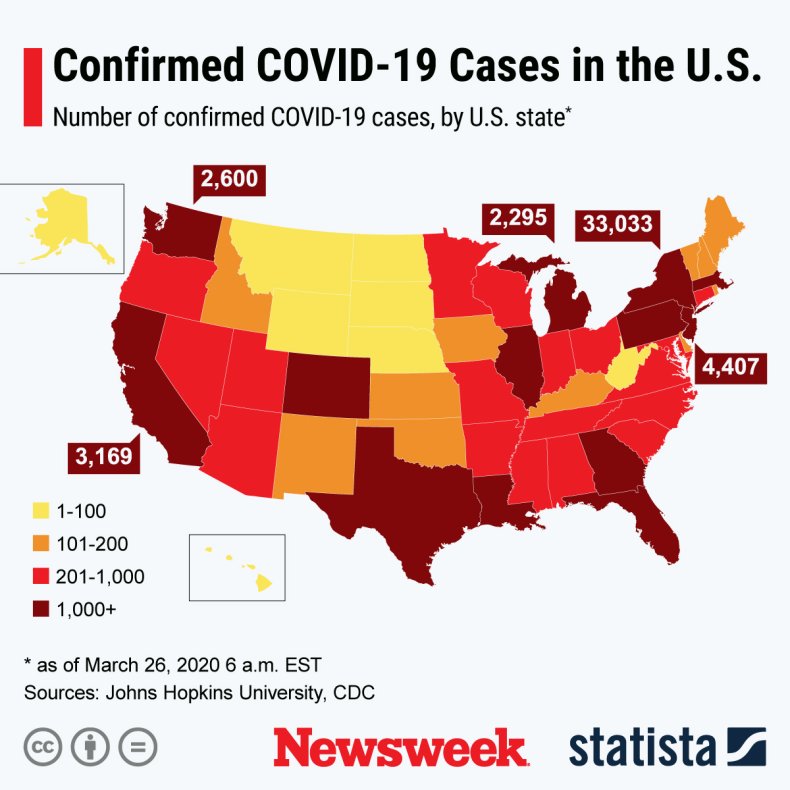 Healthcare Practitioners Warn Against Homemade Face Masks
While the kindness of Americans is welcomed by healthcare staff and academics, some have shared their concerns about the use of homemade face masks over FDA-approved N95 masks.
"When wearing a face mask, there are two types of protection we're after," Alex Ruani, founder of The Health Sciences Academy, told Newsweek. "Outward protection—mask-wearing by someone already infected to reduce the risk of others getting infected—and inward protection—mask-wearing by someone healthy to reduce their risk of getting infected.
"Based on existing scientific studies, when it comes to blocking respiratory droplets containing viruses, homemade face masks are the least efficient," she explained. "Put simply, masks made of common fabric materials like cotton T-shirts, towels, scarves and cloth aren't as efficient as N95 respirator filter masks and surgical masks." Ruani advises that any healthcare practitioners needing to resort to fabric masks should alternate several masks a day and "wash them at temperatures higher than 60 C (140 F). She also warns that due to the COVID-19 virus being able to survive on porous surfaces like cotton for several hours, any readjusting would mean more face-touching and the transferring of the virus from the infected surface.
Elizabeth Bridges, Ph.D., RN, CCNS, FCCM, FAAN, the 2019-2020 president-elect of the American Association of Critical-Care Nurses (AACN), also cautions using homemade masks instead of approved ones. "Nurses caring for COVID-19 patients need PPE that is proven to protect them. Cloth masks are not a replacement for appropriate PPE, which includes N95 respirators and medical/surgical masks," she told Newsweek. "We must ensure that healthcare providers have the right tools to protect themselves. Cloth face masks may be appropriate in some settings, but not for those caring for patients with COVID-19."
She went on to explain the concerns American nurses are feeling due to PPE supplies and how the healthcare community is coping: "Nurses are very concerned about supplies of protective equipment. Already, some hospitals are experiencing a shortage of PPE and this number will only increase in the coming weeks and months. As a result, we are putting aggressive practices in place to protect the resources we have, including masks—we are asking, 'where is the greatest need?' for today, tomorrow and the weeks ahead. We are also calling on government leaders to initiate accelerated and fair
distribution of PPE supplies from the CDC Strategic National Stockpile, reinforcing the need for urgent action."
American Medical Association (AMA) president Patrice A. Harris, M.D., M.A, advises that anyone who wishes to help the healthcare sector through the COVID-19 outbreak should come forward if they have PPE: "We recommend anyone who's looking to help and has personal protective equipment on-hand—including face masks, N95 respirators, gowns and gloves—to contact their local hospital or health department to ensure these resources are appropriate and can be distributed based on their needs.
"At the same time, the AMA continues to urge the Administration to immediately act on the manufacturing and distribution powers available under the Defense Production Act to ramp up production of these critical supplies. It is vital that our health care workforce is equipped with a sufficient supply of personal protective equipment, particularly equipment that meets safety guidelines."
This story was updated at 10:52 a.m. ET, March 26, 2020, to reflect the updated COVID-19 case figures and responses from American healthcare associations.