People Keep Texting, Emailing, Facebooking and Selfie-ing—While Driving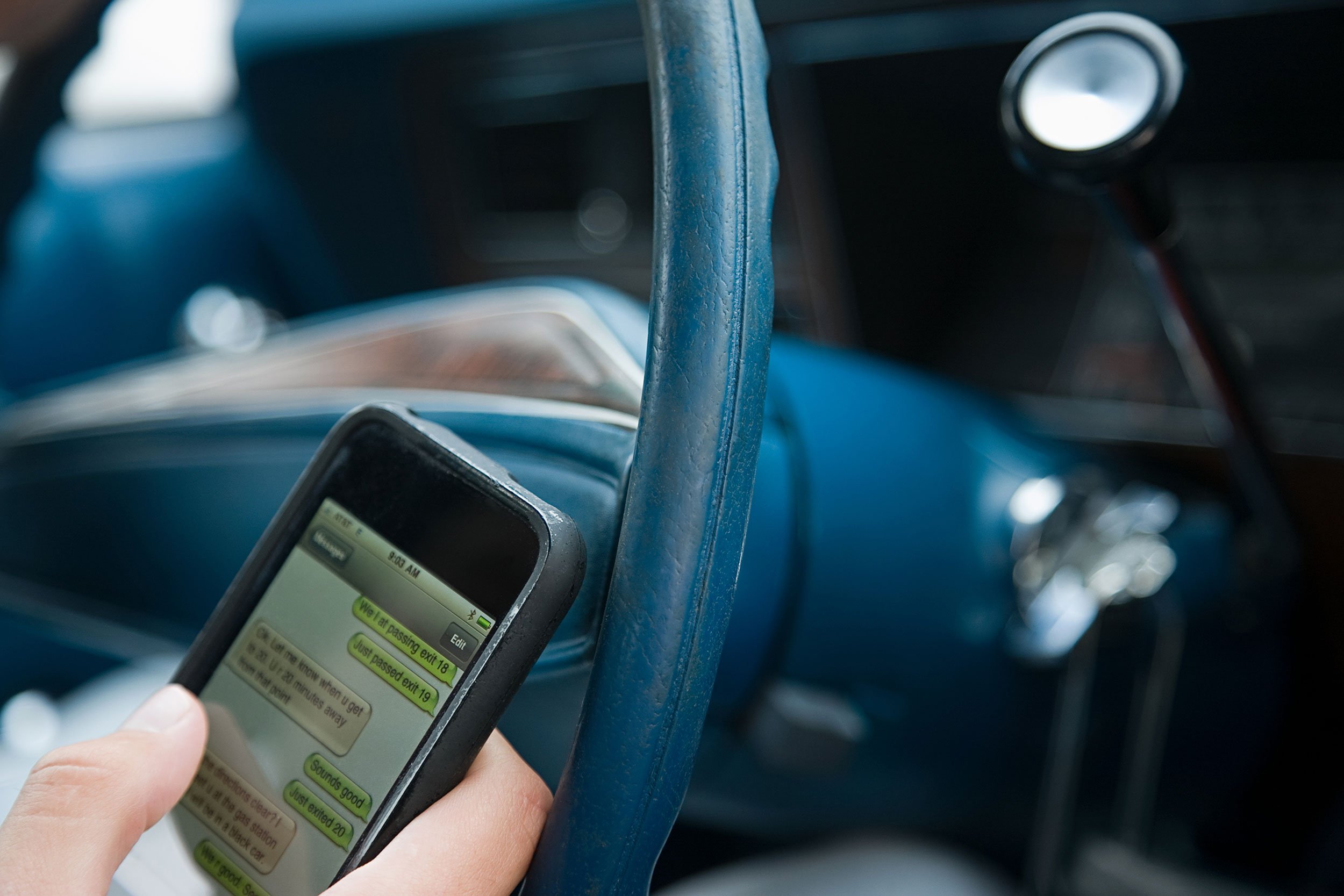 As smartphone functions expand and social media platforms become more widely adopted and regularly used throughout the day, some drivers can't seem to turn away from their screens while behind the wheel. A new survey released Tuesday by AT&T shows that roughly 70 percent of respondents use their smartphones while driving.
Though texting was by far the most common activity reported by survey participants—with 61 percent saying they've read, sent or replied to texts while driving—respondents also said they use email, Facebook, Twitter, Snapchat and Instagram. Some conduct video chats, shoot videos and snap selfies, all while driving.
AT&T conducted the survey with Braun Research, a private marketing and public opinion research firm. It included 2,067 participants between the ages of 16 and 65, who were reached over the phone between March 27 and April 6. To be included, they had to own a smartphone, used their smartphone at least once a day and drove at least once a day.
For all the questions, the survey defined the phrase "while driving" to mean that you might be moving, but it "would also include such things as being stopped at a stoplight, stopped in traffic, stopped at a stop sign."
The survey showed that 62 percent of participants keep their smartphones within easy reach while driving, such as in the cup holder, in their pocket, in a purse/bag/briefcase or on the passenger seat. Participants were asked about each of the following activities (the percentage of participants who just glance at the screen or actively engage in each activity are in parentheses):
Text (61%)
Email (33%)
Surf the Net (28%)
Facebook (27%)
Snap a selfie/photo (17%)
Twitter (14%)
Instagram (14%)
Shoot a video (12%)
Snapchat (11%)
Video chat (10%)
Of those who reported posting to Twitter while driving, 30 percent claimed to do it "all the time," while 21 percent of Facebook posters and 19 percent of Instagram posters said the same. Of those who said they watch YouTube videos, 22 percent do so "all the time."
The most common reasons participants gave for using their smartphone while behind the wheel were out of habit, fear of missing something important and the belief that both things can safely be done at once. Other reasons included addiction, boredom and restlessness and anxiety.
According to the National Safety Council (NSC), drivers who are texting are at least eight times as likely to crash compared with those who are not. Texting, the NSC estimates, was involved in 6 percent of all car crashes in 2013 (which comes out to 341,000 crashes) and 21 percent of crashes involved drivers talking on cellphones.
In 2010, AT&T launched its It Can Wait campaign to raise awareness about the dangers of texting and driving. The company says it has gotten more than 6.5 million people to pledge to "keep your eyes on the road, not on your phone" and has developed apps for safe driving. Now, in response to the recent survey results, AT&T says it plans to expand the campaign to focus on a wider range of smartphone-behind-the-wheel activities.
"When we launched It Can Wait five years ago, we pleaded with people to realize that no text is worth a life," Lori Lee, AT&T's global marketing officer, says in a press release. "The same applies to other smartphone activities that people are doing while driving. For the sake of you and those around you, please keep your eyes on the road, not on your phone."