Onlookers were seen cheering as the first trucks carrying Pfizer's COVID-19 vaccine left a Michigan warehouse on Sunday.
The U.S. Food and Drug Administration (FDA) approved the vaccine developed by pharmaceutical giant Pfizer and its German partner BioNTech for emergency use on Friday, setting in motion the nation's biggest ever vaccination effort amid a pandemic that has claimed almost 300,000 lives in the U.S.
On Sunday, trucks carrying the first shipments of the two-dose vaccine—which the companies said had an efficacy rate of 95 percent—pulled out of Pfizer's manufacturing facility in Kalamazoo, Michigan.
A small number of people cheered as the historic moment, including Susan Deur and Nancy Galloway, according to photographs captured by Agence France-Presse photographer Jeff Kowalsky.
Wearing masks to prevent the spread of the virus, the few onlookers were seen clapping as the trucks rolled out.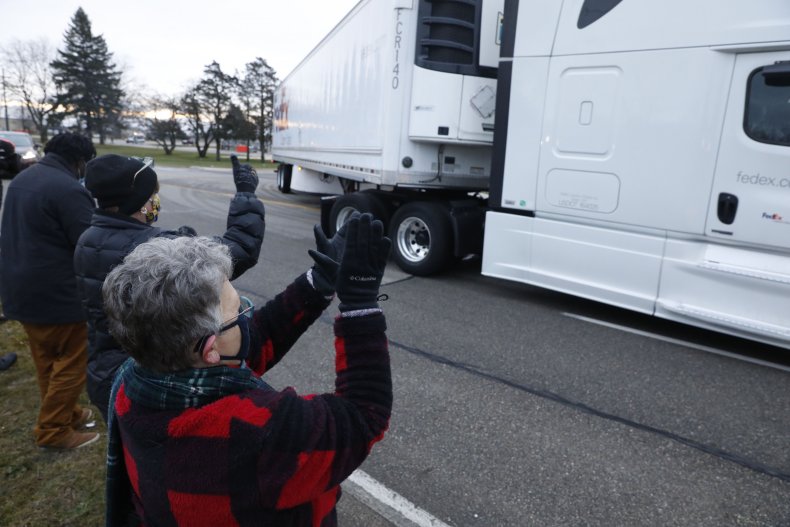 According to The New York Times, 2.9 million doses of the vaccine are being transported by truck and plane from Pfizer warehouses in Michigan and Wisconsin to distribution centers—most of them hospitals—in all 50 states.
The first vaccine shots are set to be given out on Monday to healthcare workers. According to the Associated Press, the vaccine is being distributed based on each state's adult population.
The initial shipments of Pfizer's vaccine will be staggered, arriving in 145 distribution centers Monday, followed by an additional 425 sites getting shipments Tuesday. The remaining 66 locations will receive the shots on Wednesday.
In a statement on Friday, FDA commissioner Dr. Stephen Hahn said the agency's emergency use authorization (EUA) for the vaccine is "a significant milestone in battling this devastating pandemic that has affected so many families in the United States and around the world."
He added that the authorization came following "an open and transparent review process."
"The tireless work to develop a new vaccine to prevent this novel, serious, and life-threatening disease in an expedited time frame after its emergence is a true testament to scientific innovation and public-private collaboration worldwide," he said.
In a briefing on Saturday, Hahn and Dr. Peter Marks, the director of the FDA's Center for Biologics Evaluation and Research, said they have "complete trust and confidence" in the expedited work of the agency's scientists.
Hahn said the agency "overwhelmingly agreed the vaccine benefits outweigh its risks" and that the EUA could not have come at a better time, noting that "thousands of people are dying every day."
The approval came on the day the U.S. reported a record 3,309 coronavirus-related deaths, according to data compiled by Johns Hopkins University.
As of Sunday, more than 16 million people have been infected with the COVID-19 virus in the country, according to the university's running tally, and at least 297,000 people have died.