People Don't Need to Stand for National Anthem, Sacramento City Council Votes
Sacramento, California, residents no longer have to stand for the national anthem after the City Council voted on Tuesday to remove a city ordinance that required them to do so.
A council report on the vote discusses a number of times throughout history that people have protested against standing for the anthem—after World War I, during World War II "and every war thereafter."
"During the 1968 summer Olympics awards ceremony, Black US athletes raised their gloved fist as a political statement against racism. In 2016, professional football athletes began kneeling and sitting during the playing of the national anthem as a means of protesting police brutality," the report says. "This type of protest of police actions has since spread throughout the nation."
Sacramento's ordinance requiring people to stand for the anthem was adopted in May 1928, according to the report. The council's vote comes after a lawsuit was filed against the city, calling for the ordinance to be removed.
Jack Lipeles filed the federal lawsuit against the city, suggesting that he was afraid he could be arrested if he refused to stand for the song while attending a Sacramento Kings game, according to The Sacramento Bee.
The suit states that Lipeles is "unwilling (and should not be required) to subject himself to criminal prosecution" for refusing to stand for the national anthem, while citing his "constitutionally (protected) right to freedom of speech" in his refusal to stand.
Lipeles' attorney, Joseph Adams, told the Bee that the lawsuit was "fascinating" and that he had never seen one like it before. "I've worked in the area of municipal law, and it's the first time I've ever seen such an ordinance. It was surprising," he said.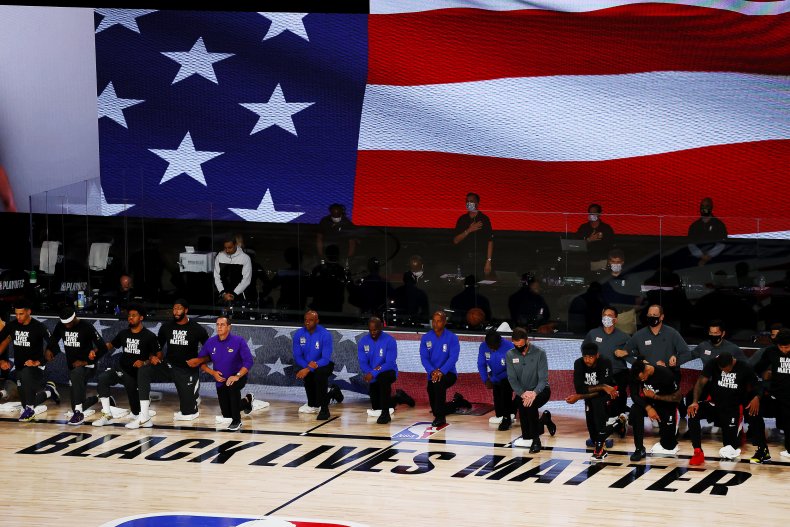 Before Tuesday's vote, the city code stated that residents must stand for the national anthem. "When this music is played on a proper occasion during ceremonials, at the close of concerts, theaters, etc., all present shall stand at attention, facing the flag, or, if no flag is displayed, facing the music, and shall render the salute to the flag," the code says.
Lipeles' lawsuit noted that failure to comply with the code's standing requirement was punishable as a misdemeanor, with a fine of $500 to $1,000 and up to six months in jail.
According to KOVR in Sacramento, Mayor Darrell Steinberg said that he was comfortable seeing residents sit or kneel during the anthem "because that is the essence of being an American. You have the right to express your opinion."
Newsweek reached out to the Sacramento City Council for comment but did not receive a response in time for publication.