'People Don't Want to Work for Poverty Wages': Union Leader Disputes U.S. 'Labor' Shortage
More than a year after pandemic-related shutdowns caused unemployment claims to spike, U.S. employers in the retail, restaurant and tourism industries are actively advertising job openings while muddling through what has been widely referred to as a "labor shortage."
"Now Hiring" signs are visible in store windows across the country, and some employers are eager to interview potential new employees within minutes of an initial job inquiry. Others have shut their doors unexpectedly during worker shifts they weren't able to fill.
But the U.S. isn't dealing with a "labor" shortage, according to Marc Perrone, the president of the United Food and Commercial Workers International Union (UFCW). The problem, he said, is the gap between the compensation employers are offering and what workers are willing to work for, an issue that has been further complicated by threats posed by the coronavirus.
"I don't think it's a labor shortage," Perrone told Newsweek. "I think it's a wage shortage—especially in retail."
Perrone has been involved in worker unions for more than four decades and advocates on behalf of an estimated 1.3 million people in North America as the head of the UFCW, a union that represents workers in the grocery, retail, food packing and food processing industries, among others. Workers in his union make about 20 percent more than nonunion workers, he said, and they tend to have better benefits.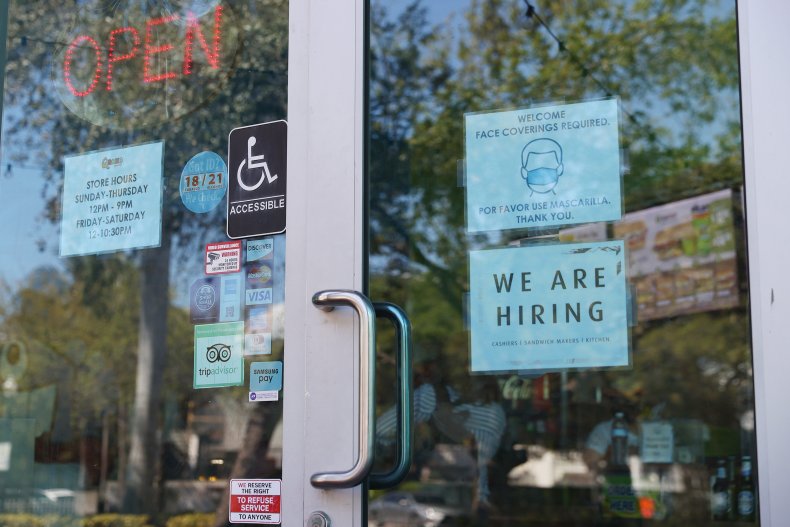 According to a jobs report released earlier this month by the U.S. Department of Labor, there were approximately 9.2 million job openings in the U.S. by the end of May. Some have suggested Americans who used to work in minimum wage positions have lost their willingness to do so, but Perrone disputes that theory.
"This is not a job where, like, they're outside and they're digging ditches," Perrone said. "People don't want to work for poverty wages."
While Perrone said unemployment benefit enhancements included in federal stimulus packages "further exacerbate the problem," he doesn't agree with the argument that the worker shortage is attributable to Americans choosing to live off their unemployment checks rather than return to work.
"We were having the same trouble before they instituted the stimulus package," he said.
In recent weeks, the White House has suggested compensation may be a reason for the worker shortage that employers have reported. At a CNN town hall earlier this month, President Joe Biden spoke with a restaurant owner who was concerned about job openings going unfilled.
Asked about the president's comments during a July 22 press briefing, White House press secretary Jen Psaki said, "At this point in time, it's also a workers' market. And in some places, it may be that you have to pay more wages in order to attract workers."
The federal minimum wage is $7.25 an hour, an amount that has not been changed since 2009. Individual states' minimum wages vary widely, with states like Georgia and Indiana matching the federal minimum wage and states like California and Connecticut set to increase minimum wages for workers in the next few years to $15 per hour.
Discussions in recent years about cities and states raising their minimum wages have put pressure on employers to boost wages for their own employees independently, according to Perrone.
"What they were trying to do was put off the government from raising it higher than they really wanted to," he said.
Compensation adjustments made by large companies can subsequently place pressure on their competitors to make similar changes. Perrone cited Target as an example. The company announced last summer its starting hourly wages for employees were increasing to $15.
Contacted for comment, a Target spokesperson told Newsweek the company invests "significantly" in its employee experience.
"At Target, we receive millions of applications each year and continue to hire significantly to meet the needs of our guests," the spokesperson said. "We consistently hear from team members that they're attracted to Target because of our industry-leading pay and benefits, caring culture and opportunities for ongoing career development."
In addition to increasing its starting wage last summer, Target has implemented bonus benefits for employees amid the pandemic, the latest of which was introduced Thursday. That new benefit was announced as a $200 bonus for all hourly employees working in Target stores and distribution centers.
Perrone said this kind of compensation competition is happening throughout the industries his union represents.
"The competition—our wages have gone up as much as $5 an hour in the last year because of that," Perrone said. "Employers are competing more, and employees have finally understood that they do have some leverage about whether or not they actually go to work for somebody that's going to pay them wages that they can't really sustain themselves on."
The question of sustainability is one that workers considered in a new light as the coronavirus began spreading last year. Some individuals earning minimum wage had to choose between paying for health insurance and affording necessities like groceries and rent. For those who interacted with customers regularly as part of their job, making those kinds of choices amid the risk of catching the virus or bringing it home to their families became even more difficult.
"People were saying, 'I'm not willing to take the risk to go to work there, and maybe catch the virus, for as little as they're going to pay me now,'" Perrone said. "It's not a person shortage; it is in fact a gap in what employers want to pay and what workers are willing to work for."
Though Perrone said the pandemic has fueled conversations employers are having about how they compensate their workers, he believes the debate is heading in the right direction and will have lasting impacts once the health crisis is over.
"The people that have been deemed essential in this process should in fact be able to have sustainable lives," Perrone said. "And we, as the consumers, should demand it."