People Fight Tooth and Nail to Unionize, but They Shouldn't Need To | Opinion
This Labor Day we celebrate the unprecedented waves of worker-led organizing that are sweeping America. Workers from nearly every industry in our country are joining together to use their collective power to demand change at their workplaces – resulting in stunning union representation wins at multi-billion dollar mega corporations like Starbucks, Amazon, Apple, and Chipotle.
But behind each of those victories are the harrowing stories of workers who have faced vicious, illegal union-busting tactics.
American workers' basic right to join unions has been under attack for decades. Broken federal labor laws allow corporations to get away with punishing or firing their employees when they unite to improve their workplaces. CEOs are spending millions on union-busting corporate consultants to intimidate workers and prevent them from winning the improved pay, benefits, and safety standards data proves comes from negotiating collective bargaining agreements. Too many workers report facing retaliation, including termination, just for exercising their right to organize: because the system is rigged against them.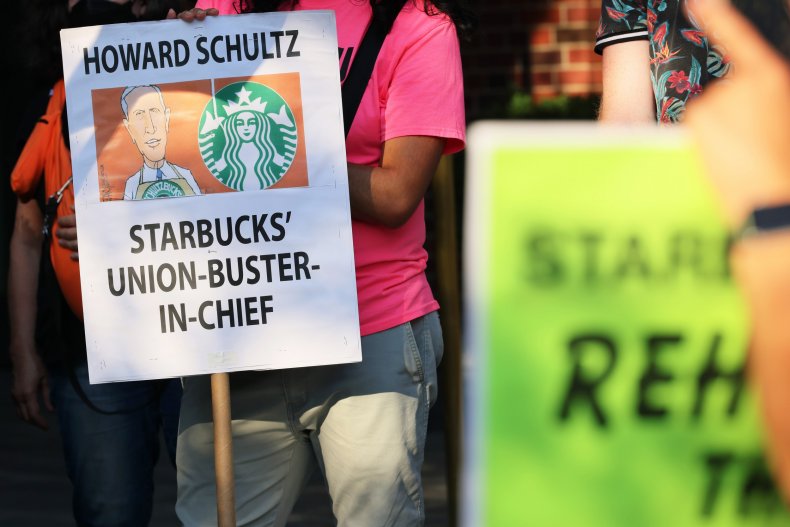 The American labor movement has renewed energy as fearless workers unite across differences in age, race, gender, and geography for a common purpose—to demand respect and a voice at work. Now, it's time to help them realize their aspirations.
The Worker Power Coalition has brought together major international unions, climate justice organizations, and progressive advocacy groups representing over 24 million workers nationwide. This Labor Day, we won't settle for parades and platitudes. Instead, we are calling for action.
It's time for the U.S. Senate to vote on the most important labor legislation to pass the House of Representatives in decades: the historic, bipartisan Protecting the Right to Organize (PRO) Act. By passing the PRO Act, the Senate can finally fix our broken labor laws by increasing penalties against corporations that illegally retaliate against workers for speaking out and making it easier for workers to form a union and negotiate for the better pay, benefits, and job safety they deserve.
We need bold change now. A new Bloomberg report found that in 2022, workers are winning union elections at the highest rate in nearly 20 years—and that the number of workers who have joined a union is already double the total compared to this time last year. Nearly 70 percent of this year's worker union wins have been at retail companies and in sectors like healthcare and education.
Despite this upsurge, only a fraction of the number of workers who want to exercise their right to form a union can do so. A new poll shows nearly 71 percent of Americans support labor unions, the highest level in nearly 60 years, and a strong majority of workers support organizing a union at their own workplace.
The problem is that until the PRO Act passes, giant corporations will continue to be able to wage ruthless union-busting campaigns to intimidate and silence workers who speak out, with virtually no consequences.
Starbucks made national headlines when they illegally denied pay and benefits to thousands of workers who voted to join a union this year. But Starbucks is not the only company guilty of trying to silence their workers' voices. Trader Joe's abruptly laid off workers and shut down a New York store just days before a union vote there last month. Verizon fired a worker organizing a union at a Seattle-area store in April. And the brutal reality is that companies of all sizes use tactics like these on a regular basis without making headlines.
These union-busting practices would carry heavy penalties under the PRO Act, which was passed by the House of Representatives in March 2021 with bipartisan support. The PRO Act is the most ambitious labor reform bill in generations, and would build a better future for working families across the country by strengthening their right to form a union and negotiate for better pay, benefits, and working conditions.
We are done waiting. That's why we just launched a new campaign to turn up the heat in Ohio, Wisconsin, and Florida, with more demonstrations planned in other midterm battleground states. Our message is simple: we need a vote on the PRO Act so that we know where every senator stands. The members of the Worker Power Coalition will use our votes to hold every member of Congress accountable, no matter their party.
Every single day, hundreds of thousands of workers across America are facing "the fierce urgency of now"—grappling with how to survive in jobs that pay poverty wages, are rife with safety hazards, or rob them of their dignity.
This Labor Day, let's put power back in the hands of workers.
Sara Steffens and Jimmy Williams Jr. are national co-chairs of the Worker Power Coalition, America's largest labor group, which represents 24 million workers and unites unions, grassroots organizations, businesses, worker advocates, think tanks, and climate activists calling for passage of the PRO Act and other measures to strengthen labor laws.
The views expressed in this article are the writers' own.