Trump's Motorcade Keeps Getting the Middle Finger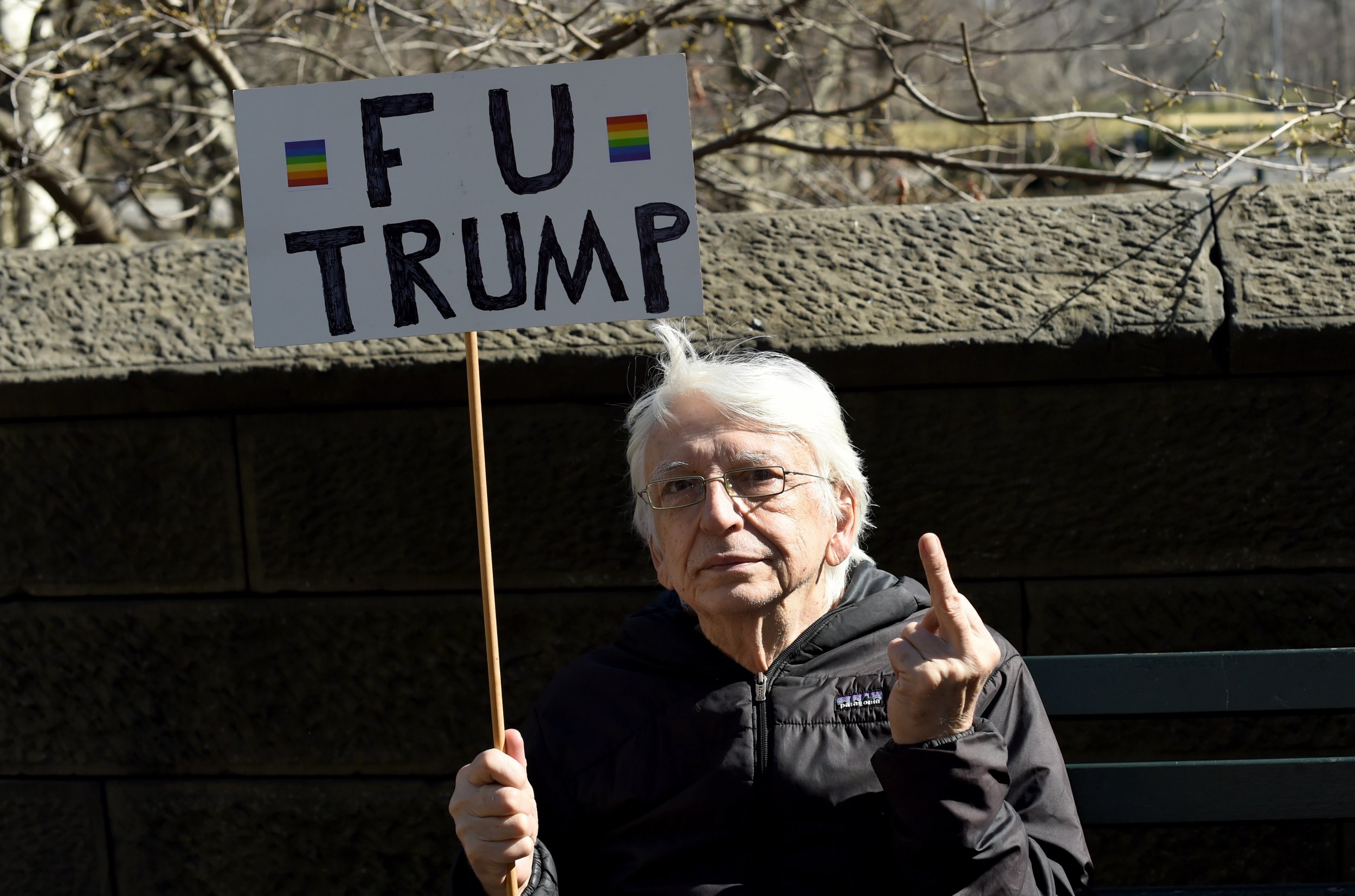 Donald Trump just can't escape the finger.
The president got flicked off yet again on Saturday in Florida as his motorcade traveled to his Mar-a-Lago estate, marking at least the fifth time he's been flipped the bird by random passers-by. Trump may not be popular—his approval rating is about 37 percent, meaning he's the least-liked president in modern history—but the vulgar gesture has become a near-constant reminder that follows him wherever he travels.
It's not just stars like Martha Stewart, Kathy Griffin and Seth Meyers who are flipping the president off. It's everyday Americans, like the purple-parka-wearing woman using both hands to give Trump the bird during his inauguration speech. Or the tourists visiting the Trump National Golf Club in Rancho Palos Verdes, California. It's people like Juli Briskman, a cyclist who lost her job after a photo of her giving Trump the finger in October went viral.
"I think the point is, this resonates because millions of people feel the way that I do," Briskman told The Guardian last month.
Excerpts from White House press pool reports indicate that Trump's motorcade has driven past Americans' middle fingers five times, and unidentified extended fingers twice:
January 26, in Pennsylvania: "Streets were lined with onlookers. A few protest signs and people holding thumbs-down or giving the middle finger salute to the motorcade."
April 9, in Florida (maybe): "One additional cluster spotted by radio pooler had an apparent opponent with a sign reading, 'Repeal and Replace This,' with a hand-drawn extended finger."
May 24, in Italy: "One woman held her arm in the air to show off her extended middle finger. Her gesture offset that of a collared priest who earlier stood on the sidewalk applauding as the motorcade rolled to the palace."
July 15, in New Jersey (maybe): "And while many people have been excited to stop and look for the red hat, a few have also made clear they're angry. One woman stomped by saying she wanted to lift a finger at the box. Supplemental pool caught up with her, and she said she was here to support women's golf and was angry that the president was here."
June 9, in Washington, D.C.: "There were several groups of people who stopped to watch the motorcade pass along the way. Most had their phones up and were staring at the screens. One woman had her back turned to the motorcade and her middle finger in the air."
October 28, in Virginia: "POTUS's motorcade departed the Trump National Golf Club at 3:12 p.m., passing two pedestrians, one of whom gave a thumbs-down sign. Then it overtook a female cyclist, wearing a white top and cycling helmet, who responded by giving the middle finger. The motorcade had to slow and the cyclist caught up, still offering the finger, before turning off in a different direction."
Saturday, in Florida: "One woman held a middle finger up for a long time as the full motorcade passed."
Trump himself has been accused of giving dozens of metaphorical middle fingers and at least one literal bird. In September, Trump sparked a firestorm when he used his finger to scratch his head while talking about New England Patriots owner Robert Kraft's stance on NFL players' national anthem protests.