The People and Organizations Denouncing Stephen Bannon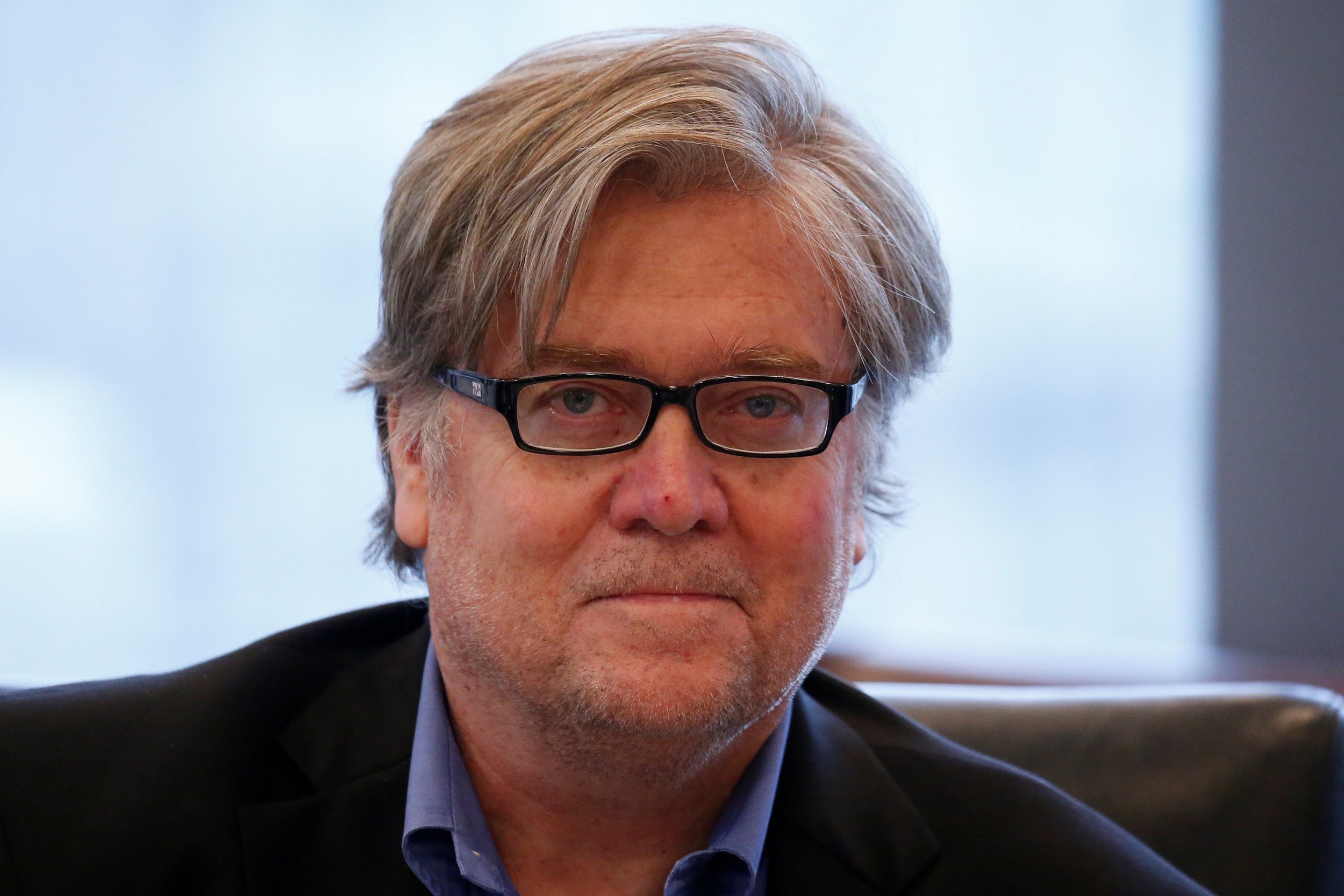 The denouncements came swiftly after President-elect Donald J. Trump made his first key appointments. On Sunday, Trump announced his choices for his senior White House leadership team: Republican National Committee Chairman Reince Priebus as White House chief of staff and Trump for President CEO Stephen K. Bannon as chief strategist and senior counselor to the president.
The latter also ran Breitbart News, a conservative website that under his leadership became a destination for the euphemistically named "alt-right," whose members when called what they are include conspiracy theorists, neo-Nazis, white supremacists and anti-Semitics. The promise of Bannon's presence in the next president's administration has raised plenty of alarms, with politicians, nonprofits, columnists, late-night TV hosts and others rushing to blast Trump for putting him there, and calling for Bannon to be kept out of the White House.
"It is a sad day when a man who presided over the premier website of the Alt Right, a loose-knit group of white nationalists and unabashed anti-Semites and racists—is slated to be a senior staff member in the 'people's house,'" said Jonathan A. Greenblatt, the CEO of the Anti-Defamation League (ADL), a nonprofit that says it "fights anti-Semitism and all forms of bigotry, defends democratic ideals and protects civil rights for all." The organization released a statement Sunday commending the Priebus appointment and strongly opposing Bannon's: "We call on President-elect Trump to appoint and nominate Americans committed to the well-being of all our country's people and who exemplify the values of pluralism and tolerance that makes our country great."
Morton A. Klein, president of the Zionist Organization for America—a pro-Israel organization that says it works to fight anti-Semitism and promote U.S.-Israel relations and is "dedicated to educating the public, elected officials, media, and college/high school students about the truth of the ongoing and relentless Arab war against Israel"—took issue with the ADL's statement, releasing a statement of his own in response. "It is painful to see Anti-Defamation League (ADL) president Jonathan Greenblatt engaging in character assassination against President-elect Trump's appointee Stephen Bannon and Mr. Bannon's company," Klein said. "ZOA's own experience and analysis of Breitbart articles confirms Mr. Bannon's and Breitbart's friendship and fair-mindedness towards Israel and the Jewish people. To accuse Mr. Bannon and Breitbart of anti-Semitism is Orwellian. In fact, Breitbart bravely fights against anti-Semitism." The ZOA, he said, welcomes Bannon's appointment and asks Greenblatt and the ADL to withdraw their criticism and apologize.
Others who came to Bannon's defense include Breitbart's Joel B. Pollock, a Jewish writer who says, "without hesitation, that Steve is a friend of the Jewish people and a defender of Israel, as well as being a passionate American patriot and a great leader." The Republican Jewish Coalition released a statement from a board member, Bernie Marcus, via Twitter:
But the biting criticism has continued to accumulate. The Southern Poverty Law Center—a nonprofit "dedicated to fighting hate and bigotry and to seeking justice for the most vulnerable members of our society" through litigation, education and other forms of advocacy—declared that Bannon "has no business working in the White House." In a statement posted to its website, the SPLC said Bannon stood at the helm of a "news empire" that he himself called the platform for the alt-right, "using a term that is really just a rebranding of traditional white nationalism." He pushed stories that reflected poorly on immigrants, Muslims and minorities, the SPLC said, and encouraged flying the Confederate flag soon after the Charleston shootings of black churchgoers. "Mr. Trump, during your victory speech, you pledged to be a president for 'all Americans' and to 'bind the wounds of division' in our country," the SPLC wrote. "If you mean what you say, you must rescind your appointment of Bannon." The website asks readers to submit their names to "say no to Bannon."
The civil rights attorney Bryan Stevenson called Bannon's appointment a "real threat to global security." Stevenson, the founder and executive director of the Equal Justice Initiative—which announced in August that it would build a memorial to the victims of lynching and a museum exploring African American history from slavery to mass incarceration—told CNN's Christiane Amanpour that "the appointment of someone who gives voice to so much hate [threatens] the kind of moral influence that this nation claims to want to have, in a world that's increasingly violent and at risk…. I really think the moral integrity of this nation is now at risk."
Several members of Congress released statements expressing their intense disappointment in the decision. "Bringing Steve Bannon into the White House is an alarming signal that President-elect Trump remains committed to the hateful and divisive vision that defined his campaign," House Minority Leader Nancy Pelosi said in a statement. "There must be no sugarcoating the reality that a white nationalist has been named chief strategist for the Trump Administration," she added. "Democrats are committed to finding common ground for hard-working families. But we will stand our ground and strongly oppose attempts by this Administration to scapegoat and persecute Americans because of who they are, how they worship, or who they love."
Adam Jentleson, a spokesman for the soon-to-be-retired Senate Minority Leader Harry Reid, echoed Pelosi's sentiments. "President-elect Trump's choice of Steve Bannon as his top aide signals that White Supremacists will be represented at the highest levels in Trump's White House," he said in a statement. "It is easy to see why the KKK views Trump as their champion when Trump appoints one of the foremost peddlers of White Supremacist themes and rhetoric as his top aide."
Representative Keith Ellison, who is bidding to become chairman of the Democratic Party, also denounced the pick, saying in a statement that "Mr. Bannon is adored by white supremacists, white nationalists, anti-Semites, neo-Nazis, and the KKK. It's not hard to see why." He added that "if the President-elect is serious about rejecting bigotry, hatred, and violence from his supporters, he must rescind Stephen Bannon's appointment. This man shouldn't be allowed inside the White House—let alone run it."
So too did Colorado Democratic Party Chairman Rick Palacio, who said in a statement that "by appointing the alt-right movement leader and Breitbart News executive chairman Steve Bannon to serve in the next administration, President-elect Trump is doubling down on the extreme divisive and hateful rhetoric that defined his campaign."
Senator Richard Blumenthal said in a statement that he was "deeply troubled" by the prospective appointment. "Steve Bannon is the executive chairman of a website that deals in anti-Semitic, racist, xenophobic, and misogynistic comments," Blumenthal said. "He should have no place in a position of public trust, and I hope that the President-elect will reconsider and reverse this decision. Actions speak louder than words," he added. "I share President-elect Trump's stated intention to bring the country together, bridge divisions, and find common ground, but appointing Steve Bannon dramatically undercuts and discredits that goal."
The list of politicians who have spoken out against Bannon continues to grow, and includes Senator Cory Booker, Representative Yvette D. Clarke, Senator Ed Markey and more. Senators Jeff Merkley, Mazie K. Hirono and Markey as well as Senator-elect Chris Van Hollen held a press conference on Tuesday afternoon to call on Trump to denounce the acts of hatred that have occurred across the country since his election and "to immediately fire Steve Bannon, a white nationalist selected by Trump as his chief strategist."
"There is no place in our society let alone the White House for purveyors of hate or violence against any group of Americans," said Markey, standing at a podium next to a sign that read in big block letters: FIRE BANNON. "As he starts his transition to his new administration, Donald Trump is sending the wrong signal," he said. "The kind of hate brandished by Steve Bannon and others like him is not who America is," he added. "Donald Trump needs to banish the Bannons from his administration."
Many more politicians, strategists and commentators, both Democrats and Republicans, took to Facebook and Twitter with their reactions to Bannon's appointment:
Emily's List, an organization that works to get pro-choice Democratic women elected to office, also opposes Bannon's appointment. "It's no wonder Donald Trump tapped Bannon to be his chief strategist and right-hand man in the White House. Bannon and Trump are cut from the same cloth of misogyny, racism, disrespect and ignorance toward women," Rachel Thomas, national press secretary for the organization, said in a statement. "Bannon, like Trump, has been accused of sexual harassment, and has been accused of domestic violence. Bannon, like Trump, has called women 'bimbos.' Bannon has launched hateful attacks against women and he even fired an employee suffering from multiple sclerosis while she was on maternity leave," she continued. "Donald Trump spent his campaign surrounding himself with known misogynists and he's doing the same with the White House. Women can and will hold him accountable."
Writers including Lindy West and Shaun King have skewered Bannon in editorials titled "Bannon's unveiling as Trump's chief strategist is a layer cake of horrors" and " What it really means now that Donald Trump appointed vulgar, sexist, abusive, xenophobic Stephen Bannon as Chief Strategist" for The Guardian and the New York Daily News, respectively. The New York Times's editorial board published its own op-ed titled "Steve 'Turn on the Hate' Bannon, in the White House." The board writes that "anyone holding out hope that Donald Trump would govern as a uniter—that the racism, sexism, anti-Semitism and nativism of his campaign were just poses to pick up votes—should think again."
Members of the public, too, are reacting to the appointment with social media posts and petitions. A quick search for "Bannon" on Change.org brings up more than 30 results. The majority of them were created in the days since Trump announced Bannon's appointment and nearly all aim to keep Bannon out of the White House. Though some have only a handful of supporters, at least three have thousands and one petition titled "Steve Bannon's racist, anti-semitic, misogynistic views don't belong in the White House" has garnered more than 48,000 supporters.
And of course, the late-night hosts didn't hold back:
"He's the milkshake that brings all the deplorables to the yard," Full Frontal host Samantha Bee said.
"A quick side note to anyone referring to Bannon as controversial," Seth Meyers said on a "Closer Look" segment of Late Night, speaking about Bannon starting at around the six-minute mark. "He's not controversial. He's a white nationalist and an anti-Semite. Don't talk about him like he's pineapple on pizza."
"Bannon is best known for running something called Breitbart News. If you've never read Breitbart, it's the news your racist uncle gets sent to him by his racist uncle," Stephen Colbert said on The Late Show. "Here's how to understand the alt-right: Think about what's right, then think about the alternative to that."