From getting arrested to having a knife pulled on them, people are getting real about the craziest things an ex-friend or lover has done to them.
The viral Reddit post recounting the incidents, titled, "What the craziest thing an ex-friend or lover has done to you," has been upvoted 18,200 times since it was shared on March 14 by u/into_the_void22 to the subreddit "Ask Reddit."
A survey of British people commissioned by TransferWire and conducted by YouGov found that 23 percent of respondents have continued a relationship even though they were being lied to, according to The Daily Mail. About 37 percent didn't end things even though there was a "lack of consideration for their feelings," and 14 percent didn't end things when cheated on either.
Over 6,200 comments came rolling in, and people didn't hold back with their own experiences. One Redditor's ex-girlfriend told them she was pregnant when they broke up with her "for being a compulsive liar, which just confirmed that she was indeed a compulsive liar."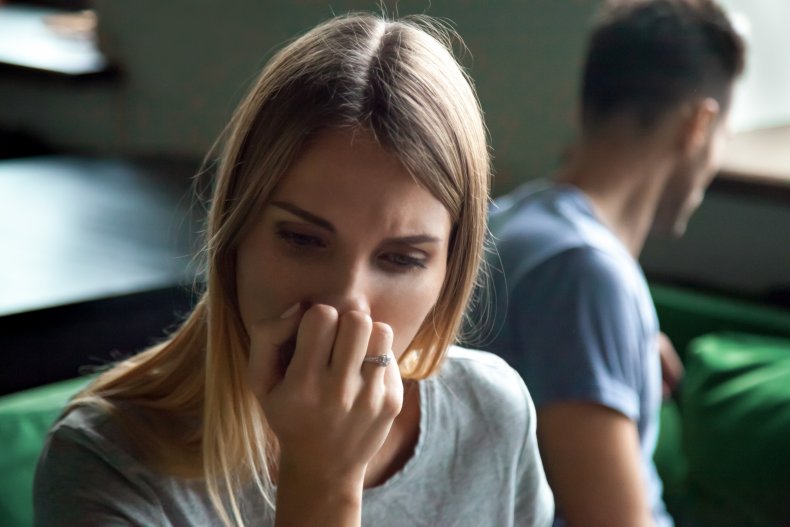 Some had tough situations to go through. One Redditor recalled how the person in question "helped" them pack knowing they were putting things in storage. The user revealed the ex "put raw chicken into a Rubbermaid with appliances they knew I wouldn't open for months."
However, not all the moments recounted were bad. Another user said their ex is a "great person," adding, "My ex donated a kidney to me. It still wows me how she decided without even a moment of hesitation."
Another user revealed their ex-girlfriend flew from overseas to "support" the Redditor whose father died, "and then proceeded to break up with me...on the day of the funeral."
One comment with over 18,000 upvotes recounted how the Redditor's ex made a key to their house and stole their dog after they broke up. "She then called me and told me she found said dog running loose in my neighborhood," they said. "Neighbor had it all on video. Dog was very confused."
A Redditor admitted they woke up from a night of drinking heavily next to their ex-girlfriend. "She asked if I wanted to try to put a baby in her, and when I said no, she pulled a knife on me asking if I wanted to die," they concluded.
Some comments included trouble with the authorities as well. Another user recalled a person told the cops they hit her. "Since she had a big cut above her eye from falling down while drunk, they believed her," they added. "I spent four months in jail for something I didn't do."
One Redditor spent about 32 hours in jail after a friend pulled a prank on them, leaving them in the wrong neighborhood, taking their phone after drinking at a party. After hours passed, the Redditor flagged a cop down, who didn't believe their story.
"I have no idea what the hell is wrong with my friend who pranked me," they said. "He did apologize and felt bad, but I stopped hanging out with him after that." Another Redditor said the situation was "infuriating," adding, "WTF."
Newsweek reached out to u/into_the_void22 for comment.