People Share the Devastation From Tornadoes That Ripped Through U.S. in Viral Videos
Following the destruction left behind by the tornados that tore through six states of the United States, people posted their own experiences and the aftermath of the deadly and violent storms to TikTok.
A tornado warning can be heard in the background of one mother's video as she gets her children together to find a safe spot in the house, an eerie sound similar to that of a freight train is in another video and the results of the wreckage left behind were in other videos.
The tornadoes swept through Arkansas, Illinois, Kentucky, Missouri, Mississippi and Tennessee Friday night into Saturday morning. Newsweek reported that according to preliminary reports, one tornado may have touched down for more than 230 miles and made its way through Arkansas, Missouri, Tennessee and Kentucky.
In Kentucky alone, the death toll is at least 74, but many people remain missing.
Drew Taylor posted several videos outlining his experiences during the storms to his account, @drewtaylor_official. One of his videos, which received 4 million views, is taken from inside his home in Nashville, Tennessee. The intense winds are heard and viewers caught a glimpse of what the conditions looked like outside.
"OK, I need everybody to get down and be comfortable," someone is heard saying in another video on Taylor's account that was taken at the same time as the original video from a different perspective.
Commenters were shocked by the sound the winds made in the video.
"That sound is paralyzing," one viewer wrote.
"This is honestly the first time I could actually hear what [they] meant by freight train!" a viewer said.
Another commenter claimed they are terrified of tornadoes because of the sound of the winds.
"The sound literally is like a monster [making] noises and roaring," they wrote.
Taylor told Newsweek there were no words to describe the sound he heard from the tornado.
"You kind of have to hear it for yourself," he said. "It kind of reminded me of the Indy 500."
A few days after posting his video, Taylor posted another video in which he went to Mayfield, Kentucky with food and water for residents. He also called for people to make a donation to rescue efforts, if possible.
"Just the devastation there, it was unbelievable," he said. "I've never seen anything like it. It was like a bomb went off."
Taylor told Newsweek that while there was some damage done around Nashville, it was nothing compared to what he saw in Mayfield. He said he believes the administration "failed" the community and, from what he witnessed, is not doing enough for the residents.
"It's the community and the civilians that are doing things," he said. "They don't have enough help down there or organization. It's just chaos."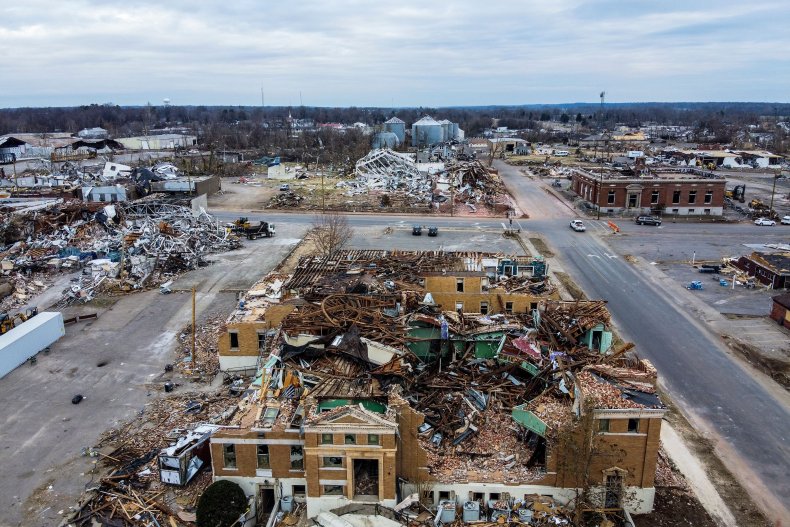 TikToker Katie, who also lives in the Nashville area, posted a video to her TikTok account @theycalluswild with the text, "Waking up to a tornado warning at 3 am as a single mom of three."
She is seen waking up her children to get them to a safe place in the home as tweets and warnings pop up on the screen throughout the video, which received more than 22 million views. Weather updates played in the background of the video as the house's power flickered on and off.
"The composure you showed is great," a viewer wrote. "I'm terrified of storms. You are such a good mom."
Taking to her Instagram account, Katie wrote that the deadly tornadoes did not hit her house, but also encouraged people to make donations for relief efforts.
"We're good. My kids are good, my house is good, we had no serious damage done to the property," Katie said in an update video posted to her TikTok account. "We're all just a little more prepared for the next one."
Katie told Newsweek that she noticed the lightning outside at the beginning of the video and was monitoring the alerts as they came in. She said she wanted to keep her children calm as they had been shaken up by another tornado the family experienced in March 2020.
"I didn't want to jump the gun too soon," she explained. "I wanted them to know they were safe and they were going to be OK."
Katie told Newsweek she was able to keep in touch with some other people in her neighborhood, and they kept one another posted on what they were hearing about the tornado's path.
"We got out incredibly lucky," she said. Her property is surrounded by trees, and while there were intense winds, her house was generally unscathed.
Originally from California, Katie said she learned a great deal about tornadoes since moving to Tennessee. In addition to making additions to her emergency kit, Katie said she learned how spontaneous a tornado's route can be.
TikTok user @mkv808 also posted the aftermath of the tornadoes in Kentucky where roofs were ripped from houses, walls were collapsed and a car was turned on its side. Piles of debris were scattered throughout the area. Some houses, however, remained standing.
Many commented on the video, which amassed more than 3 million views, sharing what they've seen and experienced.
"It's crazy how things like this can happen to people and the rest of the world just sees the pictures and moves on," a viewer wrote.
"The destruction is unreal, it's hard to fathom the loss from those storms," another commented. "I am heartbroken for those who were hit."
Updated 12/17/2021, 5:26 p.m. ET: This story has been updated with comments from Drew Taylor, TikToker Katie and verified videos of the events.