As fast food secrets are continuously spilled online through the means of workers' TikTok accounts, a Louisiana Five Guys chef has surprised viewers with the way they make their fries.
Five Guys is one of the fastest-growing food chains in the world according to Forbes, but has clearly not sacrificed its high standards when it comes to cooking.
Worker @maezthegreat shared a behind-the-scenes look at how the fries are cooked from start to finish, and they're far from what you'd expect.
Maez told Newsweek that he was surprised by how fresh the Five Guys fries were when he first started his job there: "I was shocked I didn't expect them to be so fresh," he said. "The last fast-food chain I worked at had theirs in a bag so I wasn't really expecting that."
Beginning with the whole potatoes in store, he explained: "First, we wash the potatoes off. Real potatoes."
"[We] bring them to the slicer. Put them in there," he added, showing how the fresh potatoes are loaded into the slicer and cut into the fries shape.
Five Guys actually only use potatoes from Idaho, grown above the 42nd parallel. The potatoes grow during the day when it's warm and stop at night once it cools down, causing them to be a denser, higher quality.
The restaurant's yearly purchase of 140 million pounds makes for more than five percent of the state's whole potato output. Chad Murrell, son of Five Guys' founder Jerry Murrell, told Food Republic in 2016: "We've perfected the process now, so all our potatoes are Burbanks from Idaho except for two months of the year, when the Idaho potatoes are too soft for us to fry in peanut oil since they absorb too much. Then we use 'gap potatoes,' Norkotahs out of Washington."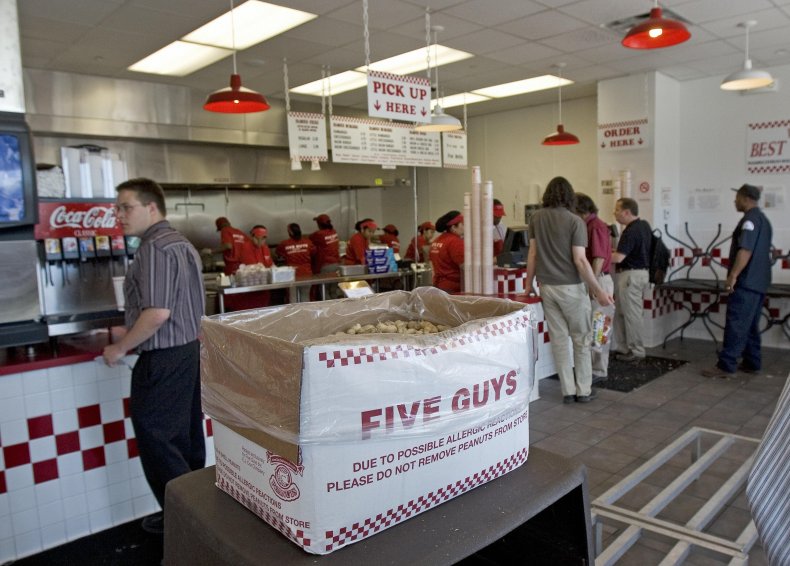 As shown by Maez next in the video, the cut potatoes are then aggravated in a three-minute power wash to remove the starch. They are then piled into a bucket, which is filled to the top with water.
Finally, they're fried in peanut oil. Five Guys' fries are always twice-fried, once to pre-cook for around two and a half minutes and then another to make them crispy after cooling between.
Five Guys is also known to shake their fries 15 times exactly before being served, as confirmed by Maez in his video too. The company also has a reputation for the mass amounts of fries served to customers, which the founder actually prides himself on.
"People complain that they get too many fries. I just tell them to make hash browns with the leftovers. I teach my managers that if people aren't complaining, then you 're not giving them enough," Jerry Murrell told Food Republic.
Maez's video, which can be seen here, has only built the reputation of Five Guys, with users flocking to praise the cooking process compared to other fast food restaurants.
"It was something new that hasn't been posted," said Maez on the popularity of his videos. "They didn't know about our fries and how fresh they are."
"Only restaurant I trust and this is the reason why," commented one user.
"These fries be tasting so fresh to me. Now I see why," added another.
Newsweek has contacted Five Guys for comment.
Update 8/17/21, 3:22 a.m. ET: This article has been updated to include comments from Maez.