People Think This Cop Looks Like Dwayne 'The Rock' Johnson
An Alabama police officer has become an internet sensation, after locals pointed out his uncanny resemblance to Hollywood movie star Dwayne "The Rock" Johnson.
Morgan County Patrol Lieutenant Eric Fields—who boasts bulging muscles and a clean-shaven head just like Johnson—became the talk of social media last week, when a photograph of him was shared by his office on Facebook.
The image showed Fields posing alongside a Walmart worker, along with the caption: "This gentlemen recently ran into Sgt. Mason and informed him he wanted to meet our Deputy that people say looks like 'The Rock'.
"Sgt. Mason passed that along and Lieutenant Fields was happy to swing by the Hartselle Wal-mart to see him. Tyler is one of their many hardworkers and it was great to meet him and some of his coworkers!"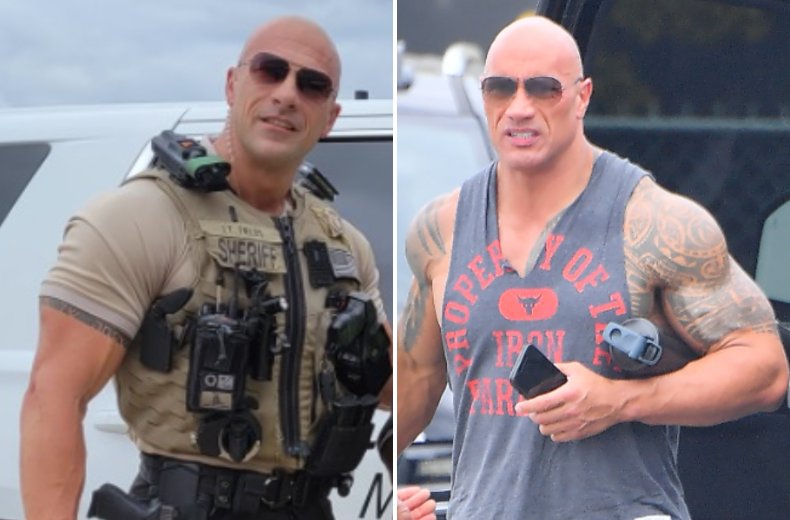 As well as attracting more than 200 hundred comments from Facebook users in agreement with the stated resemblance, Fields' snapshot has also been shared by TikTok users, with one video garnering more than 1.4 million views.
Fields, 37, told The Birmingham News that his likeness to Johnson, 49, has long been "a running joke" among his colleagues—though the comparisons haven't stopped at just one movie star.
"I've been called The Rock and Vin Diesel's love child," Fields said. "I go along with it. It's humorous. It's flattering. It could be worse people, I guess."
Fields also admitted that while expectations may come from people eager to meet a man resembling a film star, he can only be himself in such interactions—though he'll sometimes do impressions of Johnson and Diesel, if pressed to do so.
"I don't want to disappoint anybody," Fields said. "I walk up one day and at a different angle, I don't know. It's flattering, but it's also a little nerve-racking as far as what others expect I guess.
"I just plan on being me. I'll cut up. I'm a big cut-up. If it comes up and somebody says that, I'll play along. I really couldn't be anybody but me. I'm just glad I could be part of someone's happiness and laughter."
According to The News, Fields has worked for the Morgan County Sheriff's Office for 17 years including at the local jail, in investigations, in the special victims unit and with drug-endangered children. He was then sworn in as a Deputy U.S. Marshal.
Fields, who also serves as a firearms instructor, was later promoted to corporal, before working his way up from sergeant to lieutenant over patrol. In his current position, he handles tactical training.