People Trapped on Rooftops in Tennessee Floods Saved by Helicopter Pilot in Risky Rescue
Flash floods ripped through Tennessee over the weekend, leaving at least 22 people dead and dozens missing. But there were glimpses of light through the devastation when Joel Boyers, the owner and a chopper pilot with Helistar Aviation, used his helicopter to rescue people stranded on their rooftops in the city of Waverly.
Boyers was on his way home from the airport when he got a call from a woman who said she had family members trapped on their roofs. Although he was unsure about whether he'd be able to make the 30-minute flight out to Waverly, Boyers managed to fly out with his fiancé and began his rescue mission.
"It was weird, in all my years of flying, each little thing I've done added up to make me the perfect guy to be there," Boyers told Newsweek.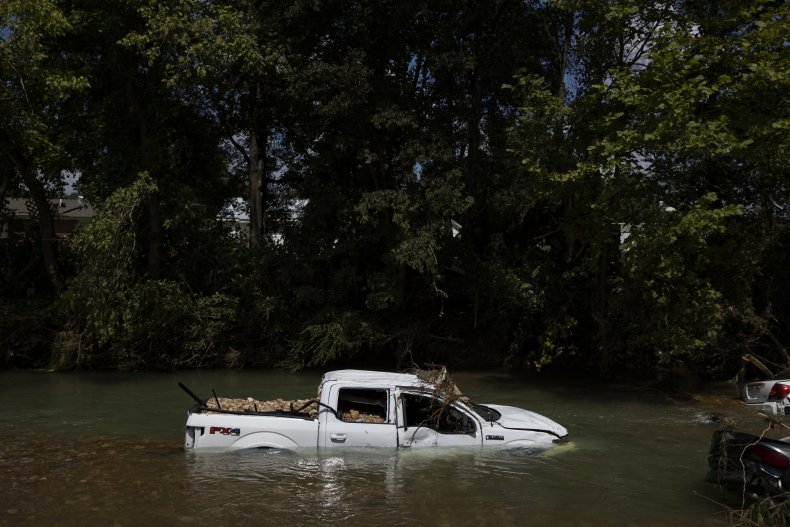 With his experience in landing in tight spaces and flying through difficult weather conditions, Boyers navigated the helicopter through downed power lines and low visibility to people on their rooftops. Different areas were impacted differently by the floods, and some experienced deeper water than others.
"It was the worst flooding I'd ever seen, and I've flown over tornadoes and flooding and flood damage and everything else, it was the worst I'd ever seen, it was just chaos on the ground," Boyers told WTVF.
Newsweek reported up to 17 inches of rain was dumped onto the middle of Tennessee on Saturday, which led to the deaths of loved ones, including the deaths of seven-month-old twins.
Boyers was the first person on the scene and said other rescue crews arrived about an hour and a half after he did.
As he went from house to house, helping people into his four-seater helicopter, Boyers said he wasn't able to differentiate the houses from each other and was just focused on getting people to a spot that was safe with enough distance from the flooding. Boyers told Newsweek that as he was leaving, the water started to recede.
According to WTVF, Boyers rescued at least 12 people from floods.
It's an experience he won't soon forget and said he is ready to help if his services are needed for a future flood that is as destructive as this was.
"I will be forever bonded to the people of Waverly," Boyers told Newsweek. "It was nice to see everyone who pitched in, and it was nice to see everyone rushing to help. It's what we're supposed to do as human beings."