People in the U.S. are buying fish antibiotics online for personal use, according to researchers.
The scientists searched Google for websites selling fish antibiotics in the U.S., and looked for sites that included product information, consumer reviews and publicly available comments.
They focused on nine fish antibiotics that could be misused by humans: amoxicillin, cephalexin, ciprofloxacin, clindamycin, doxycycline, erythromycin, metronidazole, penicillin and sulfamethoxazole-trimethoprim. The team noted the cost and availability of the drugs, and compared the number of likes and dislikes for 2,288 reviews related to human and non-human use. In an attempt to avoid falsely inflating the number, the researchers didn't include generic quotes like "good product" in their data.
The team found 24 websites selling over-the-counter fish antibiotics, ranging from $8.99 to $119.99 in price.
Of all the reviews, 2.4 percent were related to human consumption. Reviews mentioning humans taking the drugs made up 30.2 percent of all "likes" received, and 37.5 percent of all "dislikes." Comments related to humans received nearly nine times more likes than those to animals.
The authors concluded: "Although infrequent, antibiotics intended for fish use are being purchased online without a prescription for self-medication to circumvent professional medical care. Reviews related to human use generate significant online traffic compared to reviews unrelated to human use."
P. Brandon Bookstaver, an associate professor at the University of South Carolina College of Pharmacy who co-wrote the study, told Newsweek the team also bought five of the antibiotics and found the shape, color and imprint were identical to currently available FDA-approved prescription antibiotics for humans.
"We have not confirmed the contents at this time, nor do we have access to the supply chain for these medications from the supplier(s)," Bookstaver said, adding this is something this team will look into next.
Bookstaver said he and his colleagues were surprised by the detail and directness of the comments, with some specifically citing the conditions they were seeking treatment for, including sexually transmitted infections.
Asked why people might buy drugs marketed for fish, Bookstaver said: "The convenience of online purchasing and in-home delivery is likely a contributor. The patient does not have to leave the home to receive treatment. Avoiding a visit to a physician's office and the pharmacy may not only be perceived as inconvenient but also a financial burden to the patient.
"For certain infections such as sexually transmitted infections, there may be hesitancy to seek medical care due to embarrassment," he suggested.
But Bookstaver noted the comments were anonymous and to online vendors, and therefore do not necessarily mean the users actually intended to or took the drugs. Some people may buy and not leave a comment or review for their purchase, he said.
However, he argued: "These results are important for both healthcare practitioners and the public awareness to this being a potential problem and the potential harms that are associated."
Bookstaver was emphatic that people should not buy antibiotics online. "Self-treating typically means self-diagnosis, which has significant potential for harm," he said. "If you feel you are sick, it is important to seek care for proper diagnosis. Many of these infections may not require antibiotics if they are due to a virus or other non-bacterial cause."
He went on: "The use of fish antibiotics, or any antibiotics obtained without proper prescription, may cause unintended adverse effects, delay appropriate treatment and thus put others at risk for spread of the infection, and contribute to the development of antibiotic resistance."
Products intended for animals also aren't FDA-approved, he said, "and while the appearance is identical in our initial assessment, this does not verify contents, supply chain or storage has been maintained for safe human consumption."
"If you have self-treated however, it is important to tell your doctor or pharmacist as this may impact which antibiotic is necessary for proper treatment," he stressed.
Bookstaver said his team was partly inspired to carry out the study after a tweet went viral in 2017, which drew attention to the potential misuse of fish antibiotics by humans.
Their interest in this topic was also piqued by two studies. One was a case study published in the New England Journal Of Medicine, on a member of the Army Special Forces who had bought fish medication at his local pet store. The other was a study published in the journal Annals of Internal Medicine earlier this year, which identified the trend of people using antibiotics they weren't prescribed as a "seemingly prevalent and understudied public health problem in the United States."
The study by Bookstaver and his team was presented at the American Society of Health-System Pharmacists Midyear Clinical Meeting. It has not been published in a peer-reviewed journal.
It comes as scientists try to fight the rise of antibiotic resistance, which the World Health Organization describes as "one of the biggest threats to global health, food security, and development today" and worsened by the misuse of drugs.
Last month, this issue was the focus of an article published by WBUR public radio, which featured a 63-year-old man whose fridge was stocked with antibiotics for fish. He said he took matters into his own hands after his doctor was reluctant to give him the drugs.
Claire Fellman, a veterinary pharmacologist at Tufts University, told the outlet at the time: "There can be dangerous contaminants. And misuse of antibiotics or other medications can result in serious illness or breed resistance."
She also pointed out medications can be tailored to species. "What works for a dog might not work for a human," she said.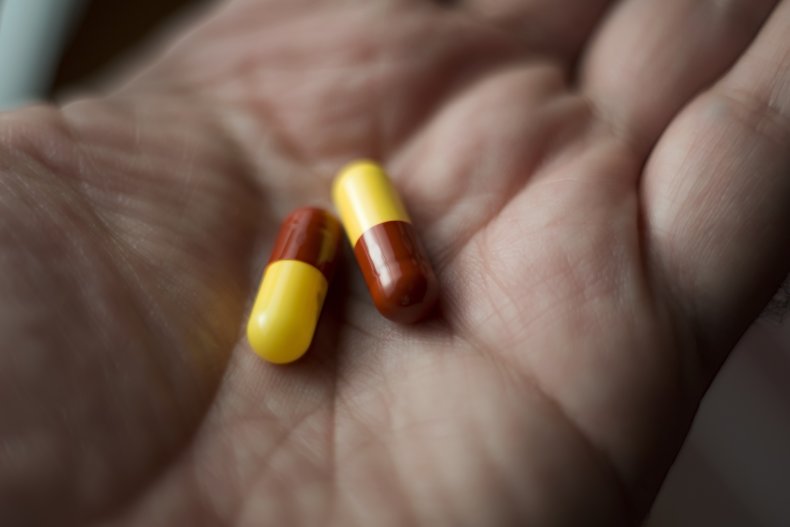 Uncommon Knowledge
Newsweek is committed to challenging conventional wisdom and finding connections in the search for common ground.
Newsweek is committed to challenging conventional wisdom and finding connections in the search for common ground.
About the writer
Kashmira Gander is Deputy Science Editor at Newsweek. Her interests include health, gender, LGBTQIA+ issues, human rights, subcultures, music, and lifestyle. Her work has also been published in the The Independent, The Independent on Sunday, The i Newspaper, the London Evening Standard and International Business Times UK.