People Wait 12 Hours in Line for Opening of H-E-B Store in Frisco, Texas
Some 1,500 aspiring shoppers waited for 12 hours in line for the opening of the first H-E-B store in Frisco, Texas, on September 21.
They waited through the night, with the store due to open at 6 a.m. on Wednesday morning, as a DJ and the Wakeland High School drum line kept them entertained.
H-E-B, a supermarket chain that originally takes its name from founder Howard E. Butt, is widely known as "Here Everything's Better," and it has something of a cult status in Texas, especially in the south. Despite the fact that H-E-B has had 420 stores between South, Central and West Texas and Mexico until now, there was no supermarket in the Dallas-Fort Worth (DFW) Metroplex in the North.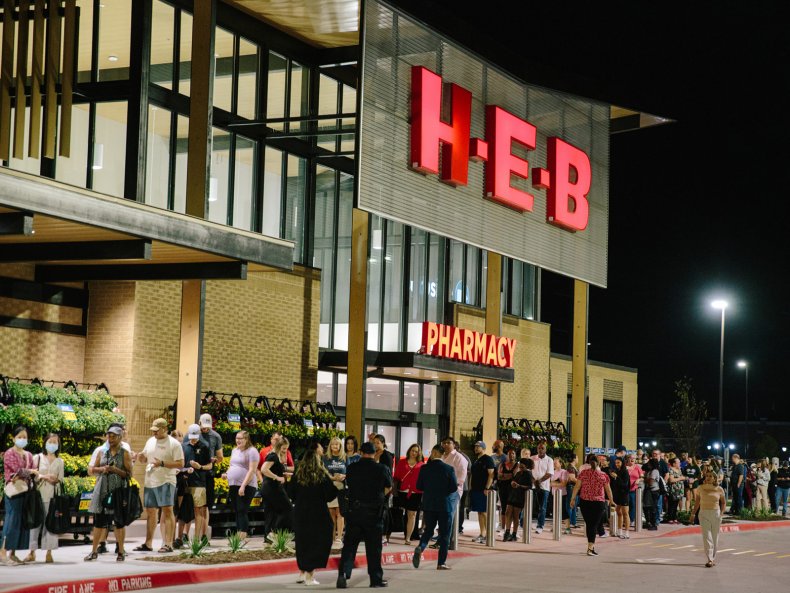 That's probably why the opening of the area's first store gathered such an enthusiastic crowd.
"We've got The Star, Dallas Cowboys and PGA, but I am not sure anything has had this level of excitement in this community," Frisco Mayor Jeff Cheney said the day before the opening of the store.
WFAA reporter Chris Sadeghi, who was covering the opening of the Frisco store, said that at 6 a.m. the place was "already a madhouse." At 7 a.m., he said the place was "packed."
Trying to report live from the store, Sadeghi said he "could literally not hear the anchors or what I was saying. Just had to scream and hope. That was the scene this morning at the@heb grand opening in Frisco," he later wrote on Twitter, sharing a clip of himself at the store.
Dallas News reported that customers who had waited until the opening were rewarded by H-E-B employees with $25 gift cards and other freebies, and that it took only 24 minutes to get the line of roughly 1,500 people inside the store.
The Frisco supermarket, located at 4800 Main Street, near the Dallas North Tollway, is a 118,00 square-foot store that features a BBQ restaurant, a full-service pharmacy, a drive-thru and a home decor department, according to H-E-B. The store will be the biggest in the DFW Metroplex, but eight more are reportedly under construction in the area.
It will also have a two-acre green space enriched with the works of local artists, including mosaic benches and interactive sculptures.
"Opening our flagship H-E-B format in the DFW area has been an aspirational goal of ours for many years, and the company has a long-term commitment to serve a broad range of customers and communities across North Texas," Stephen Butt, H-E-B board member, said in a statement.