Mick Mulvaney, who served as White House chief of staff under former President Donald Trump, on Saturday strongly criticized the ex-president's latest Capitol riot remarks.
On Thursday, Trump slammed the Capitol security measures that were put in place in the aftermath of the deadly January 6 insurrection, which left five people dead including a Capitol police officer. "I think it's disgraceful—it looks, for the world to watch—absolutely, it's a political maneuver that they're doing. It was zero threat right from the start, it was zero threat," he said.
Mulvaney called the former president's remarks "manifestly false" in an interview on CNN's Newsroom on Saturday. "I was surprised to hear the president say that," he said. "Clearly, there were people who were behaving themselves and then there were people who absolutely were not."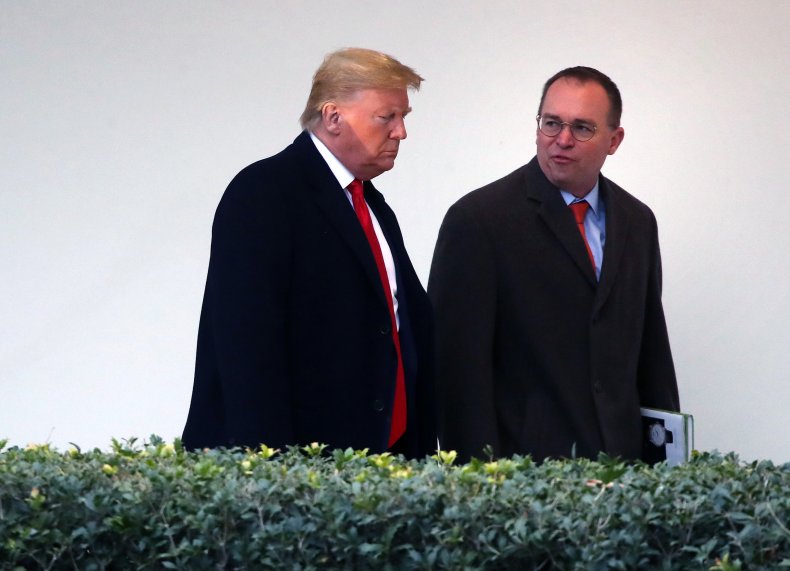 He added: "To come out and say that everybody was fine and there was no risk is just, that's manifestly false," he said. "People died. Other people were severely injured. To say there was no risk is just wrong."
Mulvaney explained that he watched the riots unfold live on television and saw violence take place. "There are videos of folks behaving themselves and protesting peacefully. But they should not have been there. And it's not right to say there was no risk. I don't know how you can say that when people were killed," he said.
Newsweek reached out to Trump representatives for comment.
So far, nearly 400 people have been arrested and charged in connection with the riot that forced Congress to shut down and lawmakers to go into hiding.
Several Trump administration officials resigned over the violence, including Mulvaney from his then-role as special envoy to Northern Ireland. In January, Mulvaney told CNBC that he called Secretary of State Mike Pompeo after the riot and said, "I can't do it. I can't stay."
"Those who choose to stay, and I have talked with some of them, are choosing to stay because they're worried the president might put someone worse in," he said at the time.
On January 6, Mulvaney tweeted, "The President's tweet is not enough. He can stop this now and needs to do exactly that. Tell these folks to go home."
Trump delivered his strongest criticisms against his supporters who stormed the Capitol building one week after the incident. "I want to be very clear. I unequivocally condemn the violence that we saw last week. Violence and vandalism have absolutely no place in our country, and no place in our movement," he said in a video shared by the official White House Twitter account.