Number of Gen Z People Identifying as Transgender Twice That of Millennials
The number of Gen Zers identifying as transgender is almost double the number of millennials who identify as trans, according to a survey by Gallup.
At 1.9 percent, Generation Z—those who were born between 1997 and 2004—has the highest percentage of people who say they identify as trans among all previous three generations.
Among millennials, 1.0 percent identify as trans, while among Generation X—those born between 1965 and 1980—and baby boomers—born between 1946 and 1964—this number plunges to 0.3 and 0.2, respectively. Among the Silent Generation—born between 1928 and 1945—those identifying as trans are less than 0.05 percent.
The two younger generations—Gen Z and millennials—have been driving the recent change in the recognition and growth of LGBTQ+ identities, with the number of American adults who identify as lesbian, gay, bisexual, trans or other nonheterosexual identities doubling in the past 10 years, according to Gallup.
But it's Gen Z that's really embracing this change. While Gallup's 2022 survey found that 7.2 percent of U.S. adults identify as members of the LGBTQ+ community, the number goes up to 19.7 percent among Gen Zers. Among millennials, by comparison, 11.2 percent identify as lesbian, gay, bisexual, transgender or other.
This surge in the number of young people identifying as trans is due to a mix of increased visibility, access to information and acceptance, according to experts.
"Thanks to increases in visibility, representation, and equality, more and more LGBTQ Americans are able to come out and live as our authentic selves," Sarah Kate Ellis, CEO and president of the LGBTQ+ nonprofit GLAAD, tweeted last year in response to a Gallup survey.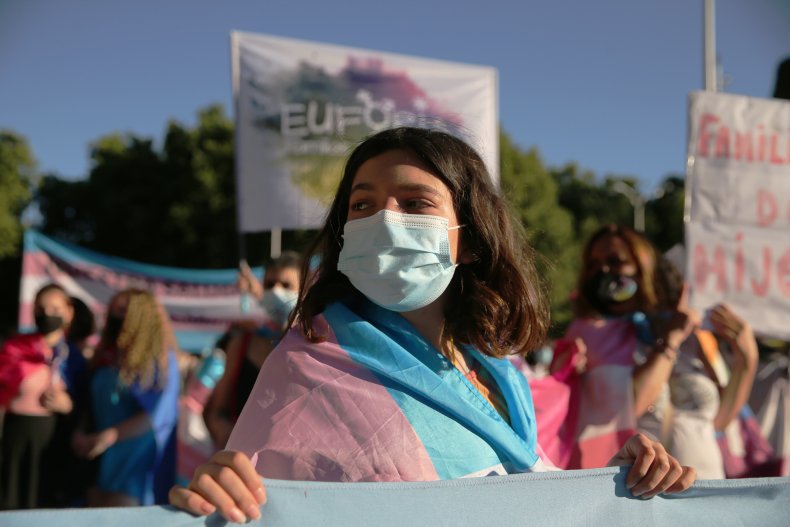 "It should not surprise anyone that as it became safer to be authentically ourselves, more people felt safe to come out," journalist Joe Mirabella commented on the Gallup survey.
The internet and social media—especially TikTok for Gen Z—have opened up a new world for trans influencers and advocates to talk about their lives and share their stories with others—something that would have been unthinkable for the Silent Generation, for example.
Dylan Mulvaney, a trans influencer who documents "being a girl" on her TikTok every day, counts over 10 million followers on the platform. In October last year, she was invited by President Joe Biden to the White House to discuss trans rights.
But despite recent progress in the recognition of LGBTQ+ rights and identities, as well as changing behaviors and attitudes toward the LGBTQ+ community, trans rights in America have become an increasingly divisive issue.
Republican lawmakers across the country have been pushing for legislation that LGBTQ+ advocates have condemned for attacking trans rights and putting trans youth at risk, such as trans women's access to women's sports and to women-only toilets and facilities. Some women have argued that trans women's access to women-only spaces encroaches on their safe spaces.
Many Republican-controlled states have seen filed bills that would forbid health providers from performing gender-affirming surgery on minors and prevent them from giving teens under 18 medications such as puberty blockers. They argue that children are too young to make such significant decisions at that age.
Those pushing for these restricting laws say they're doing it to protect children, while trans rights advocates say that, by pushing for this legislation, they're endangering trans youth.
But the issue of children identifying as trans has also been raised as a concern by school counselors and health providers. In the U.K., psychotherapist Marcus Evans, ex-governor of the only public health clinic in the country to provide gender counseling and transitioning (Gender Identity Development Service), said that many experts were bowing to political pressure from pro-trans groups to affirm children's beliefs that they were born in the wrong sex.
Evans told The Guardian that he believes "the trans political agenda has encroached on the clinical environment surrounding and within the Gender Identity Development Service."