People Who Think They Had COVID Resist Vaccine More Than Those Who Tested Positive: Poll
Some people who already had COVID-19 are hesitant to get the vaccine, as many believe their natural antibodies are enough protection, but those who never tested positive for the virus are even more resistant to being inoculated.
A recent Axios-Ipsos poll found 25 percent of people who think they had COVID-19 but never tested positive aren't interested in being vaccinated. Without knowing if a person actually had COVID-19, there's no way for health officials to accurately calculate the level of herd immunity or how many people could be susceptible to the virus.
People who thought they had COVID-19 but weren't sure if they did were more likely to resist vaccinations than those who confirmed their infection with a test. Of those who tested positive for the virus, 15 percent of poll respondents said they weren't interested in the vaccine.
An estimated 65.5 percent of adult Americans have had at least one dose of the COVID-19 vaccine and President Joe Biden is likely to fall short of his goal of 70 percent of vaccinated individuals by July 4. At the current pace, about 66.3 percent of adult Americans are expected to have received at least one dose by Sunday, according to a Brown University tracker.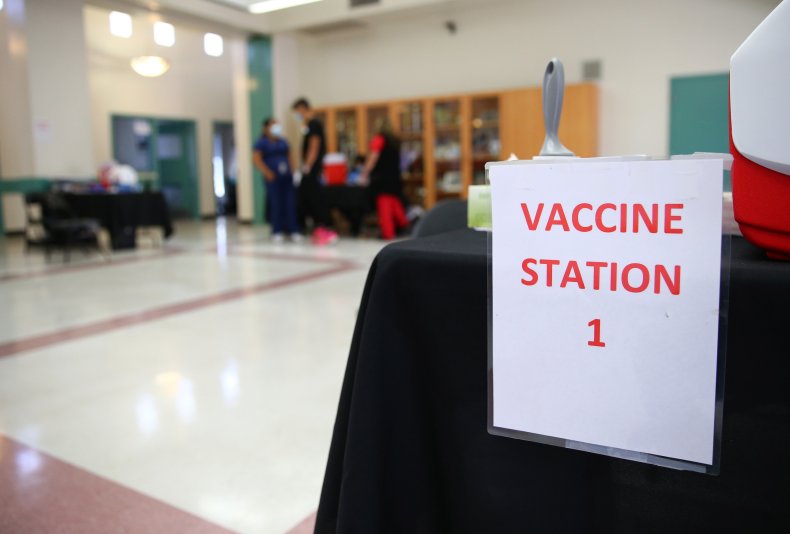 States and companies have offered freebies to incentivize people to get vaccinated and 16 states and the District of Columbia have administered at least one dose to 70 percent or more of their populations. However, other states are significantly lagging in vaccinations, which raises concerns about the ability to protect the entire country.
To help kickstart another wave of vaccinations, the Biden administration is sending officials across the country, putting out ads and reaching out to community organizers for help. The campaign's focus is the "movable middle," an estimated 55 million people who are considered persuadable, according to the Associated Press.
"We're not just going to do the mass vaccination sites," Health and Human Services Secretary Xavier Becerra told the AP. "It's door to door. It's mobile clinics. We're doing vaccinations at church, the PTA meeting, the barbershop, the grocery store."
The administration has pushed messaging about the growing threat the Delta variant poses to unvaccinated individuals, but it remains to be seen how many unvaccinated people will take the step to get vaccinated. Some unvaccinated individuals raised concerns about the safety of the vaccinations and whether it was really necessary if they already tested positive.
The Centers for Disease Control and Prevention (CDC) advises anyone who tested positive to get vaccinated, as it's unclear how long a person who recovered will be protected. Some people have been infected more than once, although they've been the rare cases, and vaccines are believed to build stronger boosts in immunity in those who have already had the virus.