The People's Convoy, a group of anti–COVID mandate trucker protesters, failed to block the Capital Beltway for a fourth day in a row on Wednesday after weather-related safety concerns prevented the convoy from occupying two lanes of the road.
The group arrived to the metro area on Saturday after traveling across the country from southern California to protest pandemic restrictions near the nation's capital.
The convoy initially planned to block the beltway on Sunday morning by driving almost 25 miles slower than the speed limit on the road, but standard traffic blocked the group from doing so just after a single lap, according to the Daily Beast's Zachary Petrizzo.
On Monday and Tuesday, the truckers returned with "escalated" tactics but failed to takeover the roadway again.
"Things only got worse [Monday] afternoon for truckers in The People's Convoy as rain hit their makeshift base out in Hagerstown, leaving plenty of mud after multiple convoy-goers broke down on the Beltway, where they failed to occupy two lanes as planned," Petrizzo tweeted.
On Wednesday, weather became an issue again for the truckers after light rain prevented the convoy from blocking the beltway.
The convoy, which reportedly consisted of at least 120 diesel trucks and hundreds of SUVs as of Sunday, is currently staged at the Hagerstown Speedway in Maryland.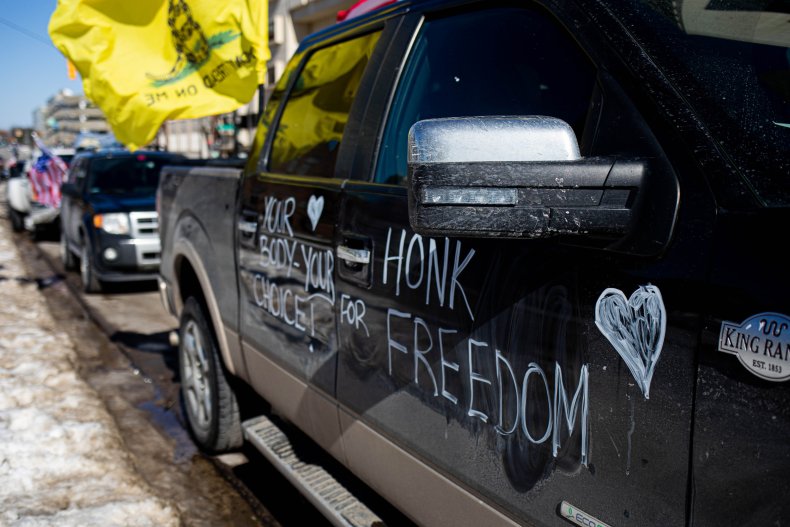 The group has repeatedly said that they are not planning to go into D.C. proper—a vow made before the vehicles departed the west coast last month. However, some of the demonstrators have voiced their support for moving camp into the district.
The convoy is inspired by Canadian truck drivers who occupied Ottawa for 24 days and blocked border crossings into the U.S. earlier this year.
The objectives and demands of the People's Convoy remain fuzzy as organizers dodge questions on the specifics of what it would take for them to cease their efforts on the beltway.
A February press release from the convoy states: "It's time for elected officials to work with the blue collar and white-collar workers of America and restore accountability and liberty—by lifting all mandates and ending the state of emergency—as COVID is well-in-hand now, and Americans need to get back to work in a free and unrestricted manner."
As the convoy continues to find ways to disrupt the beltway, more and more COVID restrictions have been lifted across the nation.
On Tuesday, Hawaii became the last state to drop its mask mandate, announcing that the order would be lifted on March 26.
A number of states have also lifted vaccine mandates in recent weeks. On Monday, New York City Mayor Eric Adams lifted vaccine requirements for K-12 schools as well as restaurants and theaters in what was once the nation's COVID epicenter.
Newsweek reached out to the People's Convoy for comment but did not hear back before publication.