As the People's Convoy prepares to head to Washington, D.C., to demand an end to all COVID-19-related mandates across the nation, the group of truckers has raised more than $300,000 in support of the protest.
The convoy is scheduled to depart from Adelanto, California, on Wednesday as part of an 11-day journey to the nation's capital, where they're expected to arrive on March 5.
As of Tuesday morning, the People's Convoy has raised $311,362 in donations, according to its website.
The convoy comes just days after police in Ottawa, Ontario, Canada, cleared the last of anti-COVID mandate protesters of Canada's Freedom Convoy.
"To our brave and courageous neighbors to the North — our Canadian brothers and sisters who led the charge — we join your call to Freedom with THE PEOPLE'S CONVOY," the American truckers wrote on their website.
In Canada, multimillion-dollar crowdfunding campaigns largely funded by U.S. donors have been halted and are under investigation by Canadian officials who have expanded federal powers in an effort to follow the financial support behind the demonstrations that occupied the capital city of Ottawa for 24 days.
Last week, Canadian banks began freezing the bank accounts and canceling the credit cards of anyone "directly or indirectly" involved in the protests across the country.
Canada has also expanded its money-laundering and terrorist financing laws to include crowdfunding sites like GiveSendGo, which raised more than $9.5 million for the Canadian convoy. The Emergencies Act expansion requires platforms to register with the nation's financial intelligence agency and report any suspicious or large transactions.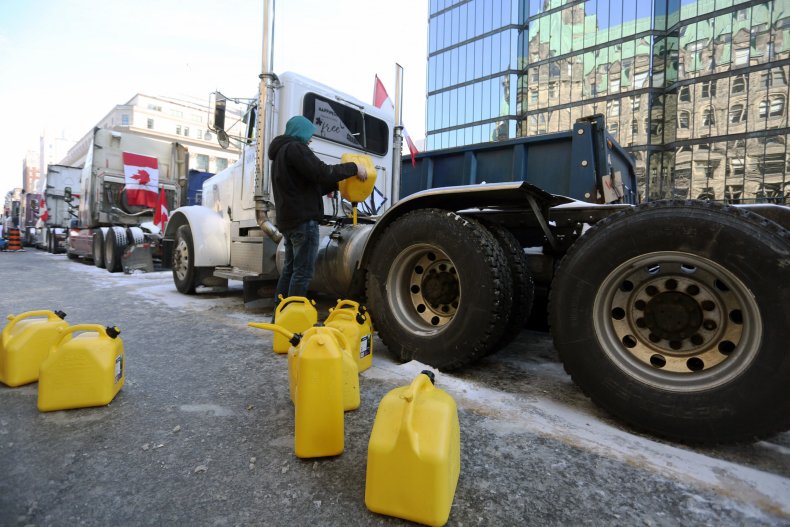 A Newsweek analysis of the donor information leaked from the GiveSendGo campaign found that California, Texas, Florida, New York and Michigan were the five largest state donors to the Freedom Convoy.
The People's Convoy is asking for supporters to donate to help truckers with the resources they need to travel across 11 states.
"Funds will be used to reimburse fuel and hard costs of the trucker, and the fund is being handled by volunteer accountants and overseen by a law firm," the group said.
"The solution is simple, and a product of America and her ideals: Lift the emergency order. Abide by our constitution. End the corruption. And let Freedom once again ring!" the convoy added.
The group, which is also accepting non-financial donations, is planning to travel from southern California, through Arizona, New Mexico, Texas, Oklahoma, Missouri, Illinois, Indiana, Ohio, Pennsylvania and Maryland to reach Washington by next weekend.
The route is subject to change.