While truck drivers protest COVID-19 restrictions in Canada, American truckers are following suit with their own cross-country convoy heading to Washington, D.C., with a message: "Government has forgotten its place."
The American truckers' protest dubbed the "People's Convoy" is set to depart in late February heading toward the nation's Capitol to protest government COVID-19 mandates they believe are unconstitutional. The convoy is set to have an estimated 1,000 U.S. truck drivers participate.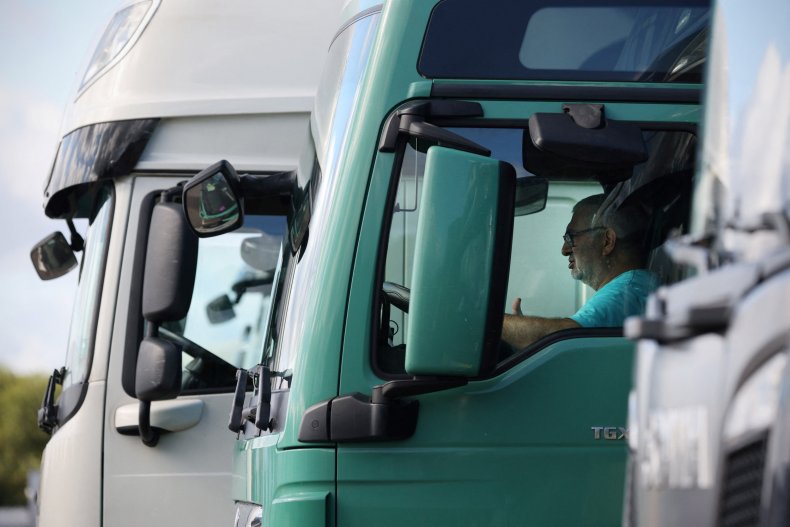 "This is about our rights, as well as the freedom of future generations," organizers of the convoy wrote on Facebook. "It's not about political parties, but more so about a government that has forgotten its place and has no regard for our founding fathers' instructions."
On Newsmax TV's The Balance, Eric Bolling was joined by organizers of the convoy, Brian Brase and Maureen Steele, to kickstart the message.
Organizers are working to ensure that donations for the convoy are secured, unlike that of Canada's. Crowdfunding website GoFundMe blocked donations to the Canadian truckers' "Freedom Convoy" campaign. Another website for the Canada campaign, GiveSendGo, was hacked, leading to donors' names becoming public. Steele said they're working to ensure that doesn't happen.
"We have been able to really garner some of the best and brightest on our team to make sure that this convoy goes off without a hitch," Steele said. "We have a logistics specialist, tacticians, we're ensuring we have fuel. We've brought on Exemplar Financial, which has seven offices throughout the country with lawyers and accountants that are overseeing our fundraising to make sure that's buttoned up."
Brase has been adamant that their protest isn't a far-right or far-left issue; he says it's an American issue everyone should be fighting against. The group is siding with Canadian truckers protesting the government's authority to issue mandates.
"Canada needs our help and we're standing with Canada," Brase said in a video on Facebook Tuesday. "Don't forget that in the United States we're standing up to end the Emergency Powers Act, which ultimately would end the mandates."
The group is calling on lawmakers to lift the declaration of a national emergency concerning the coronavirus pandemic. They believe elected officials should not deprive people of "fundamental rights" such as enforcing mask and vaccine mandates.
Although the group hasn't made a final map of the convoy, Brase says updates will be coming out on their Facebook page in the coming days.
"Our brothers and sisters of the highway succeeded in opening Canadians' eyes about the unconstitutional mandates and hardships forced onto their people," the organizers of the event said on their Facebook page, which has more than 90,000 followers. "Now it's time for the citizens of the United States of America to unite and demand restoration of our constitutional rights."