Pep Guardiola: What Is Going Wrong for the Manchester City Manager?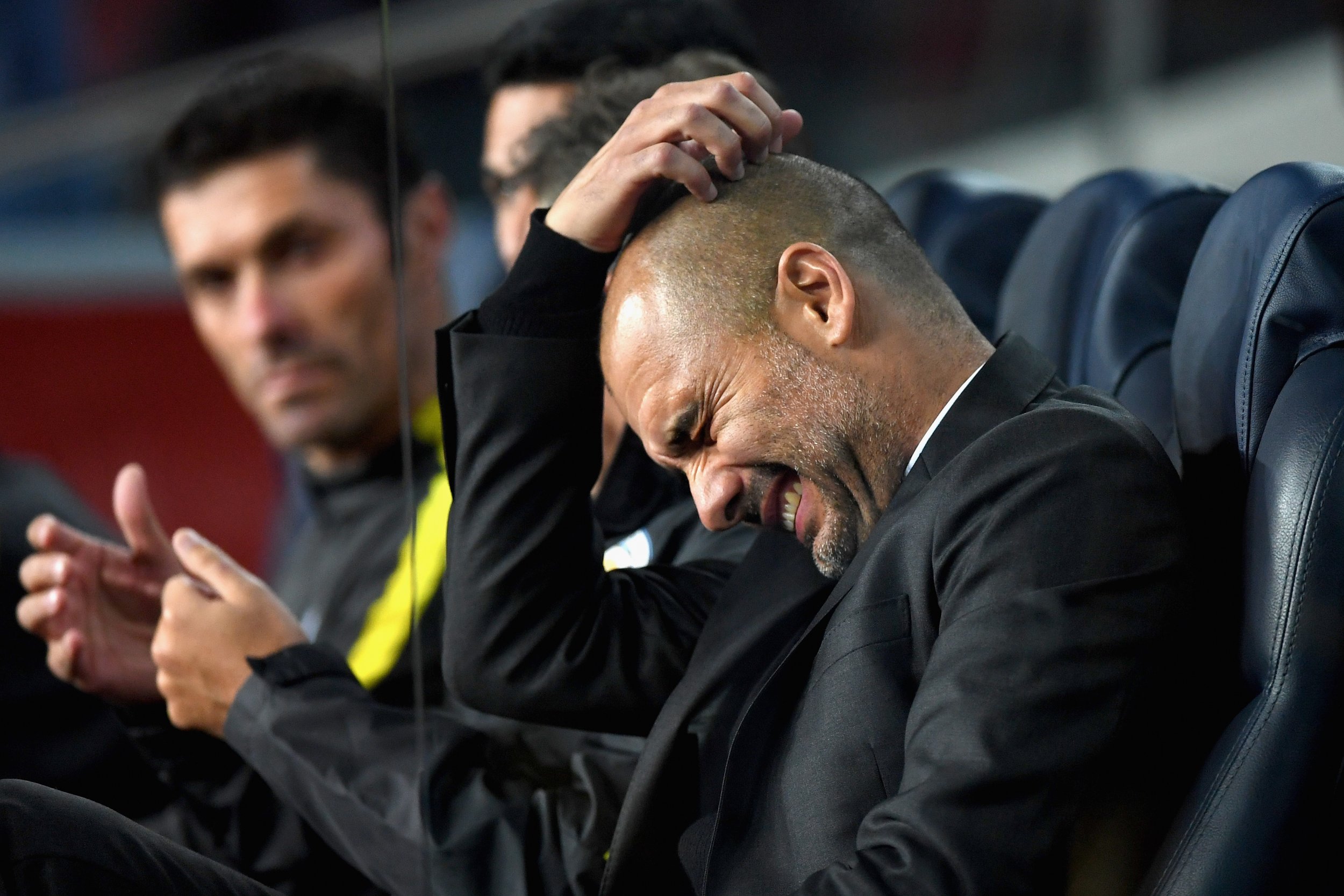 A little more than four weeks ago, Pep Guardiola scoffed when it was put to him that his team might have a chance of a quadruple this season.
"What the f***" was his surprisingly vehement response, uttered in a typically Guardiolian way, quietly, suggesting, oh so politely, that he was above such mundane delusions.
Now, it appears Guardiola's bafflement was a form of prescience. At that point, on September 22, City had won nine straight games, including a perfect record in the English Premier League.
Following Wednesday night's EFL Cup defeat to Manchester United, Guardiola finds himself in the worst run of his managerial career—six games without a victory—that shows, if anything, how special that career has been so far.
What has gone wrong at City since it lost its unbeaten Premier League record to Tottenham Hotspur on October 2? Newsweek examines a crisis no one but Guardiola saw coming.
Defense wins championships
And at the moment, City's is not up to standard. Despite putting out an ostensibly weaker team than Mourinho at Old Trafford on Wednesday, Guardiola's team should, on paper, have been stronger in defense.
Mourinho was forced, through injuries, into picking a center-back pairing, in Daley Blind and Marcos Rojo, that was against pretty much every one of his natural instincts. Guardiola, meanwhile, gave captain and defensive lynchpin Vincent Kompany only his second start of the season, next to Nicolas Otamendi.
Strange, then, that by the end of the night Mourinho was praising the often derided Rojo for an "unbelievable" performance, long after Kompany had been hauled off at half-time with fatigue and Otamendi allowed Zlatan Ibrahimovic to win a header and then cross for Juan Mata's winner.
Aleksandar Kolarov came on for Kompany, whose passing in the first half had been erratic—a change that gave City more attacking thrust from the back, but also left the jumpy Otamendi severely exposed.
Of course, Guardiola was missing John Stones, his most expensive summer signing, rested… but then Stones, too, has made several high-profile errors himself in search of Guardiola's aesthetic ideal, playing the ball out from defense even in dangerous situations.
Squawka, the football analysis website, notes Guardiola had used six different center-back pairings this season before Wednesday night's defeat. Kompany and Otamendi was a new one again, although they played together last season. To get City back on track, Guardiola needs a settled defense.
Summer signings' dip in form
The early weeks of the season, when City was soaring and undefeated, were defined by the form of Sergio Aguero, Kevin De Bruyne and Nolito, the Spain international who signed from Celta Vigo in the summer.
Nolito struck three times in his first two competitive games for City; since then he has two goals in nine appearances, and against United he was ineffective from a berth on the left wing.
In the United game, Guardiola used Leroy Sane as a striker, tucked in to the left or right of Kelechi Iheanacho. But Sane, just 20, does not appear ready for a prominent starting role in the City line-up. While he produced some fine moments in the draw with Everton on October 15, against United he appeared lost. City's attack was disjointed as a result.
Manuel Pellegrini's legacy
Guardiola and Mourinho embraced warmly on the touchline at Old Trafford before kick-off; bitter rivals, still, and two men with vastly differing philosophies, always, but faced with similar problems.
While City underperformed relative to its talent level under the Chilean last season, it is also difficult to deny that there are players at Etihad Stadium who do not fit with where the club wants to be.
Jesus Navas began brightly on Wednesday, testing Luke Shaw often and almost as often beating him with crosses from the right wing. By the second half, though, Shaw—not exactly brimming with confidence himself under Mourinho—had worked out Navas's one trick and nullified the threat. Come the final third of the game, Navas had reverted to frustrating type, passing backward more often than he chose to take on Shaw.
Fernando, the midfielder, is another who seems unsuited to Guardiola's rapid-fire yet cerebral gameplan. Fernando was outshone by Aleix Garcia, the teenager who looks far more likely to become a fixture under the new City manager.
Guardiola's style is so exacting and demanding that it requires almost a complete squad overhaul. This goes some way to explaining the vast differences between City's best Premier League performances and its displays, such as last night, when the reserves are subbed in. The second string is simply not up to the required standard. Guardiola and Mourinho are still working through their predecessors' legacies.