West Ham United vs Manchester City: How Pep Guardiola Fared in his First FA Cup Game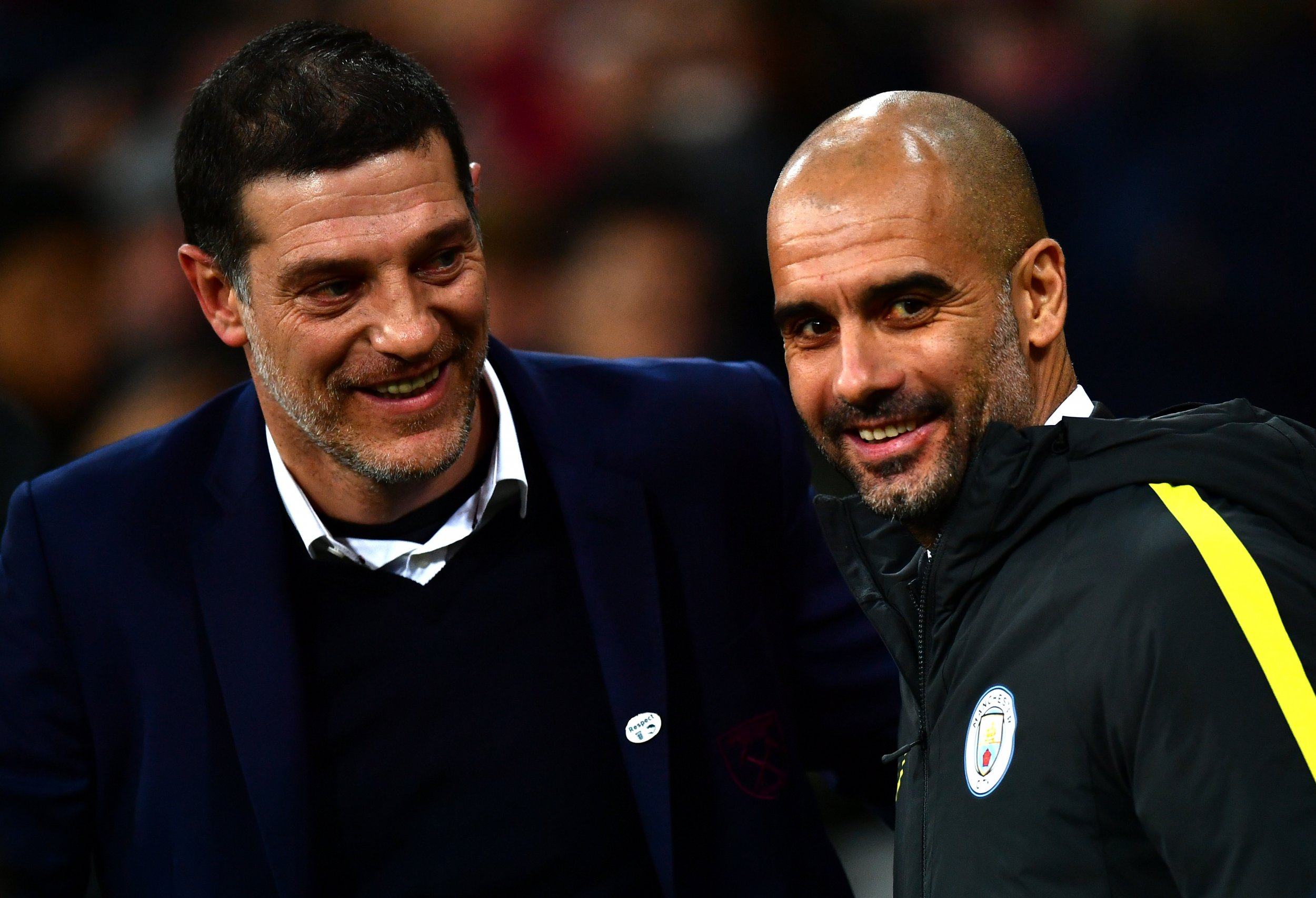 "If it could only be like this always – always summer, always alone, the fruit always ripe…" Evelyn Waugh, Brideshead Revisited.
Manchester City rose to the English Premier League summit on August 28, 2016, with a 3-1 victory over West Ham United at Etihad Stadium with a performance that suggested new manager Pep Guardiola's vision was already half realized.
City had three wins from three at that point. It would win its first 10 games in all competitions under Guardiola, the impeccably dashing Spaniard who built one of the finest teams of all time in a Lionel Messi-headed Barcelona, before sweeping the domestic scene over three seasons at Bayern Munich.
RELATED: David Silva stars as Manchester City advances in FA Cup
Through those fixtures, City was irresistible, a whirligig of passing and movement and purpose, until the run came to an end in a 3-3 draw with Celtic in the UEFA Champions League. Since then it has won seven games in the league, and beaten Barcelona in Europe, but lost to Tottenham, Chelsea, Liverpool, Leicester City and Manchester United.
Like Charles Ryder realizing the Brideshead of reality did not match his memory, Guardiola was awoken with a bucket of cold water from his dream. Over Christmas the questions have piled up. Guardiola can appear haughty towards the press: a monosyllabic interview with the BBC following City's victory over Burnley on January 2 betrayed, perhaps, a frustration at being unable to convey his ideas to British media, even more than his stalling players. All of which means by January 6, 2017, his first-ever experience of FA Cup football as a manager, Guardiola must find a way through the longest cold snap of his career. The team he puts out in the third round against West Ham is almost his strongest available, bar suspension. Managers of the biggest teams have often been accused of treating this cup as a plaything, or even an irrelevance. But this matters.
***
The two German fans wandering around Stratford on a mizzly early January afternoon had come to see English football in its most traditional form.
They were unlikely to find it in Guardiola's City, which often eschews a central striker and demands its goalkeeper be equally proficient with feet and hands. Joe Hart, England's number one, is on an enforced sojourn with Torino in Italy, because of a perceived brutishness of touch. In his place, Claudio Bravo has made mistakes that have cost City league points and contributed to a sense of fragility that has pricked Guardiola's reputation.
One Werder Bremen and the other Schalke 04, they recalled Guardiola's time in Germany with exaggerated hand gestures. "Mad," they said, describing his intensity. If genius is sometimes perceived in art as appearing without toil, Guardiola's football version is the opposite. His demands of his players, both physical and intellectual, are well known. It's possible he places even more pressure on himself. Marti Perarnau, the Spanish journalist who may know him best, says he came to north-west England to seek a challenge. Before it was bought by Abu Dhabi United Group in September 2008, City had spent decades shouting at the shadow of neighbor Manchester United. Nouveau riche owners have turned it into football's new royalty, though the top of the Premier League is bitterly competitive, such that even billionaire owners cannot count on success. Six contenders for four Champions League places divides uneasily.
The German fans seemed keen to draw a contrast between Guardiola and his successor at Bayern, Carlo Ancelotti. Ancelotti, another of the great managers in European football this century, is a model of affability, equal parts warm wiseness and expressive eyebrows. A brilliant midfielder who went on, like Guardiola, to manage the team he played for in AC Milan, Ancelotti has a ruthless side but it is seems buried from public view.
Whether intentionally or not, since he began losing Guardiola has allowed his soul to show and the images have been complex. "When I am finished I will disappear, you won't find me in your life," he said this week in an interview with U.S. broadcaster NBC. Guardiola is a football obsessive, but the limelight that accompanies his success and obsession seems edifying for him only in that it justifies his achievements. It is hard to imagine his great antagonist from Spain and now the Premier League, Jose Mourinho, drifting into the good night, over becoming a pundit, talking head, imparting knowledge and personality through a television screen. There is, if you are inclined to see it, a certain irony in how their first season as Premier League rivals has unfolded so far. Mourinho, the great agitator who once poked his finger in the eye of Guardiola's former assistant Tito Vilanova during a game, says he has "fallen in love" with United. Guardiola has been the fraught one, though his team sits three points ahead of Mourinho's in the league.
***
There is a moment in the first half at London Stadium, towards half time, that suggests City's headiest summers under Guardiola are yet to come. It arrives away from the three goals, though the third is candy-sweet, David Silva, a creative who might have fitted glove-tight into that Barcelona side, stopping the ball dead, freezing West Ham goalkeeper Adrian before slipping the ball under him.
Guardiola doesn't raise a smile at any of the goals, though they should be ultimate proof by proxy of his ability. But there must be happiness in there when striker Sergio Aguero races back towards his own goal on 38 minutes to win the ball back, then charges back up the field. Guardiola rested Aguero against Burnley, and in City's most memorable victory of the season so far, the Argentine was left out of the starting lineup for tactical purposes. One of Guardiola's perceived problems has 17 goals so far this season, and buys into the team dynamic that Guardiola inherited from Johan Cruyff. Every player must be able to play every position, should be equally comfortable with the ball at his feet.
It is something that has led John Stones into trouble in Guardiola's first season in charge. Bought for almost 50 million pounds in high summer, Stones is the English embodiment of Guardiola's ideal defender, able to shuttle the ball out elegantly from the back, and to join in with attacks to swamp opposition defenses. On nights like this, when City devours possession, Stones looks sublime. Faced by a fizzing attack, as he was at Leicester City before Christmas, and he has made embarrassing mistakes. Not that the City fans who have travelled south on a Friday night are bothered by those when they go 4-0 up through Aguero early in the second half. "We've got Guardiola," they sing to the tune of "Glad All Over" by the Dave Clark Five. There are West Ham fans leaving after 50 minutes, such is City's domination and their own side's wretchedness. The only surprise is that those City fans don't start up that other ubiquitous football chant of the victor, "Can we play you every week?" It is the awkward slog against more awkward teams than this that has led to Guardiola's period of apparent unease. The German fans wanted blood and thunder. They will have watched what was only a little more difficult than a training session.
In his post-match press conference, Guardiola said this was as good as City had been since those first ten games. "Of course I am delighted to be part of the Cup this year," he said. "In Spain the strongest teams always make it through."
There was little of the awkwardness that has characterized recent encounters between Guardiola and the press, and perhaps that statement was an effort at rapprochement. At times it has seemed Guardiola delineates English football, its support and punditry into a Venn diagram without a middle. Believe in what he sells, and you are a cosmopolitan man of the world or an incorrigible footballing hipster. Doubt him, and you are the worst kind of luddite or a believer in English football's indestructible traditions. Perhaps Guardiola will find a way for City's performances that doesn't lurch between near perfection and direness. And in turn, we will reach equanimity in understanding him.