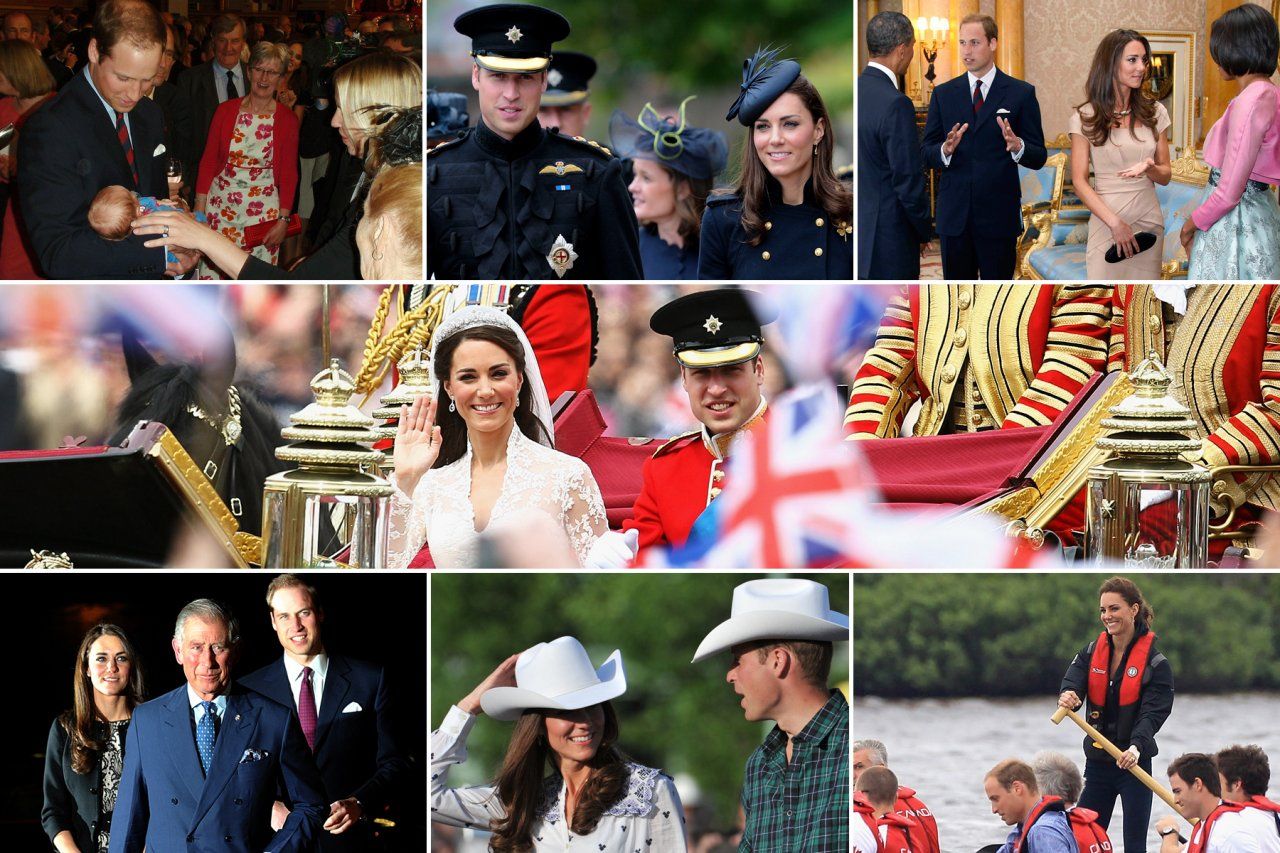 What a difference a year makes. Or, in the case of the Duchess of Cambridge, does not. Which is precisely why the first year of Catherine, the future queen of Great Britain, has been such a success. We know very little more about her now than we did when she walked down the aisle of Westminster Abbey on April 29, 2011, in that ravishing Alexander McQueen dress, which, by combining elegance, tradition, and not a hint of sex, knocked the spots off any royal bride in recent history. And left the sex to her sister Pippa Middleton's bottom.
We know that Catherine has lovely, tossy, shiny hair, but we knew that before, it's just lovelier and tossier. We know that she has a smile that could power the electricity grid of entire cities, but we knew that before, just now every girl's dream is to have porcelain veneers. We know that she has a fabulous figure, but not how fabulous until she alighted in Hollywood and made Nicole Kidman look fat. We know that we are supposed to call her Catherine, but to us she's still Kate.
What we have is a Kate who's great. Precisely for what she does not do. She does not upstage her balding Prince Charming. She does not upstage the queen or her stepmother-in-law, the Duchess of Cornwall. She always hangs back a little, still smiling, not limelight-hogging. At a visit to the London store Fortnum & Mason, the queen, in aqua and gold, looked as if she had been gift-wrapped; the Duchess of Cornwall in dark navy and white stripes, like a zebra; and then there was Kate in the background in a simple pale-blue tweed coat dress, those vital few steps behind saying, "I'm just the new girl." She did not even carry a handbag. She has no ladies-in-waiting, no stylist, just modest confidence. The confidence that comes from having a close, happy family of her own and a husband who loves her.
It is principally for these two reasons that Catherine Cambridge has perfected survival tactics of, first, the cloak of invisibility and, second, being Not Diana. The cloak of invisibility (she comes from the Harry Potter generation, after all) is a result of an agreement between Buckingham Palace and the British press not to reveal where William and Catherine's farmhouse cottage is on the Welsh island of Anglesey, nor to hound her going about her housewifely chores. There was one picture of her pushing a shopping cart in the local supermarket four days after the wedding. After that? Nothing—much helped by the informal collusion of the Welsh people. He is, after all, William of Wales. They go to the local cinema, but mostly it is DVDs, log fires, and television suppers. Prince Harry has been reported as saying it all seems a bit staid, but for William it is the calm before the storm that will be the rest of his official life as king. The watchword is "normal," as normal a life as is possible because it is only going to be short term. They can vanish into the normality of Kate's family home in Berkshire. Diana never had a normal family or home.
The triumph of being Not Diana is one that has been carefully, almost obsessively, orchestrated by Buckingham Palace and Prince William, who is no pushover. All concerned wanted Catherine to have the support and guidance that Diana did not. What was underestimated was the material with which they were working. The Princess of Wales was 19; the Duchess of Cambridge is 30, a mature, proper grown-up. She is also well educated, well rounded, and playful without being coy. Above all, she is there to enhance her husband, not diminish him. For her first speech at the Treehouse Children's Hospice in East Anglia, which she wrote herself, she began, in her pretty, low voice, to gracefully thank the charity for accepting her as their patron, then immediately said: "I am only sorry that William can't be here today—he would love it here. A view of his, that I share, is that through teamwork, so much can be achieved. What you have achieved here is extraordinary."
Teamwork. That's what it is all about. A friend of the Prince of Wales says, "They are a safe pair of hands. One feels the monarchy is secure with them." They're a modern-day King George V and Queen Mary, who were much underestimated as boring.
So those of us who thought middle-class Miss Middleton might not "do" have been proved wrong in the nicest possible way. The historian William Shawcross, biographer of the Queen Mother, was not convinced; the Daily Mail columnist Amanda Platell called her "Waitey Katy" and questioned why she did not have a job other than hanging around until her prince came up with the goods. The fashion editor of the Daily Telegraph has said "the Duchess seems oddly out of step with every other 30-year-old in Britain," thus totally failing to understand that while Samantha Cameron, to whom she compared the duchess, may be fashion-forward, we, the ordinary, fashion-backward people of Britain, love our duchess's classic style. We thought she looked fabulous in her Alexander McQueen Grecian column dress in Hollywood. "It brought back to life Clark Gable and Marilyn Monroe," said actor and writer Stephen Fry—whereas we thought Mrs. Cameron had inadvertently put on a tablecloth for the White House dinner.
The Kate Effect may be worth £1 billion to the U.K. fashion industry (her Reiss dress worn to meet the Obamas at Buckingham Palace last May sold at a rate of one a minute), we love her mixing High Street with high fashion, sharing dresses with her mom, wearing tennis shoes to walk her puppy in Kensington Gardens, popping into Peter Jones (the Chelsea department store that is a comfort zone for the middle classes), having earrings from the jeweler Kiki McDonough of affordable, contemporary semiprecious stones. We could do that too. She's the girl next door, but she's our girl next door.
What fashion editors fail to grasp is that there is fashion and there is being a member of the royal family. They dress differently there. When the duchess dressed down in jeans to visit a school in Islington, London, the pupils were deeply disappointed that she did not look like a princess. She won't make that mistake again, for "appropriate" is her watchword. When the charities she has chosen to support—all researched by herself—the official announcement from St. James's Palace was: "The duchess has chosen to support organizations that complement the work already undertaken by her husband."
The charities are Action on Addiction; East Anglia Children's Hospices; the Art Room, which cares for those with Asperger's and low self-esteem; the National Portrait Gallery, and the Scouts. She's volunteered for a branch near her Anglesey home. "I'd forgotten the Scouts existed until I saw Kate with a woggle," said bemused PR man Mark Borkowski.
So at the end of this first year we've seen the fulfillment of a dream no one quite thought could come true. From the moment Catherine Middleton stepped out of her wedding car in the perfect dress, with the father who held her modestly trembling hand down the aisle, and the bride's mother a poem of simplicity that made the Duchess of Cornwall look like the fairy on the top of a Christmas tree, and the bride's sister a sensation and the bride's brother reading so beautifully, it all looked good for the Middletons. Everything low-key and understated. For their honeymoon on North Island in the Seychelles, the duke and duchess did not take the most expensive, swanky villa, just one like others on the beach. Their skiing in Courchevel this Easter has been a family holiday like everyone else's. Pippa? Is she going to be the Princess Margaret or Lee Radziwill to her more famous sister? It would certainly help if she got a proper career. Or maybe she will marry George Percy, heir to the dukedom of Northumberland, and Mrs. Middleton will surpass Mrs. Bennet in Pride and Prejudice by having double duchesses in her family.
Rather like Barbie, we've now had Bridal Kate, Classic Kate, Hollywood Kate, and Sporty Kate. Sun royals photographer Arthur Edwards says that as they took to rowing boats on the Canadian tour he said to her, "The duke thinks he's going to win!" and the duchess replied, "He wishes!" but of course she let him. Andrew Morton, the biographer who let Diana's anorexia/bulimia/self-harming cats out of the bag, says, "Catherine has taken to the role as if to the manner born."
If all the British press, worm-turningly vicious, can find to say about the Duchess of Cambridge is that her heels are sometimes a bit too high, she hasn't put a foot wrong.
Victoria Mather is a contributing editor to Vanity Fair and commentator on British royal events for CBS.