In the past few weeks, health authorities have identified an increase in reports of heart inflammation occurring in individuals who have received one of the mRNA COVID-19 vaccines in the United States.
These reports following the Pfizer and Moderna COVID vaccines, documented by the Vaccine Adverse Event Reporting System (VAERS), relate to two types of heart inflammation known as myocarditis and pericarditis.
The Centers for Disease Control and Prevention (CDC) has not released figures on the number of cases, but said the reports of heart inflammation are "rare" considering that 165 million people have received at least one vaccine dose.
It is important to note that it is still unclear whether these case of heart inflammation are linked to vaccination. But the CDC said it was, nevertheless, "actively monitoring" the reports in collaboration with its partners.
On Thursday, the CDC issued an update on the reports as well as guidance for clinicians with regards to diagnosing, managing and reporting cases of heart inflammation following COVID vaccination.
The documented cases, occurring mostly in adolescents and young adults, appear to be mild with most patients who received care responding well to medicine and recovering quickly, the CDC said.
In its update, the CDC said that the agency continues to recommend COVID vaccination for everyone 12 years of age and older, noting that the known and potential benefits of vaccination outweigh the known and potential risks, including the possible risk of myocarditis or pericarditis.
Newsweek has previously reported on the symptoms of myocarditis.
What are the symptoms of pericarditis?
Pericarditis is inflammation of the tissue that forms a sac around the heart—known as the pericardium. This inflammation can be caused by an infection, or another type of trigger, such as a heart attack.
The most common symptom of pericarditis is chest pain. This pain tends to feel sharp or stabbing in nature, although some people experience a dull, achy or pressure-like chest pain.
The pain tends to occur behind the breastbone or in the left side of the chest, although it can spread to the left shoulder and neck. Many patients report that it gets worse when the individual coughs, lies down, or takes a deep breath. Sitting up and leaning forward tends to reduce the pain.
The other main symptoms of pericarditis include shortness of breath, as well as the feeling of a pounding, fast-beating or fluttering heartbeat.
The CDC recommends seeking medical care if you or your child experiences any of the above symptoms within a week after receiving a COVID-19 vaccine shot.
Further symptoms associated with pericarditis include abdominal or leg swelling, coughing, fatigue or weakness, and low-grade fever.
Most of the heart inflammation cases reported recently following COVID vaccination have occurred in male adolescents and young adults aged 16 and older. The cases have occurred more often following a second vaccine dose, and typically within several days after vaccination.
"Myocarditis and pericarditis are side effects that can be seen following a viral infection and other types of vaccination," the CDC told Newsweek in a statement. "Reported cases appear to be mild and often go away without requiring treatment. These reports are rare given the number of vaccine doses administered, and CDC and FDA will continue to monitor and evaluate reports of myocarditis/pericarditis occurring after COVID-19 vaccination."
It said: "Healthcare providers should report all cases to VAERS. CDC continues to strongly recommend COVID-19 vaccination for individuals 12 years of age or older given the risk of COVID-19 illness and related, potentially severe, complications. Getting vaccinated is the best way to protect you and your family from COVID-19."
Newsweek, in partnership with NewsGuard, is dedicated to providing accurate and verifiable vaccine and health information. With NewsGuard's HealthGuard browser extension, users can verify if a website is a trustworthy source of health information. Visit the Newsweek VaxFacts website to learn more and to download the HealthGuard browser extension.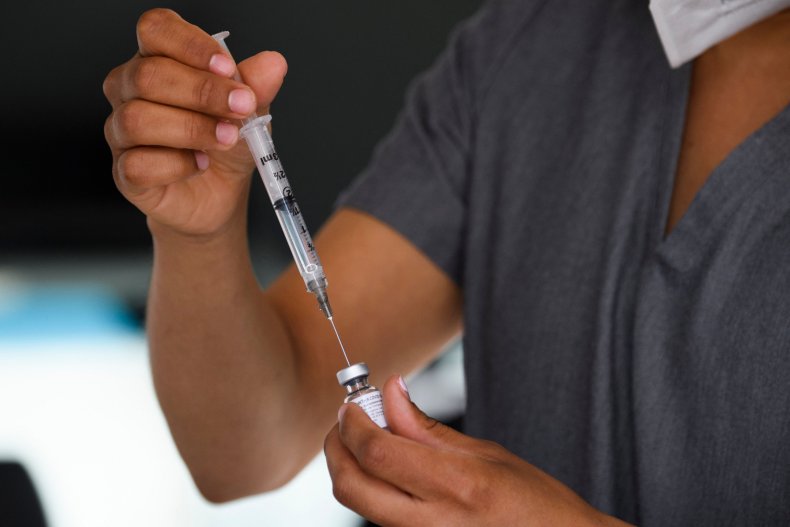 About the writer
Aristos is a Newsweek science reporter with the London, U.K., bureau. He reports on science and health topics, including; animal, mental health, and psychology-related stories. Aristos joined Newsweek in 2018 from IBTimes UK and had previously worked at The World Weekly. He is a graduate of the University of Nottingham and City University, London. Languages: English. You can get in touch with Aristos by emailing a.georgiou@newsweek.com.