'I Started A Charity At 16. Now We're Distributing 2 Million Period Products During The Pandemic'
Newsweek's "Heroes of the Pandemic" series features everyday heroes showing service, sacrifice or kindness in the time of COVID-19.
In mid-March, much like the rest of the world, my life seemed to come to a halt. Harvard College, where I'm studying, had just announced that because of the COVID-19 pandemic, it was suspending the semester on campus. Students had five days to completely move out of our dorms.
I hate to admit it but, with school, I felt relieved about the change. I had been dreaming about studying virtually for years, I just never thought or wished it to happen because of a global pandemic.
I'm the founder of PERIOD. The Menstrual Movement, a global youth-powered nonprofit fighting to end period poverty and stigma—so I had spent the majority of nights in February on a plane, rather than in a bed, hustling to grow our movement.
When the COVID-19 pandemic began to impact the U.S., and people started to panic-shop for necessities, our inboxes started to flood with messages from people needing period products because they were sold out and shelters were running out of supplies.
Periods do not stop for a pandemic, so at PERIOD we made a commitment to send period products for free to any service provider that requests them—scaling our national distribution to shelters, food pantries, and other service centers in communities across the U.S.
I co-founded PERIOD when I was 16-years-old, after my family experienced living without a home of our own for several months. During this time, on my commute to school on the public bus, I had many conversations with homeless women in much worse living situations than I was.
I heard stories from those women about how they had to use items like toilet paper, socks, brown paper grocery bags, and even cardboard to take care of their periods.
At the time, in 2014, the majority of states in the US had the "tampon tax"—a sales tax on period products considering them non-essential items. I remember desperately searching for a U.S. non-profit addressing period poverty to get involved with—but I never found anything. So, angered and energized, I decided to start one—PERIOD.
In just the last month, we have secured over two million units of product from our partners and are working to distribute them to "menstruators" in need. We are serving everyone from a major food bank in Houston, to a network of women's health clinics all across Texas and mobile hygiene units in Arkansas and Colorado.
The scariest change in adjusting our plans and service actions was wondering how the operations of chapters—groups of activists working within schools and communities—were going to adjust. So much of our chapter work consists of holding meetings on campus and rallying together in person to demand change—how were we going to do that, separately, and from home?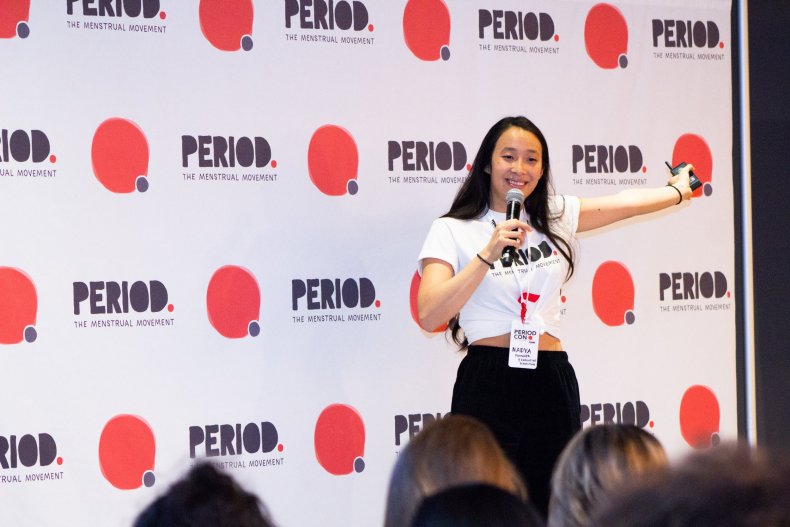 But we had nothing to fear because the reality is that the energy from, and commitment to, this movement from the people involved has been inspirational.
Anusha Singh, one of our policy coordinators, told me that she has "heard firsthand about the loneliness felt by some of our chapter members, especially from those who are quarantined alone in residence halls or off-campus apartments. But they're finding community through being involved with PERIOD and in the virtual meetings we hold."
During our last Period Power roundtable in New York, some of our chapter leaders nearly brought me to tears—they were sharing their stories of how this "PERIOD fam" has empowered them to realize the ability they have to change the world around them.
Hearing them talk about how our community makes them feel less alone in their passion for gender equality, made me remember how teased and quirky I felt when I first started this period-related advocacy when I was 16. At the time, period poverty wasn't the nationally discussed topic it is now. I feel so honored and thankful to be able to do this work every day.
Six years after it began, PERIOD is the largest youth-powered non-government organization addressing period poverty. To date, we have distributed over 13 million units of period products, which we estimate has served over one million periods, and we have registered more than 700 campus chapters at universities and high schools in all 50 states and about 40 countries worldwide.
Our chapters not only lead this fight in their own communities, but have successfully passed policy changes from ensuring freely accessible period products in schools to taking down the "tampon tax." In late 2019, our Ohio State University's chapter leaders succeeded in their multiple year fight to take down the "tampon tax," with Anusha being the "strongest proponent" of the bill; and Emily Bell McCormick, our Utah National Period Day organizer, succeeded in her fight to take down the "tampon tax" in Utah.
We have a small but mighty team at PERIOD, all now working from home, but committed to scaling the Menstrual Movement amidst new challenges and unprecedented change.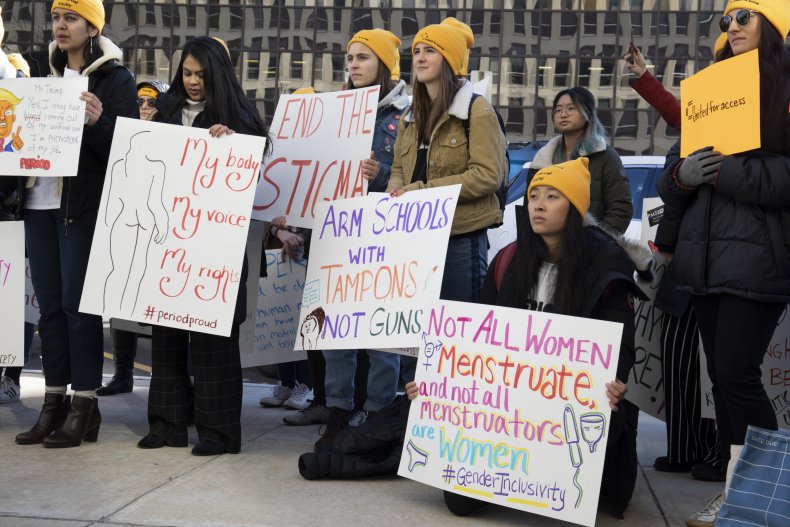 Michela Bedard, our executive director, is now leading the whole organization while homeschooling her two younger children. Kate Swindell, our operations manager, recruited her son, Will, to join our team as an intern. Together the two of them have been handling the entire inventory and shipments of the millions of period products we're working to get to "menstruators" in need, while safely practicing social distancing.
Anusha, along with Ameer Abdul, are our policy coordinators, and have been leading our Period Policy boot camps remotely. And one of our staff members will be graduating from college virtually during the pandemic.
As the worrier that I am, I was nervous about what this transition would mean for our team's productivity—but I am both relieved and not at all surprised that our team has been able to embrace these challenges and scale our work.
Even though this was not the 2020 we planned for, our team is more committed than ever before to making this a banner year of fighting for the Menstrual Movement.
We are not stopping; we are launching a series of Period Power round-tables, preparing to demand legislative change through petitions and our digital advocacy—working to take down the "tampon tax" in the remaining 30 states. With everyone home and social distancing, we are planning to film the next several round-tables online and are hopeful that this way of filming will allow for more national partnerships.
We still have big plans for our National Period Day on October 10, 2020. With the chance that we are not able to gather in person for rallies by this Fall, we are building an incredible virtual experience. It will help us demand an end to period poverty and stigma while still promoting community and local work across our entire network.
This is a scary time of change and uncertainty—but there's one thing that this COVID-19 crisis has made me feel more certain about than ever before: the Menstrual Movement is unstoppable and, when the world starts to open back up again, we will be stronger, and more prepared than ever for our fight to end period poverty.
Nadya Okamoto is the 22-year-old Founder of PERIOD and author of PERIOD POWER. She is currently a junior at Harvard College.
The views expressed in this article are the writer's own.
Know a hero you want to nominate to be featured in our series? Drop us a line at heroes@newsweek.com.