Periods Are a Source of Abuse for Protesters in Police Custody | Opinion
As the parent of a trio of college students, two of whom have been living under the same roof (mine, that is) since mid-March, our recent weeks have become punctuated by marches and rallies as we've raised our voices with and for Black Lives Matter. Before taking to the streets, we scanned Amnesty International's "Know Your Rights" resources, including a list of basics to bring: a face mask, hand sanitizer, lots of water, a phone, photo ID. Among the items they warn against are tampons; instead, they recommend pads only. Why? In case of arrest, access to a bathroom stall or other private space to change or insert a tampon will be scarce or denied.
A growing cadre of activists have long advocated the importance for public policy that acknowledges the needs of—and ensures equitable treatment for—people who menstruate, especially those who are most vulnerable. Policing is surely the next arena that must heed the call for menstrual equity.
Overall, laws addressing menstrual access continue to garner huge support and bipartisan backing across the United States and around the world. Among the latest advances, Prime Minister Jacinda Ardern announced in early June an initiative to provide period products for all students throughout New Zealand by 2021. Weeks earlier, Washington Governor Jay Inslee signed legislation ending the so-called tampon tax in Washington state. And when Congress passed the Coronavirus Aid, Relief, and Economic Securities (CARES) Act in March, a long-sought reform was ushered in with it—the designation of pads, tampons, menstrual cups and similar products as qualified medical expenses under the IRS tax code, thereby making them eligible for purchase by individuals using pre-tax dollars they've contributed to health savings and flexible spending accounts.
With regard to the American justice system, 13 states and several major cities, like New York and Los Angeles, have passed "dignity laws" that mandate the provision of menstrual products for people who are incarcerated—including in jails, prisons and juvenile detention centers. Congress voted to do the same in 2018, passing a sweeping bipartisan prison reform package, the FIRST STEP Act, that requires menstrual access in federal correctional facilities.
This same commitment to menstrual access and dignity must extend to encounters with law enforcement. Lack of cohesive police protocol, combined with power imbalance and deep, lingering stigma around menstruation, leads to inevitable potential for abuse.
Just last week, a New York City student shared with me a harrowing experience of being arrested and held in police custody while protesting on her period. She told me officers denied her a pad and even toilet paper, though she begged for them. Eventually, she said, she was left to struggle to remove her saturated pad while handcuffed—with the help of a cellmate and in plain sight of all in the overcrowded quarters—and free bleed for the duration of her detainment.
In early June, a tweet went viral, racking up nearly a million likes and comments, from an Atlanta woman who posted that she was taken into custody for going out to buy tampons after curfew, jailed for 14 hours and berated by police for "being unprepared" for her period.
Meanwhile, a disturbing incident resurfaced in the news: In 2016, a San Antonio, Texas, resident was subjected to an intrusive vaginal cavity search during an arrest for suspected drug possession; in plain view of five police officers, her tampon was yanked out of her body against her will. She was released and not charged with any crime, and later won a $205,000 settlement in a federal lawsuit against the city. Similar accounts from protesters in Los Angeles have started being cataloged on social media.
And still more damning stories abound. Also in 2016, a defendant appeared at her arraignment in Kentucky wearing no pants and menstruating; she explained that correctional officers refused to give her pads or a change of clothes, despite repeated requests, for the several days she spent behind bars. The judge summoned the jail staff from the bench, demanding an explanation and shouting to the courtroom, "Am I in the Twilight Zone? What is happening here?"
And two years ago, in 2018, the New York Police Department made headlines when officers failed to provide a needed menstrual product to a city resident who was held in custody for 13 hours, leaving her to spend the night in soaked, stained clothing.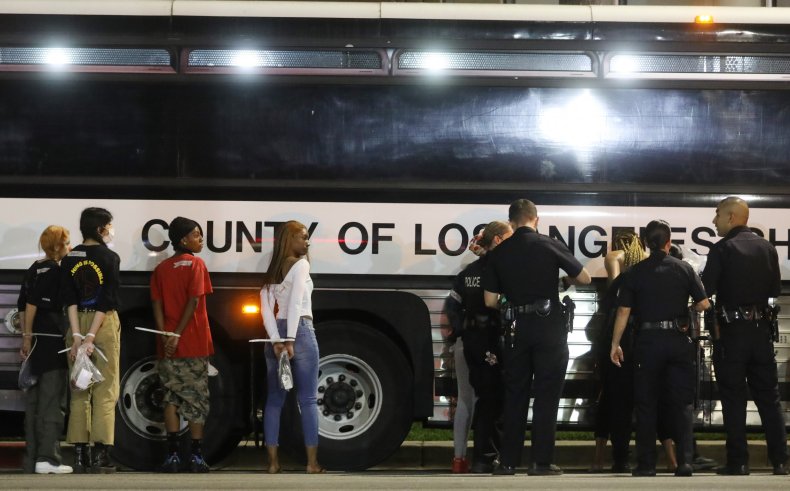 The weaponization of period shaming is real, can cause trauma and extends far beyond the infliction of surface cruelty and humiliation. There are health risks, some fatal, that come from deprivation of toilets and usage of a pad or tampon for too long, ranging from infection to toxic shock syndrome. These days, there are further ramifications for menstrual health, amid reports of tear gas being unleashed on protesters by law enforcement in at least 100 cities; exposure to chemical agents are reported to have a possible correlation to spontaneous menstruation, miscarriage and other reproductive health complications.
Already, the bodies of women—especially Black and brown women and trans people—are overly, unfairly and too often brutally policed. And now, hundreds of thousands are engaging in the democratic act of protest—for the very purpose of taking on and down the plight of systemic racism through force and abuse of power. The fact that half of those participating in the streets menstruate, must not be cause for further harm.
Jennifer Weiss-Wolf is vice president and women and democracy fellow at the Brennan Center for Justice at NYU Law, as well as author of Periods Gone Public: Taking a Stand for Menstrual Equity.
The views expressed in this article are the author's own.​​​​​​​​​