Person Claims Subway Put Them to Work 'on the Spot' in Viral Video Viewed 2 Million Times
A TikTok video has gone viral after a person claimed that a Subway fast food restaurant put them to work "on the spot." The viral video is garnering a lot of attention online from viewers.
TikToker @hoenawz shared the video on December 14, 2021, with the Mission Impossible main theme song playing in the background. The wording appeared on the screen as a voice read, "When you come in looking for a job and they put you to work on the spot." The post is also captioned, "Quick to it. #Foryou #Subway #Job."
The video shows a person who is supposedly a new employee appearing to wash dishes with an apron on in the back of a Subway as the screen zooms in and someone could be seen walking by. Then the camera pans to another Subway worker working in the back as well. Next, the camera goes back to the new employee, who isn't even in a uniform and but is busy at work.
According to Statista, as of 2019, there were 41,600 Subway restaurants in the world. The website also reported Subway brought in $10.2 billion in 2019.
The six-second viral clip has been viewed 2.1 million times with over 200,000 likes. Viewers have a lot of strong opinions about the post, and they didn't hold back with their own experiences.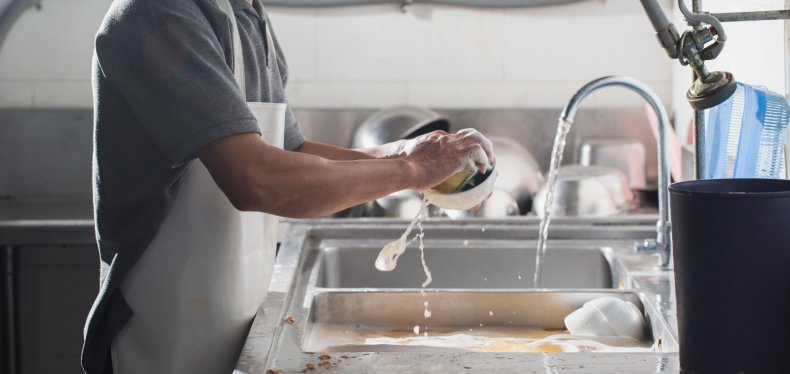 One TikToker said the same thing happened to them too. "That's the first sign it's gonna be a bad job," they added.
Another viewer thinks it's a "huge red flag if a company does this."
However, one TikTok user seemed to approve of them working right away. "As it should be!" they said. "If you're serious, you'll work right now."
A TikToker had a similar experience as well. "Happened to me, but then they got mad if I messed up," they posted.
Other people also had similar experiences with their jobs. One viewer of the TikTok said they "had an interview and then a few hours later" they were scheduled to work at Subway.
While one viewer said they work at the company and "actually like working there."
Another TikToker revealed they were trained for three days at their Subway, mentioning "it's pretty chill."
One viewer had kind words for the TikToker. "You're awesome buddy," they said. "Most people wouldn't."
Newsweek reached out to Subway for comment, and a spokesperson released this statement: "Subway requires that all franchisees train their team members on restaurant operations and brand standards. Learning and development play a critical role in ensuring all our franchised restaurants consistently deliver a great guest experience."