Person of Interest in Miya Marcano Disappearance Seen Carrying Her Belongings: Family
The family of missing 19-year-old Miya Marcano believes that new video footage shows the person of interest in her disappearance carrying her belongings the morning after she was last seen.
The 25-second clip shows a man matching the description of Armando Manuel Caballero, 27, parking a silver Ford Fusion with Florida tags and walking into a nearby building with a blanket and a backpack. The car's license plate, PZU J17, matches the same vehicle that the Orange County Sheriff's Office said on Monday belongs to him.
Local news station WFTV reported that the video was shot on Saturday, the day after Marcano was last seen outside of Arden Villas Apartments, where she lived and worked. Her family told the news outlet that they believe the items in the video belong to Marcano.
The sheriff's office announced that Caballero was a person of interest in the young woman's disappearance, but that he was found dead by Seminole County police of an apparent suicide. Caballero worked in maintenance at Arden Villas Apartments and was romantically interested in Marcano although she did not share his feelings, police said.
Caballero apparently told investigators that he had last seen Marcano around 3 p.m. on Friday, approximately two hours before she went missing. Sheriff John Mina said they later learned Cabellero allegedly used a master key around 4:30 p.m. to enter Marcano's apartment without permission.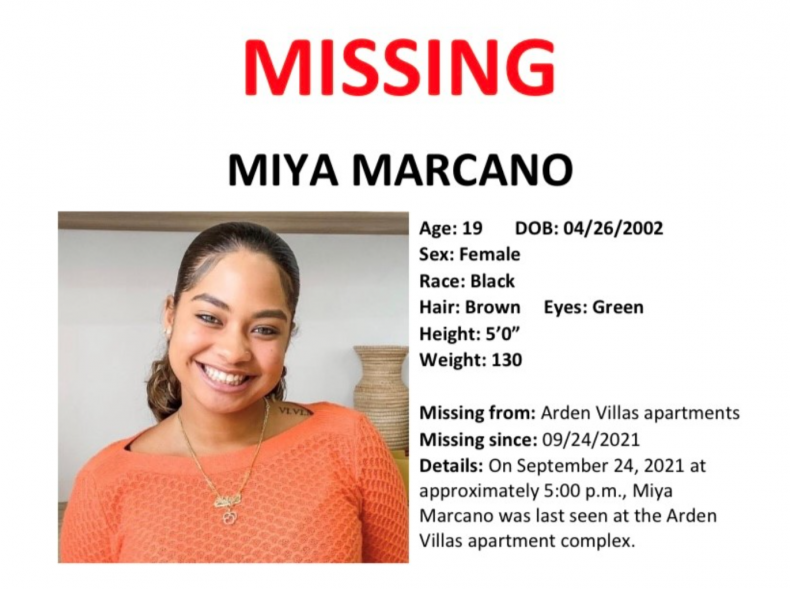 The sheriff's office told Newsweek that a warrant for Caballero's arrest was issued on burglary charges.
Mina also said that suspicious items were found in both Marcano's apartment and the apartment where Cabellero's body was found, but they did not provide further details. Police are asking drivers who may have seen Cabellero's vehicle around the time of Marcano's disappearance to call investigators.
Marcano was supposed to travel from Orlando to Fort Lauderdale on Friday night to visit her family but never boarded the plane and hasn't been heard from since. She was last seen at Arden Villas Apartments near the University of Central Florida.
Orange County deputies searched the area over the weekend and are continuing to look for Marcona but have not located her.
Police are still treating Marcano's case as a missing person, with both law enforcement and her family hoping they find her alive.
"This is a different kind of hurt," Marcano's aunt, Semone Westmaas said. "It's a hollow feeling that can't be filled until Miya comes home."
The Orange County Sheriff's Office is aware of the video but could not provide Newsweek further details, citing an ongoing investigation.
"What we can share is that we continue to work around the clock to locate Miya," the department's media relations team said in an email to Newsweek. "Please stress in your coverage that anyone with even the smallest shred of information is urged to call us."
Anyone with information about Marcano's whereabouts is encouraged to call the Orange County Sheriff's Office at 407-836-4357.