In-Person Voting in Wisconsin 'Low Risk Activity,' No 'Detectable Surge' in Coronavirus Cases, Study Shows
If Wisconsin's primary election is indicative of future outcomes, a study found casting a ballot in person at a polling place may pose the same risk to a person as driving a car.
As states expand mail-in voting for the general election to keep people from having to gather at the polls and risk fostering the spread of the new coronavirus, a study of Wisconsin's primary election showed the risk to the general public is low.
More than 400,000 people voted in-person during primary elections, and at least 71 people who voted at or worked the polls tested positive for the new coronavirus, according to the Department of Health Services. Since many of those people could have been exposed elsewhere, it's unclear if the positive results were caused by in-person voting.
But, assuming the polling place was to blame, a study published in the American Journal of Public Health in August said researchers would expect to see 0.71 deaths given that the fatality rate for people under 60 is 1 percent. That's the fatality risk of driving a car 140 miles, according to the study, making the individual risk low.
Along with the risk the new coronavirus poses to those who contract it, cases also present a risk to the community. Wisconsin's reproduction number hovered near the value of one for the entire month of April and the small number of cases makes it "very difficult" to predict how many were generated from the 71 people who were at the polls.
However, hospitalizations in Wisconsin declined in April and there was no "detectable surge" in cases, according to the study.
"Taken together, it appears that voting in Wisconsin on April 7 was a low-risk activity," the study said.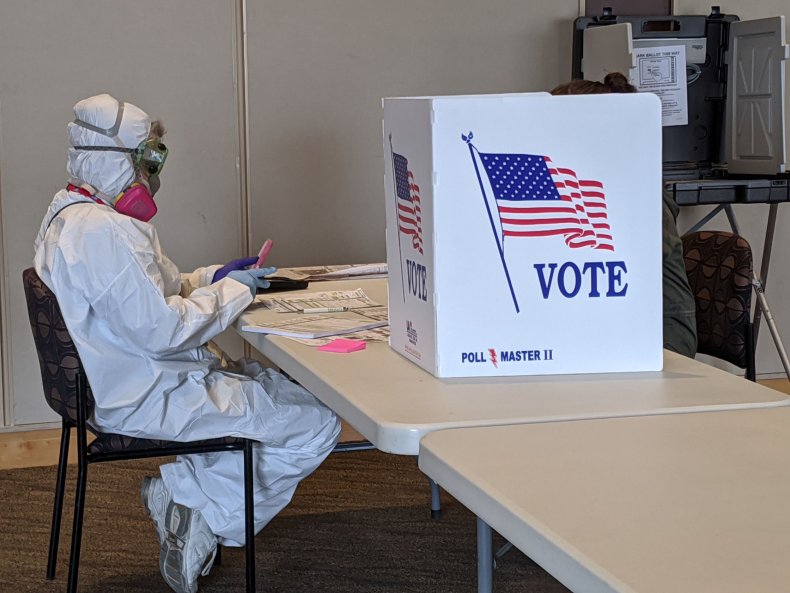 How Americans vote in the presidential election is becoming an issue as divisive as who they'll cast their ballot for. Democrats and some states are pushing for widespread mail-in voting and criticizing the United States Postal Service for implementing measures that could restrict people's ability to vote, thereby hindering America's ability to have a fair election. On the other side of the debate is President Donald Trump, who lambasted the expansion as creating a path for immense voter fraud and being an attempt on the part of his detractors to keep him from winning re-election.
When asked about the capability for people to vote in person, America's top infectious disease expert, Dr. Anthony Fauci, said "if carefully done" there's "no reason" people can't vote in person.
"If you go and wear a mask, if you observe the physical distancing and don't have a crowded situation, there's no reason why you shouldn't be able to do that," Fauci told National Geographic on August 13.
When Wisconsin voters head to their polling place on November 3, they won't be required to wear a face covering, according to the Wisconsin Elections Commission. However, voters will be "highly encouraged" to wear one, a message that's in line with recommendations from the Centers for Disease Control and Prevention (CDC).
Although people can successfully vote in person, states also need ways for people who are compromised physically to vote from home because they shouldn't "take the chance," Fauci said. Systems are already in place for people to vote by mail, at times called "absentee voting," but the rules vary by state. Some allow all eligible voters to request a mail-in ballot regardless of the reason, while others require voters to have a proper excuse.
In Milwaukee, the election commission found absentee mail-in ballots increased about fifteen-fold from the 2016 primary, according to the CDC. Overall voter turnout was down regardless of the method, but the CDC reported fewer people going to the ballots likely influenced the epidemiologic trends in Wisconsin.
The CDC's own assessment found no clear increase in cases, hospitalizations or deaths after the election, showing the benefit of varying voting options, physical distancing and increasing cleaning and disinfection procedures.
Newsweek reached out to the Wisconsin Elections Commission for comment but did not receive a response in time for publication.