'Persona 5 The Royal': Everything We Know So Far
To kick off a two-day celebration of all things Persona at a concert in Tokyo, Atlus released a new teaser and fresh details about Persona 5 The Royal, an expanded version of the base game that adds new gameplay scenarios and two new characters. The enhanced release follows in the footsteps of earlier entries in the franchise, adding new playable characters and expanding the original storyline.
What's different about Persona 5 The Royal?
Taking a cue from Persona 3 Portable and Persona 4 Golden, Persona 5 The Royal will serve up a hefty helping of new story content, adding a third school semester to the base game's original two. This means more time for Confidant Links, school trips and other hijinks with your best Phantom Thief pals. The trailer shown during Wednesday's concert shows a number of new events in dungeons, particularly Kamoshida's Palace. Existing main story events seem to have been altered from their original versions, in addition to lengthening the story. You'll be able to access new neighborhoods in Tokyo, as well as new date spots, including an aquarium.
Check out the full P5R teaser from Atlus Japan below. It's Japanese without English subtitles, but it makes a compelling visual case for how different The Royal experience will be from the base game.
What's the release date for Persona 5: The Royal?
The game is slated to release in Japan on October 31, 2019. Unsurprisingly, fans in the West and elsewhere in Asia will have to wait longer. A teaser posted Wednesday morning to the official Atlus USA Twitter account gives a 2020 release window for everywhere outside Japan.
Who are the new characters in P5R?
Yoshizawa Kasumi: Another transfer student at Shujin Academy with a background in rhythmic gymnastics. It's not clear yet if she's a playable, alternate main character in the vein of P3P, as some fans have hoped.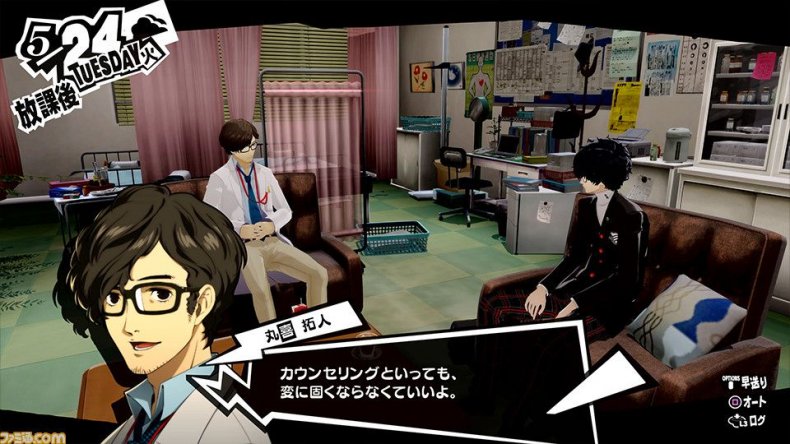 Takuto Maruki: Described as a "counselor" at Shujin Academy by Famitsu, this might be a quirk of Google Translate. He's appointed after the incident with Kamoshida due to the administration's concerns about student welfare. "The students seem to be fond of him, because he's a good listener and gives tactful advice," according to Famitsu. He clearly seems to be some kind of doctor, and mental health professionals aren't typically known for wearing lab coats all the time. Hopefully this means Maruki can dispense some sweet, sweet drugs to the Phantom Thieves.
Is that... human Morgana?
A couple of keen-eyed Persona fans (with better Japanese reading ability than yours truly) have picked up on contextual clues that this handsome new fellow is likely the human version of Morgana. Look out, Lady Ann!
What else does Atlus have up its sleeve?
Expect more Persona news tomorrow during the second day of the Tokyo concert event. Fans online are hoping—with good reason—to see the Persona series come to Nintendo Switch. With Joker recently making a massive, server-crashing splash in Smash Ultimate in recent weeks, it seems all but inevitable.
Update 12:45 p.m. ET: New information about the potential human version of Morgana appearing in The Royal has been added to this story.