'Persona 5 Scramble' 2-Hour Gameplay Offers Huge Update on Atlus Musou
Persona 5 Scramble is Atlus' latest attempt to capitalize on the tremendous success of 2017's Persona 5. Co-developed by Dynasty Warriors studio Omega Force and Arlus' own P-Studio, the game is an unpredictable mashup of Dynasty Warriors musou mechanics and the incomparably stylish action of Persona. In a gameplay stream Saturday morning, Atlus debuted two hours of gameplay footage full of story details, lengthy battle sequences and more. The video was captured by YouTube channel Amari Odorokanai Gacchiman wa Horror Game Bakari Yatteiru.
In true Persona fashion, much of the two-hour Persona 5 Scramble gameplay demo emphasizes narrative over action. The events of the game take place months after the plot of Persona 5, when the Phantom Thieves think they'll be able to make the most of their summer vacation. As it turns out, however, all of Japan is under siege by mysterious creatures called Shadows that are stealing people's hearts and imprisoning them. These jails are controlled by powerful bosses, called Kings, who mostly take the form of celebrities.
Knowing the Phantom Thieves' complex history with hearts, the incident piques the interest of police investigator Zenkichi Hasegawa. Hasegawa initially blames the thieves for the occurences, but, as we see in the new footage, the group decides to join in on the resistance effort. In the gameplay's opening moments, Joker, Ryuji and Morgana use a virtual assistant smartphone app called Emma to transport themselves to one of these so-called jails in Shibuya. There, they encounter dozens of Shadow threats and defeat a massive and terrifying boss.
Get your unlimited Newsweek trial >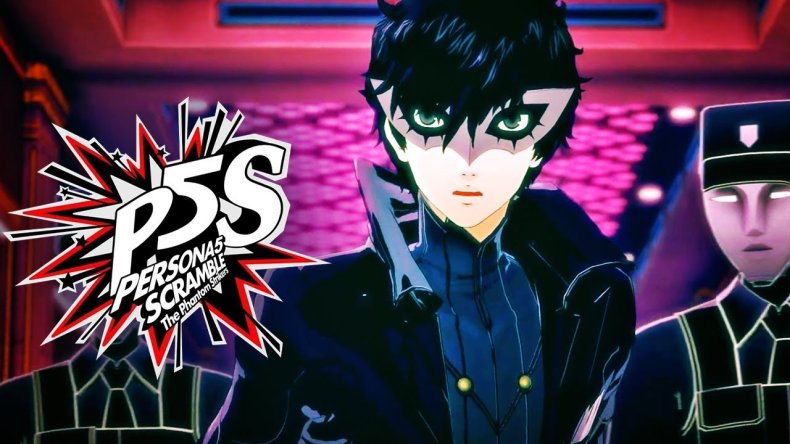 While the entirety of the vertical slice remains untranslated for English speakers, fans around the globe can still get a pretty good idea of what to expect from Scramble when it releases in the west. Between each battle, players will be able to interact with their favorite characters like Ann, Yusuke and a newcomer to the series named Sophia. In this early portion of the game, the group meets at Cafe Leblanc to discuss the darkness that has befallen their country,
As for the gameplay, the entirety of the demo showed Joker in action, which meant Morgana was close at hand to offer plenty of sassy advice. True to the Dynasty Warriors flavor, Scramble is very much a musou in terms of its design. There are lots of enemies for our skilled protagonist to eliminate with a barrage of strong attacks. It looks like there's lots of button mashing to go around too, but, to add an extra pinch of Persona sensibility, this game also relies heavily on team play and group attack strategies to take down the swarm. As such, Joker won't be the only character headed into battle. Instead, he'll be joined by his friends and their unique Personas. In short, this game is exactly what Dynasty Warriors and Persona fans expect it to be, and that's probably a good thing.
Persona 5 Scramble: The Phantom Strikers comes to Japan February 20 on Nintendo Switch. A U.S. release date has not been announced.
Get your unlimited Newsweek trial >
What are your thoughts on Persona 5 Scramble based on this gameplay? Were you expecting more? Tell us in the comments section!
'Persona 5 Scramble' 2-Hour Gameplay Offers Huge Update on Atlus Musou | Newsgeek