Personality changes experienced by a 73-year-old father of three in the U.K. were brought about by a fatal brain tumor that would go on to cause strokes that ended his life.
The children of Philip Lewis from West Bridgeford, Nottinghamshire, first noticed their father had become withdrawn and quiet at the beginning of January last year, Nottinghamshire Live reported.
The adult children of Phillip Lewis, 38-year-old Alexandra Lewis, 43-year-old Nick Lewis, and Victoria Jarvis, who is 45, initially believed that their father may simply be worried about his wife. Janet Lewis, 71, was undergoing treatment for breast cancer in early 2021.
They were shocked when it was revealed that their father was actually suffering from a glioblastoma multiforme (GBM) brain tumor.
Alexandra Lewis told Nottinghamshire Live: "On January 27, mum was admitted to the City Hospital in Nottingham and, the next day, we noticed dad was struggling to find the right words and was a bit confused when speaking, so we contacted his GP who thought he might have suffered a stroke."
The dance school owner explained that her father was referred to the stroke clinic at Queen's Medical Centre in Nottingham the next day, where an MRI scan revealed had a frontal lobe brain tumor. "I was in total shock and just couldn't believe it. I kept thinking 'how could this happen?'"
Phillip Lewis had an operation to remove as much of the tumor as possible, and on March 16, 2021, he began radiotherapy in the City Hospital. This was the same hospital his wife had died in the day before as a result of her advanced breast cancer.
Phillip Lewis then suffered three strokes, following which he was moved to The Grand Care Centre residential home in West Bridgford. His son, Nick Lewis, was at his side when he passed away on July 21, 2021.
Alexandra Lewis said: "It was frightening how quickly he deteriorated. In the end, he wasn't like my dad and he didn't know who I was."
What is Glioblastoma Multiforme?
The Centers for Disease Control and Prevention (CDC) says that GBM is the most common form of adult primary malignant brain tumor, with 90 percent of adults diagnosed with the condition dying within 24 months of diagnosis.
The Mayo Clinic said this highly aggressive cancer, which can occur in the brain or spine, affects people of all ages but is more common in older adults. The non-profit hospital said GBM is difficult to treat and a cure is often not possible.
Some treatments may slow the progression of the cancer and reduce signs and symptoms, which can include headaches, nausea, vomiting, and seizures.
Alexandra Lewis is marking Brain Tumour Awareness Month in the U. K. by taking part in Wear a Hat Day on March 25 in support of the charity Brain Tumour Research. In the United States, Brain Tumour Awareness Month takes place in May.
She told Nottinghamshire Live: "I'm doing this to remember dad and to raise awareness of this devastating disease."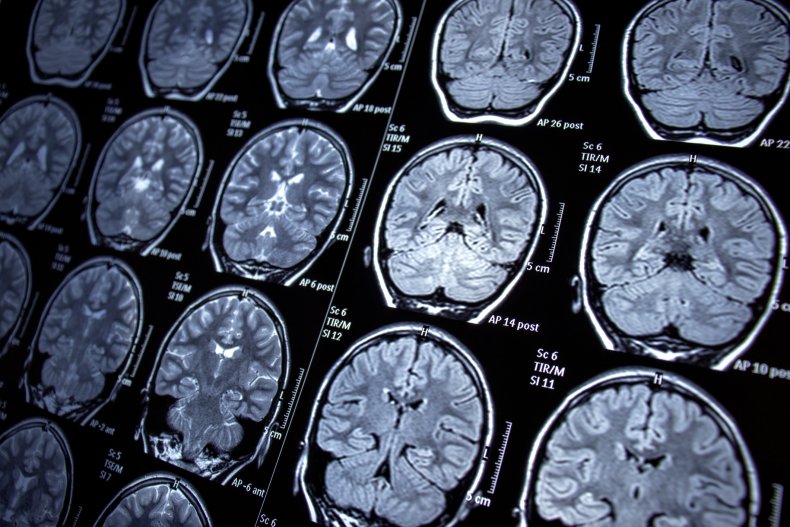 Uncommon Knowledge
Newsweek is committed to challenging conventional wisdom and finding connections in the search for common ground.
Newsweek is committed to challenging conventional wisdom and finding connections in the search for common ground.