Drugs Mule Michaella McCollum Released But May Have To Stay In Peru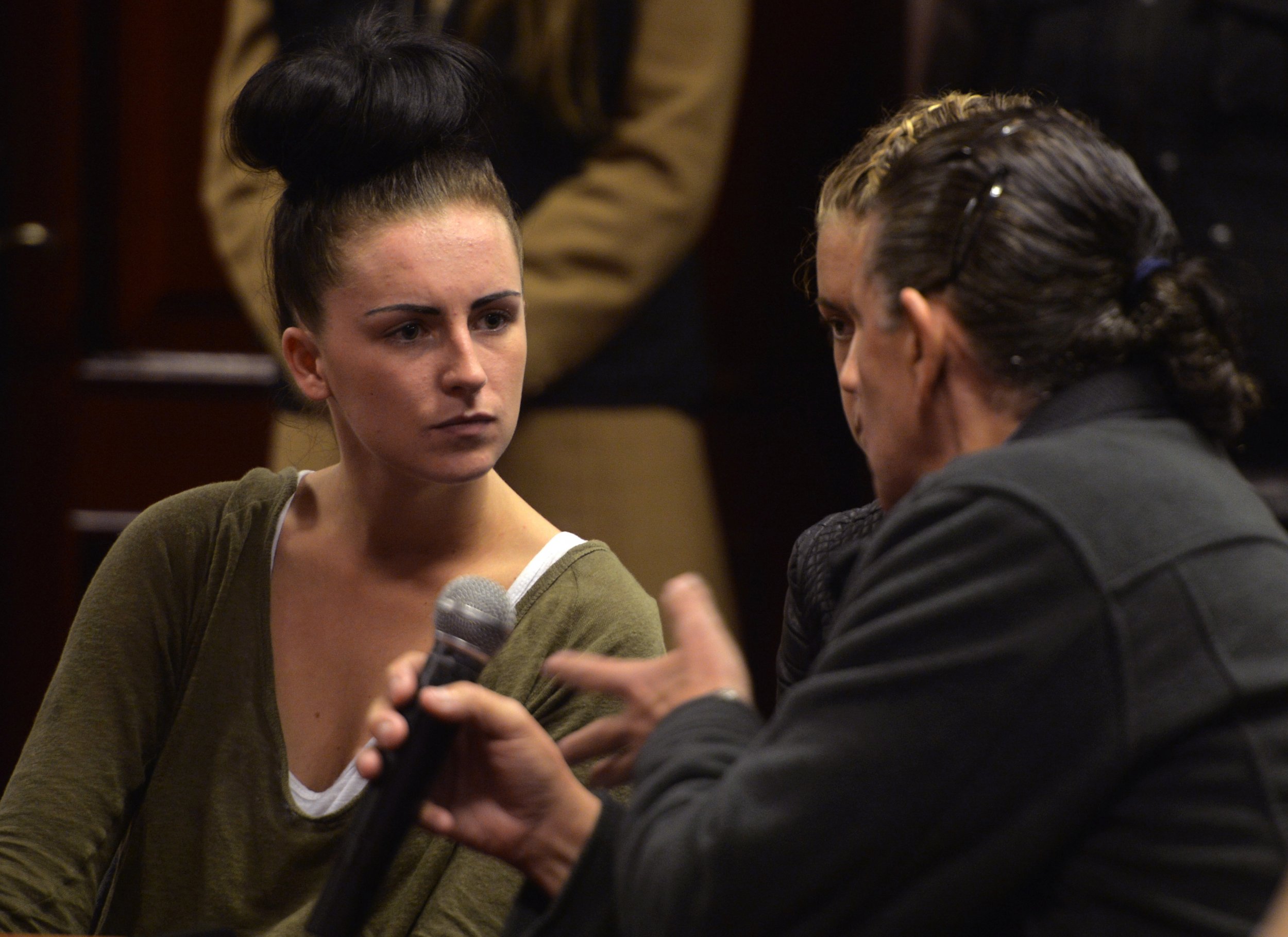 Drugs mule Michaella McCollum has been released from prison in Peru after serving only one third of her sentence, while her partner in crime Melissa Reid remains behind bars.
McCollum, 23, from Northern Ireland, and Reid, from Scotland, were imprisoned in 2013 for six years and eight months after admitting trying to smuggle cocaine worth £1.5 million ($2.1 million) from Peru to Spain.
The women, who had been on holiday in Ibiza, initially claimed Colombian drug lords forced them to board a flight with the cocaine, but later pleaded guilty.
After conviction they were moved from Lima's Virgen de Fatima jail to Ancon 2 prison, which is where they were due to serve their sentences until April 2020. McCollum has served two years and three months of her sentence.
Her repatriation to Northern Ireland was approved by the country's Assembly's justice minister David Ford in January last year, but she has remained in Ancon 2, dubbed "Hell's Hacienda"—or Hell's Estate.
Kevin Winters, McCollum's solicitor, said she was released effectively on parole—"semi libertad"—on Thursday night and was waiting to hear the terms of her release.
"I can confirm Michaella has been released from jail and I'm waiting to hear the outcome of the judicial process," he said.
Reid, however, remains behind bars having not filed an application for early release. Instead, she intends to work on getting moved to a prison in Scotland.
Criminal lawyer Evan Wright, from from JMW Solicitors, based in Manchester, tells Newsweek: "Last year's decision by David Ford was an entirely independent one, in which the assembly essentially said, we will have her back if Peru allow it.
"Yesterday's decision by the Peruvian government was quite independent. They have relied on legislation passed in 2013, which mirrors a lot of what we do in this country when a prisoner is given parole.
"It costs them about $12 per day to keep a prisoner in jail, but it costs $7 a day to keep a prisoner on an electronic tag.
"They will have a lot of female prisoners on drugs charges being held at these prisons, and so it makes sense from a cost-perspective for them to release her.
"It is also important to note that this release has been upon application—she has had to make a positive step in order to do that."
However, Wright explained that McConnell's release does not mean Reid, sentenced to the same length of time in prison, will receive the same treatment.
"It very much depends on their behaviour and what they have done during their time in Peru," he tells Newsweek. "One is from Northern Ireland and one is from Scotland. They may not be getting the same level of support from their communities, their families or their lawyers.
"There is a possibility that Melissa was waiting to see how Michaella's application went before submitting her own."
For McConnell, the chances are that she has been released with an electronic tag.
"She will be allowed accommodation and even employment in Peru," Wright said. " The consulate can assist her with all of this.
"Meanwhile, she can look at a provision called the Transfer of Sentenced Persons under Early Release legislation.
"If you meet certain conditions and an agreement is made, then that would put all the factors in place for repatriation.
"But there is a long list of provisions. They include things like psychological reports, social reports and reports from her time in the prison.
"You have to have close ties to the country you wish you be repatriated to, including close family, and the opportunity for employment.
"For now, Michaella will have to wait out the judicial process."
Winters' firm, KRW Law, based in Belfast, is one of Ireland's leading practices. A spokesperson tells Newsweek: "Michaella McCollum was released last night following a successful application for parole.
"She has not been released under any repatriation scheme or other protocol between Peru and the U.K.
"There will be a pending judicial hearing to determine the conditions of her parole.
"At this stage it remains unclear when Michaela may be eligible to return home.
"That will be a matter for the court and a pending judicial hearing to determine the conditions of her parole.
"We are working with her lawyers in Peru and hope to be in a position to clarify further, as soon as possible."
A prison service spokesman said: "Michaella left the prison as part of a supervised release on parole.
"If she complies with all the conditions then she will not have to go back to prison and the process for her of completing her sentence will continue here in Peru.
"The other woman did not leave jail because she is seeking a prison transfer to her home country.
"Each of them has done what they believe is the best for them."